The online marathon, Games Done Quick, raised an astounding 2.6 million in the first month of 2023 for the Prevent Cancer Foundation.
Gaming has become increasingly popular, and with this popularity comes more opportunities to use the wildly popular entertainment medium in altrustic ways. Games Done Quick (GDQ) is a great example of gamers coming together for a great cause.
GDQ has two main events each year and originally began in 2010. The January event is called Awesome Games Done Quick and was held online this year due to venue concerns. GDC is all about watching talented speed runners run through some of the most popular games.
This year, games included titles like Splatoon 3, The Legend of Zelda: Breath of the Wild, Mirror's Edge Catalyst, Shovel Knight Dig, among many more.
The news of the total amount raised for the Prevent Cancer Foundation came via the GDC official Twitter account.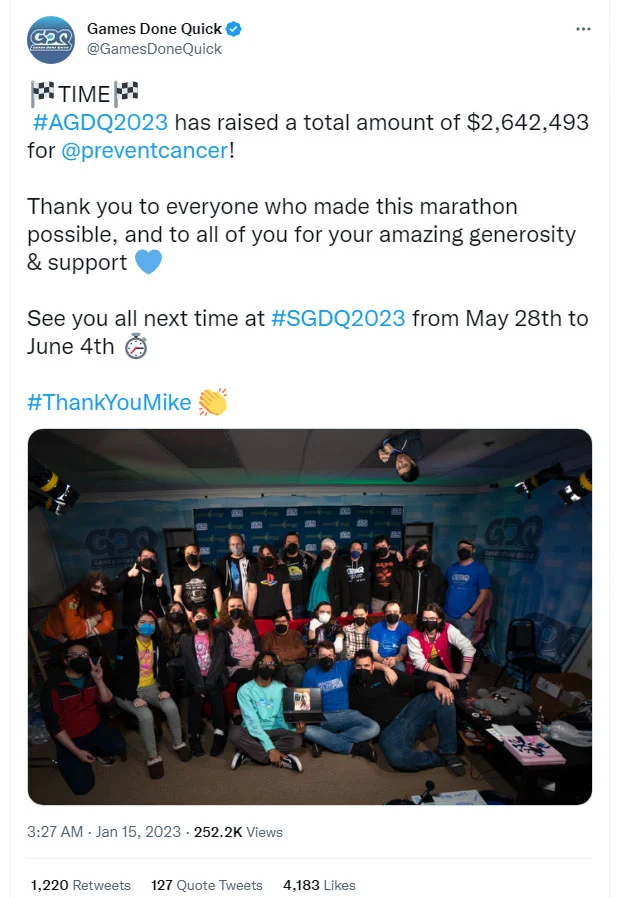 The money raised will go to the Prevent Cancer Foundation, a nonprofit organization that has invested millions of dollars in cancer prevention research, screenings, and education. The goal of the organization is to "Stop Cancer Before it Starts," and it was originally founded in 1985. Visit the official Prevent Cancer Foundation website for more information on the organization.
This year's next event will be in the summer, dubbed Summer Games Done Quick, and will take place from May 28-June 4, 2023.
If you missed the event, you can watch the VODs on the Games Done Quick Twitch channel.
For more gaming news updates, see our News Section.