We're here to help you out with today's Wordscapes February 21 2023 daily puzzle answers. Today's puzzle has a total of 12 words, derived from 7 letters: L, E, E, C, I, H, V. Check out the answers below if you need any help.
We complete and post the daily puzzle every day, so check back later if you ever need help during your Wordscapes adventure. Bookmark our Wordscapes section if you ever need help with any future daily puzzles.
Wordscapes Daily Puzzle Answers February 21 2023
The answers to the Wordscapes daily puzzle on February 21 2023 are:
EVIL
HEEL
LIVE
VICE
VILE
VEIL
HIVE
LICE
CHILE
CHIVE
LEECH
VEHICLE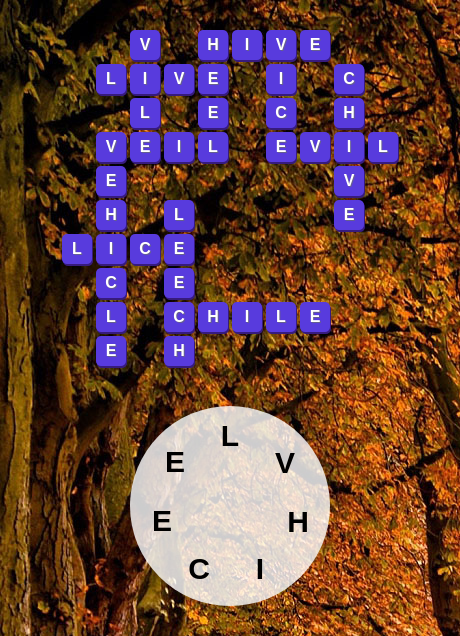 Wordscapes February 21 2023 Daily Puzzle Definitions
EVIL - profoundly immoral and wicked
HEEL - the back part of the human foot below the ankle.
LIVE - remain alive
VICE - immoral or wicked behavior
VILE - extremely unpleasant
VEIL - a piece of fine material worn by women to protect or conceal the face
HIVE - a beehive.
LICE - either of two small wingless parasitic insects that live on the skin of mammals and birds.
CHILE - a country in South America that occupies a long coastal strip that runs down the western side of Bolivia and Argentina, on the Pacific Ocean; population 18,000,000 (estimated 2015); capital, Santiago; official language, Spanish.
CHIVE - a widely cultivated small Eurasian plant related to the onion, with purple-pink flowers and dense tufts of long tubular leaves that are used as a culinary herb
LEECH - an aquatic or terrestrial annelid worm with suckers at both ends. Many species are bloodsucking parasites, especially of vertebrates, and others are predators.
VEHICLE - a thing used for transporting people or goods, especially on land, such as a car, truck, or cart
Definitions via Oxford Languages.
That's everything you need to know about today's Wordscapes February 21 2023 daily puzzle answers. For more answers, guides, and puzzles, visit our website's word games section.
Wordscapes is available for Android and iOS devices on Google Play and App Store.