We're here to help you out with today's Wordscapes March 17 2023 daily puzzle answers. Today's puzzle has a total of 11 words, derived from 7 letters: C, L, O, N, E, O, L. Check out the answers below if you need any help.
We complete and post the daily puzzle every day, so check back later if you ever need help during your Wordscapes adventure. Bookmark our Wordscapes section if you ever need help with any future daily puzzles.
Wordscapes Daily Puzzle Answers March 17 2023
The answers to the Wordscapes daily puzzle on March 17 2023 are:
CELL
CONE
COOL
LONE
ONCE
LOON
NOEL
CELLO
CLONE
COLON
COLONEL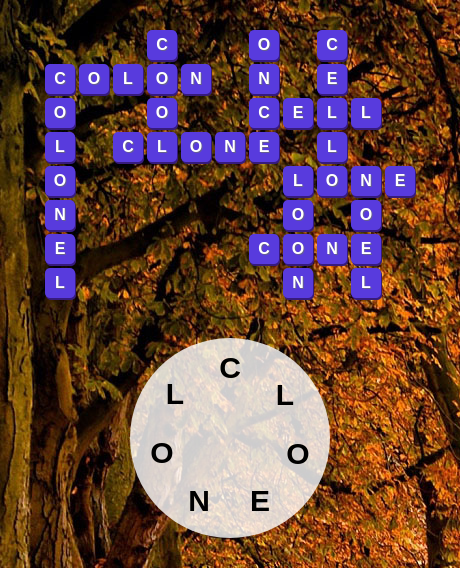 Wordscapes March 17 2023 Daily Puzzle Definitions
CELL - a small room in which a prisoner is locked up or in which a monk or nun sleeps
CONE - a solid or hollow object which tapers from a circular or roughly circular base to a point
COOL - of or at a fairly low temperature
LONE - having no companions; solitary or single
ONCE - on one occasion or for one time only
LOON - a silly or foolish person
NOEL - Christmas, especially as a refrain in carols and on Christmas cards.
CELLO - a bass instrument of the violin family, held upright on the floor between the legs of the seated player.
CLONE - an organism or cell, or group of organisms or cells, produced asexually from one ancestor or stock, to which they are genetically identical.
COLON - a punctuation mark (:) used to precede a list of items, a quotation, or an expansion or explanation.
COLONEL - an army officer of high rank, in particular (in the US Army, Air Force, and Marine Corps) an officer above a lieutenant colonel and below a brigadier general
Definitions via Oxford Languages.
That's everything you need to know about today's Wordscapes March 17 2023 daily puzzle answers. For more answers, guides, and puzzles, visit our website's word games section.
Wordscapes is available for Android and iOS devices on Google Play and App Store.