We're here to help you out with today's Wordscapes March 9 2023 daily puzzle answers. Today's puzzle has a total of 13 words, derived from 6 letters: E, T, H, R, T, I. Check out the answers below if you need any help.
We complete and post the daily puzzle every day, so check back later if you ever need help during your Wordscapes adventure. Bookmark our Wordscapes section if you ever need help with any future daily puzzles.
Wordscapes Daily Puzzle Answers March 9 2023
The answers to the Wordscapes daily puzzle on March 9 2023 are:
HER
HIT
THE
TIE
IRE
HIRE
TIRE
HEIR
RITE
TIER
THEIR
TRITE
HITTER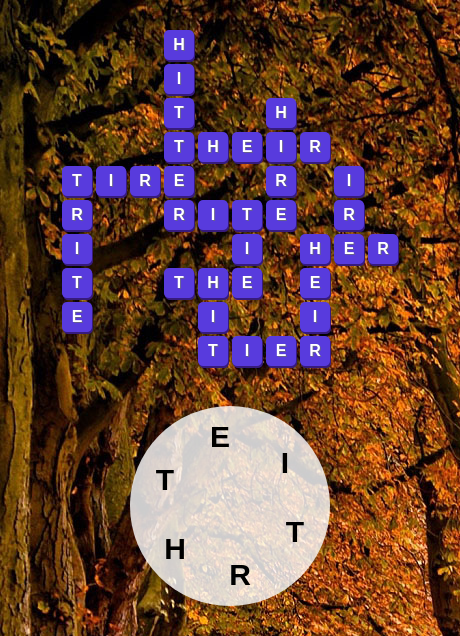 Wordscapes March 9 2023 Daily Puzzle Definitions
HER - used as the object of a verb or preposition to refer to a female person or animal previously mentioned or easily identified
HIT - bring one's hand or a tool or weapon into contact with (someone or something) quickly and forcefully
THE - denoting one or more people or things already mentioned or assumed to be common knowledge.
TIE - attach or fasten (someone or something) with string or similar cord
IRE - anger
HIRE - employ (someone) for wages
TIRE - feel or cause to feel in need of rest or sleep
HEIR - a person legally entitled to the property or rank of another on that person's death
RITE - a religious or other solemn ceremony or act
TIER - a row or level of a structure, typically one of a series of rows placed one above the other and successively receding or diminishing in size
THEIR - belonging to or associated with the people or things previously mentioned or easily identified
TRITE - (of a remark, opinion, or idea) overused and consequently of little import; lacking originality or freshness
HITTER - a person who hits a ball with a bat, racket, stick, etc. to score runs or points in a game
Definitions via Oxford Languages.
That's everything you need to know about today's Wordscapes March 9 2023 daily puzzle answers. For more answers, guides, and puzzles, visit our website's word games section.
Wordscapes is available for Android and iOS devices on Google Play and App Store.