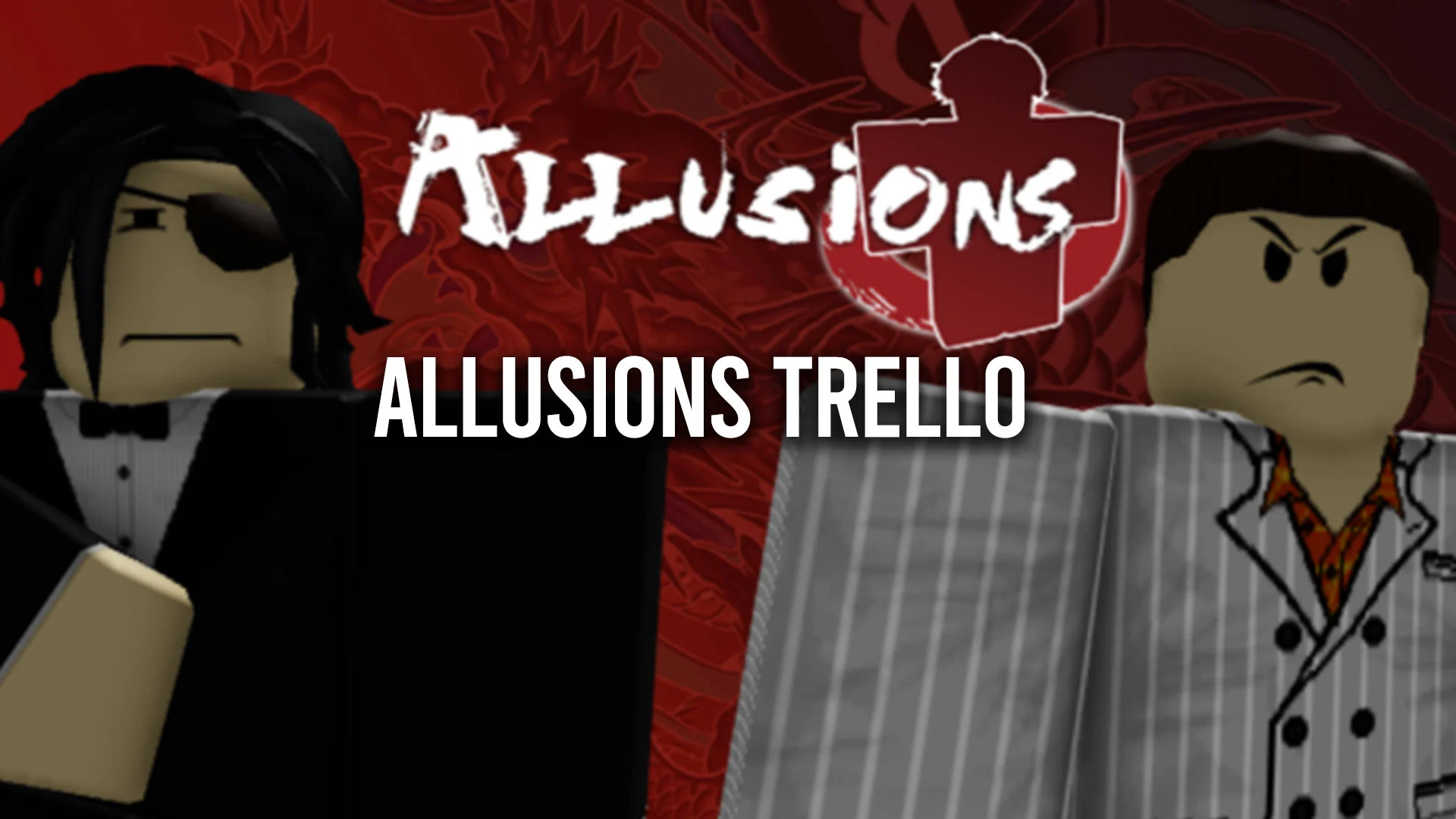 Allusions is a Roblox Experience developed by Klevinoroto. Allusions is a game that references popular shows and pop culture. Everything from your favorite anime to your favorite show or movie might be included in Allusions. To improve your gameplay, you'll want to absorb all the knowledge you can from the Trello board and Discord server.
Allusions Trello
The Allusions Trello link is: https://trello.com/b/pnb2woiw/allusions
Trello connects Allusion developers to the gamers who play the Roblox experience. Wikis are helpful, but Trello sheds more light behind the scenes of what's going on in the game. You can find information about lore, game modes, maps, weapons, emotes, commands, and events.
Allusions Discord Link
The Allusions Discord link is: https://discord.com/invite/x5AAbFufgG
On the other hand, the Allusions Discord allows you to connect to other Allusions players and see what's going on with the game in the community. Players can chat wi the other players and get upcoming game announcements, updates, and news straight from the developers.
Allusions Trello Guide
The Allusions Trello guide contains the following information:
Allusions Commands
Here are the private server commands for Allusions, the Roblox Experience:
'cmd: Gives a gui that can give you every weapon/arsenal/emote in the game
'cmd [Player]: Gives the named player a tool giver gui.
'r [Player]: Respawns the player
'kill [Player]: Kills the player
'kick [Player]: Kicks the player
'ban [Player]: Server bans the player
Allusions Game Modes
The current game modes in Allusions are:
Default: Classic Allusions experience. Spawn with a randomized loadout that changes on every respawn. Fight every other player in a free for all environment.
Retake: Everyone will spawn with a preselected loadout that everyone will choose from. Some loadouts are rarer and greater than others. With the selected loadout, wreak havoc against your enemies.
Replication: Everyone will spawn with the same loadout. Every minute the loadout that everyone spawns with will change. If you are still alive, you get to keep your current loadout.
Allusions Maps
These are the current maps in Allusions:
Anor Londo
Beginnings
Bulwark's Ambry
Colosseum of Fools
Doomspire
Gate A
Gerudo Desert
Green Hill Zone
I'm so Devastated
Midnight Stage
Somewhere Memorable
Stotzkan Border
The First Layer
The First Layer of Legacy
Town of Blight
Towny
That's everything you need to know about the Allusions Trello and Discord, and hopefully, our guide helped you learn how to use them. For more Roblox, visit our Roblox guides wiki for Trello links and codes for your favorite experiences.