Anime Smash Simulator is a Roblox game created and developed by Anime Evox Studios. The objective is to collect heroes, purchased with gems, and use them to grow a powerful army. Equip only your best fighters to assemble a formidable squad and defeat enemies. The list of Anime Smash Simulator codes below rewards players with free boosts for double damage, gems, power, and more.
August 9 2023: We added 1 new Anime Smash code.
Anime Smash Simulator Codes
Here is the full list of Anime Smash Simulator codes and rewards:
WEBACK: Double Damage
SorryForShutdown : Double Gems
2.5MVISITS: Double Power
UPDATE4: Double Power
6KLIKES: Double Gems
4.5KLIKES: Double Gems
10KFAVS: Double Damage
11KFAVS: Double Damage
SHUTDOWN3: Double Gems
SHUTDOWN2: Double Gems
SHUTDOWN1: Double Gems
1.5MVISITS: Double Damage
8KFAVS: Double Damage
4KLIKES: Double Gems
5KLIKES: Double Gems
UPDATE3: Double Power
800KVISITS: Double Gems
500KVISITS: Double Damage
1MVISITS: Double Damage
UPDATE2: Double Power
3KLIKES: Double Gems
2KLIKES: Double Gems
UPDATE1: Double Power Boost
1KLIKES: Double Gems Boost
100KVISITS: Double Gems Boost
500LIKES: Double Power Boost
1KFAV: Double Damage Boost
40KVISITS: Double Gems Boost
SUPER: 50 Gems
SMAAASHH: 250 Power
Release: 150 Gems
How to Redeem Codes in Anime Smash Simulator
Here is how to redeem codes for rewards in Roblox Anime Smash Simulator.
Launch Anime Smash Simulator on Roblox.
Tap the Shop button (left side of the screen).
Scroll down to the bottom of the Shop menu.
Enter a working code in the code box.
Press Redeem to claim your reward.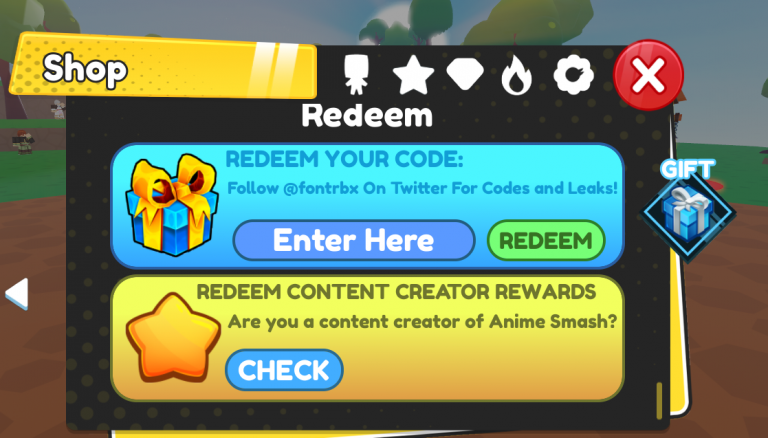 Each code on our list can only be used once. Additionally, codes expire after a short time. New codes also release regularly, so check back often for updates if you don't want to miss out on freebies.
Check out our Roblox section for more content, or visit our Roblox game codes page to get more freebies for your favorite experiences on the platform.