If you've dropped down to Fortuna III enough times, you'll have probably experienced a storm by now. If not, you're lucky because it gets pitch black, and you can't see encroaching enemies if you don't have a flashlight. Here's how to get a flashlight in The Cycle Frontier.
Out of all the attachments in The Cycle Frontier, a flashlight is probably the last thing on your mind. After all–there aren't really day and night cycles in The Cycle, right? Well, you'd be dead wrong with that assumption.
Storms happen randomly in The Cycle, and if you're outside, you sustain damage over time. Going inside will save you from injury, but you're left entirely in the dark. While storms only last around 5 minutes, evacuation is deactivated, and it's enough time to get completely wrecked by a 3-person squad.
In addition to helping you survive a storm, flashlights are useful for routing out hidden enemies in dark bushes or shadows. Let's shed some light on how to get a flashlight in The Cycle Frontier.
How to Get a Flashlight in The Cycle Frontier
Here's how to get a flashlight in The Cycle Frontier:
Visit any vendor when you're on the space station.
Click Buy Items.
Click Attachments.
Scroll down to Tactical Light.
Click Purchase.
Open your inventory.
Click the middle mouse button on the gun you want to attach the flashlight.
Right-click the Tactical Light to add it to your gun.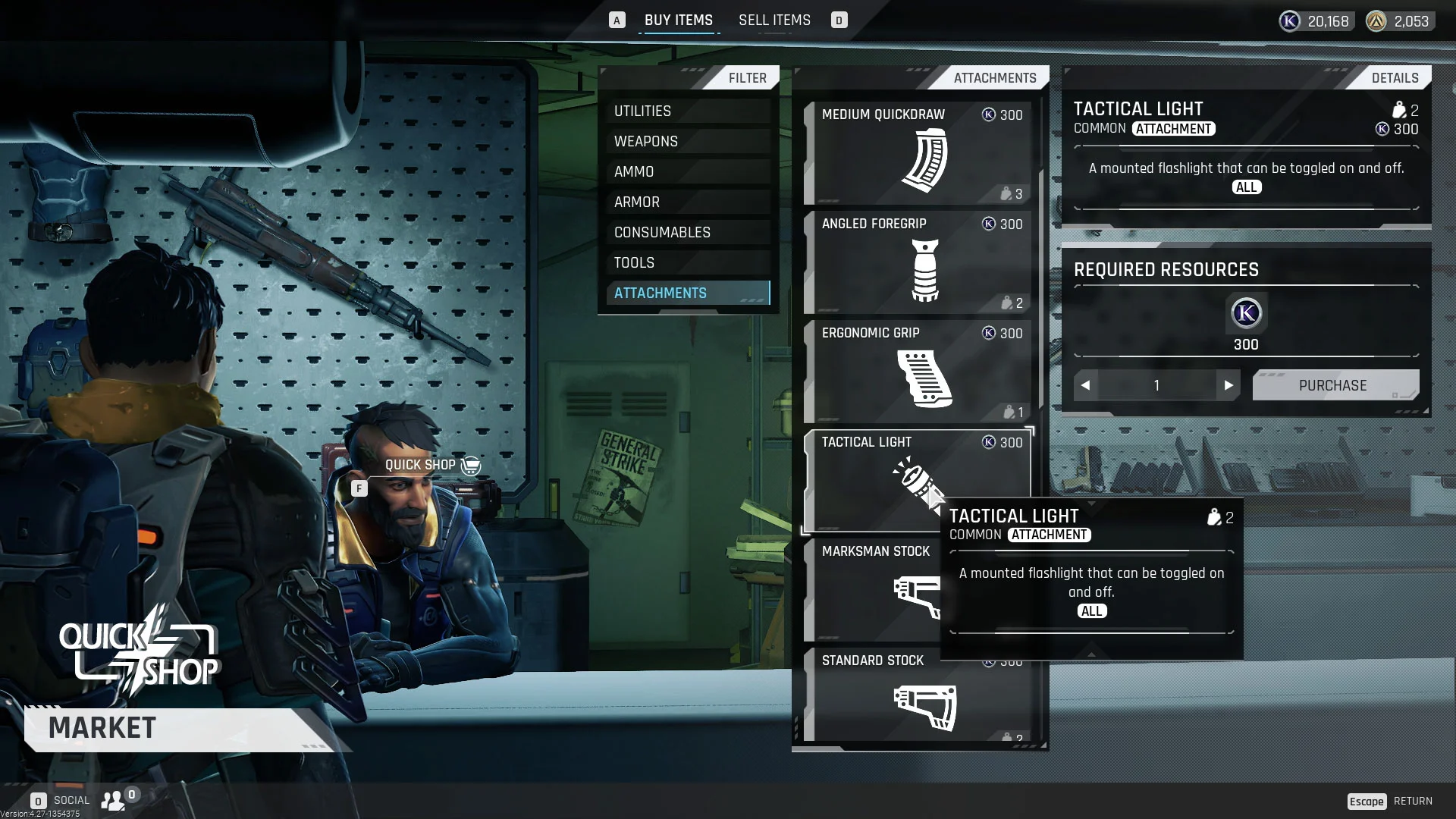 When you drop, hit the L key (default) to turn on the flashlight. Flashlights only cost 300 K-Marks, which is on the cheap side for weapon attachments.
Even though you won't find yourself using the flashlight in every drop, it's good to have it on your guns as an insurance policy if you find yourself in a situation requiring more light.
Looking for more tips and guides on The Cycle Frontier? Check out our The Cycle Frontier Section.