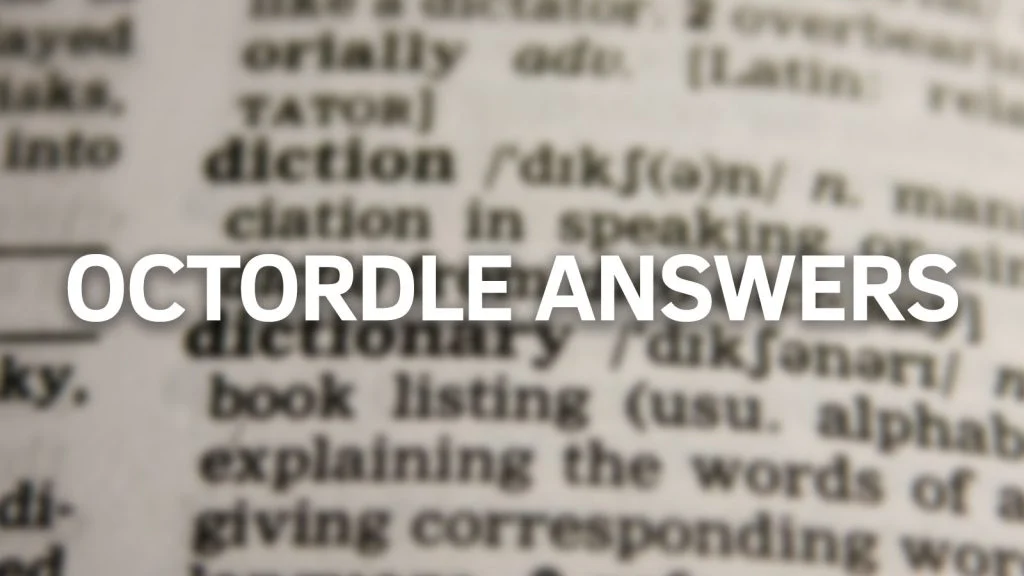 Octordle is a spinoff of the innovative word puzzle game that was acquired by the New York Times. The objective in the original is to figure out a mysterious five-letter word in six guesses. Octordle, on the other hand, has players trying to figure out eight words in 13 tries or less. If you enjoy challenging word games, this will give you a run for your money.
Figuring out the Octordle is always a challenge. There's no shame in running out of ideas for words to guess, and that's why we've made this Octordle answers post. Do your best to try and figure out the eight mystery words on your own. But when all else fails, you can check out the answers in the list below.
Octordle Answers
Today's Octordle answer for February 6 is:
CATTY

ERUPT

RENAL

MATCH

FEVER

OCTET

SKULL

SPOKE
February Octordle Answers
February 4:

NADIR, OFFAL, BLACK, ELATE, URINE, BALER, ROUSE, PRUDE

February 3: CRAZE, LEASE, GRAVY, JUDGE, FRAIL, BEGAT, INTER, CADET
February 2: SLIDE, RADIO, SUITE, FAUNA, MOTOR, SCALD, FURRY, THROW
February 1: GUMMY, GAYLY, BOUND, SALVO, STILT, BLAND, OFFER, LOCAL
January Octordle Answers
January 31: OVINE, WEAVE, AFTER, QUIET, SHAKY, VERGE, YOUNG, MUNCH
January 30: BONEY, LASSO, STAID, BLIND, WRING, COVET, DECOR, LOWLY
January 29: TIBIA, WAGER, THRUM, ETHIC, TONIC, BONGO, EPOCH, SCRUB
January 28: RIGOR, POSER, POUTY, FOCAL, COLOR, GOING, TEETH, WAIVE
January 27: KNEAD, FLOCK, NOBLY, BANAL, THINK, MELEE, RETCH, RAINY
January 26: SWING, SCRUM, CRAMP, SHIED, VERGE, SHUNT, SNOOP, TRITE
January 25: COPSE, FEIGN, HARSH, SINCE, SPICE, HURRY, SIGHT, FALSE
January 24: MERCY, TULIP, LIGHT, BUNNY, PRIME, SEVER, THESE, ALLEY
January 23: STING, KAPPA, STRAP, WHEAT, QUILL, SWIRL, NYMPH, GRIPE
January 21: STALK, THOSE, PRUNE, PROVE, LOCAL, LEASE, PYGMY, EJECT
January 20: EERIE, DALLY, QUITE, SMASH, SPLIT, BUTCH, SWASH, PLAID
January 19: MUSKY, BOOTY, URINE, COUGH, CLONE, DILLY, THIRD, OCEAN
January 18: GUIDE, AFIRE, CHILI, TWIST, OLIVE, CHOIR, QUEST, CLANK
January 17: FJORD, AWAIT, RENEW, FLASK, WEARY, EAGLE, QUOTA, MIDGE
January 14: BRINY, FENCE, CREEK, STRUT, SYNOD, HIPPY, PATSY, CUBIC
January 13: EXERT, THROB, ROACH, MARSH, PRIDE, ISSUE, BADLY, NIECE
January 12: BESET, TAROT, DETER, AFFIX, EYING, ECLAT, QUALM, WENCH
January 11: CRAZY, GRAPH, LANKY, CLACK, SPOON, AMONG, MAUVE, SNIFF
January 10: NORTH, NASTY, DUTCH, ALLOW, SEVEN, CURLY, FLANK, HOVER
January 9: UNMET, REFIT, KNOLL, QUERY, SERUM, YEAST, EATEN, PUBIC
January 7: TIARA, GRAIN, NEEDY, HUSKY, LYNCH, CRUDE, WACKY, VALUE
January 6: QUASI, CHUMP, SHYLY, MELON, BUILT, WATCH, CHEAT, SLANG
January 5: BLOOD, REFER, TEARY, CLOVE, SEPIA, CLACK, EPOXY, BLOOM
January 4: EXULT, GENIE, INLET, BEVEL, SHARK, CHALK, GONAD, LUNCH
January 3: SALLY, ADMIN, SLIME, STEAD, FLORA, SLICK, SORRY, CLOCK
December Octordle Answers
December 31: CROSS, LEDGE, AGONY, BATTY, SERIF, GAUGE, EXACT, MANGY
December 30: SAVOR, ALTAR, HOTEL, BLACK, SPORT, CHOIR, BOOTY, SILKY
December 29: BREED, MILKY, AUGUR, JOUST, LEGGY, CURVY, ROOST, SHINE
December 28: AWARE, FRANK, GULLY, WORRY, STICK, PIZZA, FAULT, ALTER
December 27: WORST, THANK, GRAVE, GUILE, ANIME, JOINT, USHER, GIRLY
December 26: SETUP, FLASK, TITLE, ESSAY, ADOPT, CIRCA, SPIKY, THEME
December 24: AFOUL, MOLDY, SUPER, LOCAL, SNAKE, BROOD, PETTY, LANCE
December 23: OVARY, PANIC, PRAWN, FLOSS, GRAIN, EARTH, REPLY, SAUCY
December 21: ADORE, ALIVE, WILLY, GROAN, GLASS, PIGGY, MELEE, BROTH
December 20: OCCUR, MIRTH, WORLD, FOGGY, OAKEN, OFTEN, FEWER, WINCE
December 19: BRASS, UNMET, TREND, TRUCE, RISKY, BRUNT, VOGUE, ROWER
December 18: BLITZ, ELOPE, GROVE, GONAD, GIRTH, MOVIE, HARDY, PERCH
December 17: SALON, HOVER, KNOWN, FELLA, NUDGE, SLOOP, LEERY, BRINK
December 16: HUSSY, SHALL, QUILT, SHEEN, ZEBRA, PARRY, MOIST, WAFER
December 15: UNWED, ELFIN, CRAVE, CRUDE, WHEEL, SALVO, WARTY, HEART
December 14: MEANT, UMBRA, MAMMY, BEGAT, ROUGE, TYING, NEWLY, BLESS
December 13: SPICE, YOUTH, PAGAN, SWEEP, STRAY, SHAFT, DIZZY, CLAIM
December 11: DIODE, FAVOR, SEVEN, STINT, AORTA, PREEN, GRUEL, MASON
December 10: GAFFE, CLAIM, INTRO, GLOBE, CIDER, MANGA, EARLY, AMUSE
December 9: MADAM, TRADE, RETRO, STEEL, CLANG, THUMB, INNER, SKULK
December 8: NEVER, OCEAN, HEFTY, STAGE, STIFF, WIDOW, MODEM, GRANT
December 7: AWAKE, FRANK, SOLID, BESET, SWOOP, THORN, SWARM, TAKEN
December 6: EVERY, CEDAR, BLUER, WACKY, PLANE, SMIRK, CHORE, NIECE
December 5: CHICK, ROYAL, BELIE, FURRY, BERRY, ASCOT, CIVIL, FETUS
December 4: KINKY, CHILL, FILET, RUDDY, SHOWY, CRAMP, GRAND, SURLY
December 3: HYPER, AMASS, EXTOL, ALIGN, BOOZE, QUASI, HABIT, MAFIA
December 2: SAUCY, GUIDE, SLAIN, PRIOR, PRIOR, SLACK, AMUSE, FLYER
December 1: SINCE, PRUNE, CIRCA, AISLE, DENIM, INPUT, ALOUD, TEPID
November Octordle Answers
November 30: TRITE, HASTE, SLURP, DOZEN, STRAP, MINER, SERVE, ETHER
November 29: CHORE, SWING, FLUTE, FORGO, TORCH, PRIOR, TOPIC, SLOPE
Octordle Answers FAQ
How do I play Octordle?
Octordle is free to play on the official Octordle website. The objective is to guess eight mystery five-letter words in 13 tries or less. Each guess must be a valid five-letter word, and the tile colors will tell you if you guessed a correct or incorrect letter. Green letters mean the letter is in the mystery word in the exact location as your guess. Yellow letters mean the letter is correct, but the position is wrong.
After solving, or failing to solve, a puzzle, a box pops up with your stats and results. Tap the share button to copy your results to your clipboard. Right-click and paste (or press CTRL+V) your results on social media like Twitter and Reddit to share them with your friends and other Octordlers.
When does the Octordle Reset?
Octordle resets every day at midnight local time.
We have answers for other related games, including Wordle, as well, so check out the related pages if you want some more word game challenges.