The anticipation is building as the release date for PAYDAY 3, the latest installment in the popular heist game series, draws near.
Slated for release this summer, PAYDAY 3 promises to deliver an adrenaline-fueled FPS that fans have been eagerly awaiting. In this article, we'll delve into the PAYDAY 3 release date, the returning characters, gameplay details, and the pre-order bonuses that are on offer. Whether you're a seasoned thief or new to the PAYDAY series, this is one release you won't want to miss.
PAYDAY 3 Release Date
PAYDAY 3 is set to release on September 21, 2023, on PC, PlayStation 5, and Xbox Series X/S. Those that pre-order the Silver or Gold editions will receive 3 days of early access.
The PC and console versions will be identical thanks to Unreal Engine, the game's platform. The game is being developed on Unreal Engine 4, but an upgrade to Unreal Engine 5 is planned post-launch.
PAYDAY 3 Trailer
The almost 2-minute PAYDAY 3 gameplay trailer was released on June 12, 2023. The video showcases some beta gameplay footage of what players can expect when the game is released in September. While there were several interesting things of note, like new weapons and abilities, one specific mechanic has excited fans. The ability to take hostages.
PAYDAY 3 Characters and Cast
The original gang is back with the latest game in the franchise. Dallas, Chains, Hoxton, and Wolf, are all returning, along with two additional heisters whose identities will be revealed later. Simon Kerr and Pete Gold, the voices behind Dallas and Hoxton since the original title, will be reprising their roles. Damion Poitier is back as Chains and Nicklas Berglund is stepping in to voice Wolf.
Does PAYDAY 3 Have Crossplay?
PAYDAY 3 developers showcased the gameplay trailer during the Xbox Games Show. PAYDAY 3 supports crossplay across all platforms and cross-progression, so you can play with your friends and continue your progress no matter what platform you decide to play on.
PAYDAY 3 Preorder Bonuses
There are several versions of PAYDAY 3 that will be released, including the Standard, Silver, and Gold digital editions as well as Day One and Collectors physical editions. Those pre-ordering the Silver or Gold editions will also receive 3 days of early access. The Silver season pass includes the first 6 months of DLCs, while the Gold season pass covers the first year of DLCs. You can also purchase the DLCs separately. There will be microtransactions, but only for cosmetic items. These will not affect gameplay and will be added post-launch.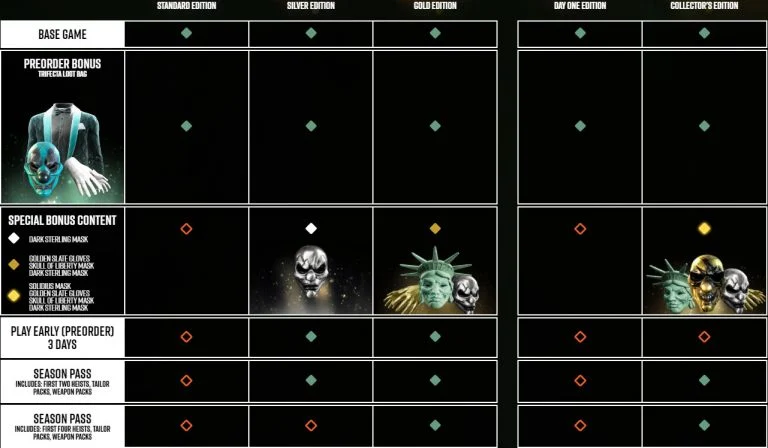 The developers of the game will be adding 4 additional heists, 4 tailor packs, and 4 weapon packs within the first year after release. More details will be shared closer to the release date.
See our news section for more new game releases.