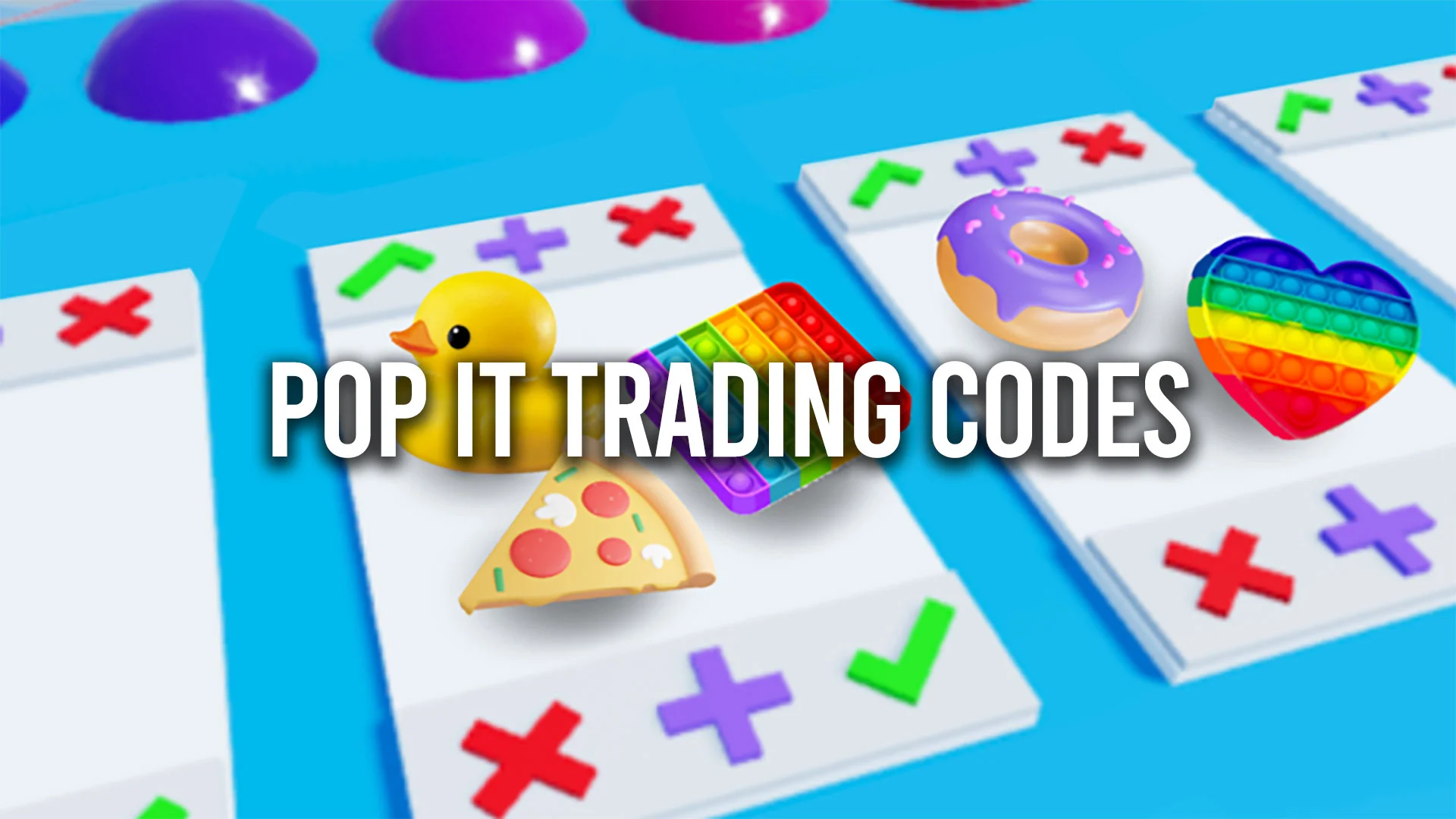 Have you always wanted to trade NFTs but don't want to spend real-life money? If you'd rather use Robux, Pop It Trading is a fun Roblox experience that sounds like it's perfect for you. That's why you came here–so we've got all the Pop It Trading codes that you need to redeem free in-game goodies and items that you can use to sell to other Pop It Trading players.
Use the Pop It Trading codes list below to get free in-game items that you can sell to increase your net worth and swag out in front of your friends. Press CTRL+D on your keyboard if you love Pop It Trading to bookmark the page so you can check back every day when new codes come out.
Tired of selling NFTs and want to get buff instead? See our Lifting Heroes codes list for more in-game goodies.
January 30 2023: New update released. We are checking for Pop It Trading codes.
List of Pop It Trading Codes
itsalive!: Random Item
metacarpus: Hand Egg
kawa11: Random Kawaii Item
m3rry: Penguin
meoooow: Cat
thursday: Umbrella
candy: Candy
fifa: Soccer Ball
youspinme: Spinning Hat
yodome: Baby Yoda
aredsword: Red Sword
100k: YouTube Plaque
1337: Light Ring
2022: Sparkler
90sec: Floppa
armor?: Watermelon
baila: iPhone
buff: Barbell
callmemaybe: Phone Booth
chance: Dice
code: Poppy Item
crystal: Crystal
cupid: Rose
daegg: Alphabet Egg
eeek: Cockroach
farmer: Seeds
fotito: Instagram Item
gub: Magnifying Glass
gummy: Gummy Bear
halloweenie: Halloween Candy Bucket
ice: Gem
juaniday2021: Blocky Snowman
Juego: Xbox Controller
kitty: Kitty Cat
knockknock: DOORS freebie
lachancla: Flip Flop
lasagna: Free Item
lightemup: Weapon
Loot: Loot Box
m0dn4r: Random Item
madregate: Stranger Things Item
naughtyornice: Train
no: Slendy Note
noclip: Backrooms item
pájaro: Twitter Bird
pepto: Pink Sauce
pineapple: Pineapple
popit!: Pop It
popit1year: Confetti Cannon
portal: Portal item
quidditch: Fire Extinguisher
r41nb0w: Rainbow Bear
spooky21: Ghost
squid: Square Guy
stuffi: FNAF Item
sugar: Sugar
sus: Among Us Character
tako: Slippy Octopus
throne: Toilet
Tony: Tiger
trippy: Trippy Item
upupup: Ladder
whaaaaaa: Baby freebie
wth: Mushroom
鞭炮: Firecrackers
******: Rainbow Friend
What are Roblox Pop It Trading Codes?
Pop It Trading codes are strings of letters and numbers given out by the game developer. These limited-time codes can be redeemed for free in-game items, which you can use to trade for better ones. Codes expire quickly, so check for new ones often to avoid missing out on freebies.
How do I redeem codes for Pop It Trading?
To redeem codes in Pop It Trading:
Launch Pop It Trading on the Roblox platform.
Walk up to the button that says YouTube codes in front of the scoreboard.

Enter a working code into the code redemption box.

Press the Go! button and enjoy your free rewards!
How do I get more Pop It Trading codes?
The best way to get new codes for Pop It Trading is by following the Pop It Trading Roblox page. You can also join the Pop It Trading Discord to stay up-to-date with any announcements and find other players to trade with. We monitor all the known code sources here and add them to our code wiki for your convenience, so follow along if you never want to miss out on freebies.
To play Pop It Trading, download the Roblox application from Google Play and the App Store.