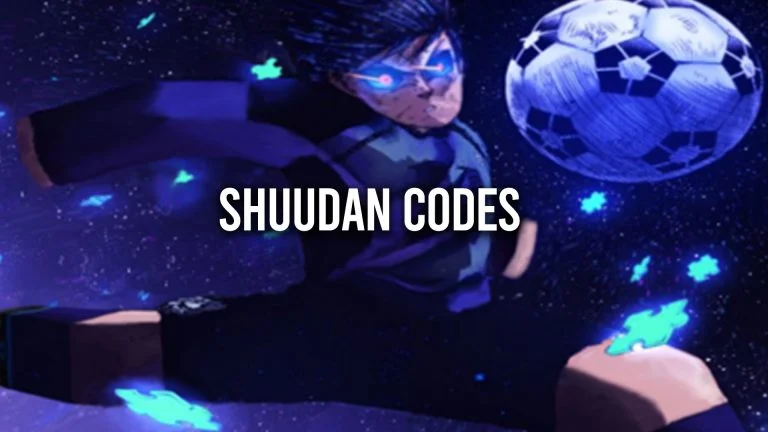 Shuudan is an anime-inspired Roblox game created by a developer of the same name. The game is based on Blue Lock, a manga by Muneyuki Kaneshiro about a Japanese football team looking to become the best in the world.
Use the Roblox Shuudan codes below to get free in-game cash, spins to customize your character, and various other rewards. Codes are a great way to get free rewards for not even playing the game! The only downside is they expire quickly, so use them while they last.
February 3 2023: We checked for new Shuudan codes.
Shuudan Codes
Active Shuudan codes:
1.5k Followers: 3 Free Skill Points , 5 Personality Spin , 1k Cash
800 Followers Twitter: 5 Specialty Spins
15k likes!: 1 Personality Spin, 3k Cash, 1 Specialty Spin
12k likes, cry bout exp!: Spins, 3K Cash
5 More Skill Points: 5 Skill Points
Shuudan Took Too Long To Open: 1000 Cash
5 Skill Points: 5 Skill Points
9K LIKES: Spins
7K LIKES: Spins
Seraphim Sucks!: Spins
Skills Reset!: Skill Reset
3K LIKES: 2000 Cash
SHUUDAN IS BACK FROM THE GRAVE!: 3000 Cash
HappyNewYears!: 10 Hair & Eye Spins, 1K Cash
NB3ISREAL!!!: 550 Cash
POPSRETURNS: Rewards
JOSEISANTON: Rewards
SKILLCOLORTOROBLOXCHARACTER!: Skin Color
Expired Shuudan codes:
RESET CODE 2!
FINALLY A RESET CODE!
What are Roblox Shuudan codes?
Shuudan codes are rewards created by the Roblox game developer that players can redeem for in-game rewards. Codes usually grant things like free character customization rerolls, in-game cash, and other freebies. The codes expire after a short time, so make sure to use them while they last, or you might miss out on freebies!
How do I redeem codes for Shuudan?
Shuudan players can redeem codes by following these steps:
Launch Shuudan on Roblox.
Tap Play to create your character.
Click the Shop button on the main menu.
Enter a code into the box on the top left.
Tap Finished to claim the rewards.
How do I get more Shuudan codes?
The best way to get more Shuudan codes for Roblox is by following the game page on Roblox and joining the Shuudan community Discord server. There are updates, announcements, sneak peeks, and chat rooms for players of all kinds in Discord, so we recommend joining up if you want to get more involved! Otherwise, we monitor all the known code locations and add new ones to our code wiki here, so follow along for updates.
To play Kohau Hibachi Restaurant, download the Roblox application from Google Play and the App Store.