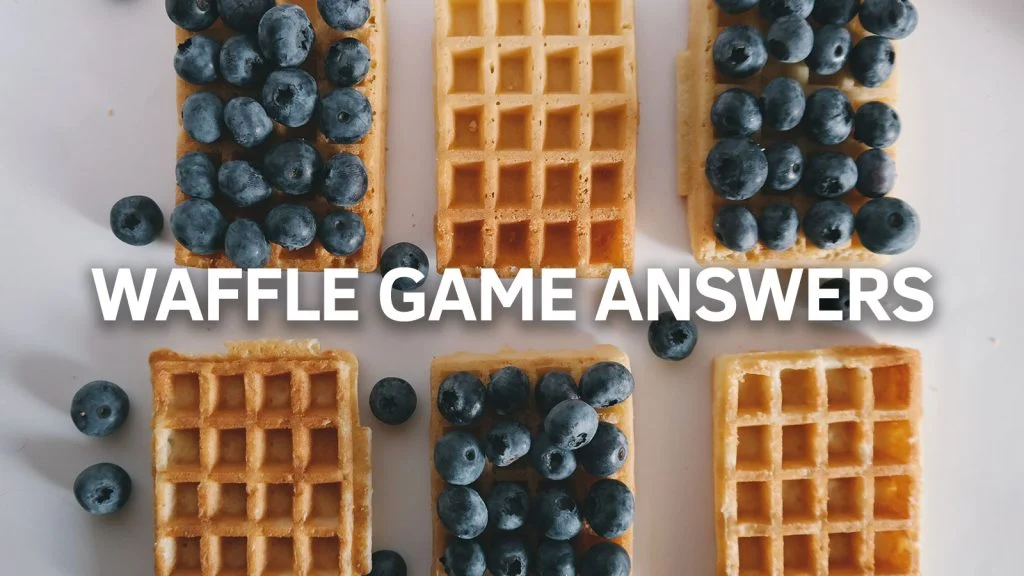 Waffle is a word game where players must rearrange letters to form six words on the board. Players get a total of 15 moves to solve the board and figure out the mystery words of the day. Luckily, the game provides some hints about correct and incorrect letters and letter positions, similar to Wordle.
Sometimes figuring out all six words can be a bit tricky in only 15 moves. If you're drawing a blank and need some help on the answer, that's why we made this Waffle answers post. We recommend solving it on your own, but if you want, you can find the current and historical answers below.
Waffle Answers
The Waffle answers today (January 30) are:
ERODE, SKIFF, LINEN, EASEL, ONION, ELFIN
January Waffle Answers
January 29:

GOOFY, AROMA, LADEN, GRAIL, OVOID, YEARN

January 28: TYING, BUNNY, LURCH, TUBAL, INNER, GLYPH
January 27: VIDEO, CLIFF, LEGAL, VOCAL, DOING, OFFAL
January 26: MACAW, SCOUR, NORTH, MASON, CHOIR, WORTH
January 25: SMITE, ARENA, TITHE, START, INEPT, EVADE
January 24: DEITY, MANGA, YACHT, DUMMY, IONIC, YEAST
January 23: FLUTE, ADULT, TALON, FEAST, USUAL, EATEN
January 21: VIOLA, SPOKE, AVERT, VISTA, OZONE, AGENT
January 20: FRAIL, OWING, NYLON, FROWN, AXIAL, LOGIN
January 19: REACT, LOOPY, CUTIE, RELIC, ABOUT, THYME
January 18: CLANG, ADORN, SEGUE, CLASS, AMONG, GENRE
January 17: GRILL, VAPID, LATTE, GAVEL, INPUT, LEDGE
January 14: CLAIM, BOOTY, NIECE, CABIN, AROSE, MAYBE
January 13: CHOKE, CATCH, ERROR, CACHE, OUTER, ETHER
January 12: GOING, AISLE, DOTTY, GLAND, INSET, GEEKY
January 11: SNIFF, OCCUR, LURED, SHOAL, INCUR, FARED
January 10: STOKE, ROTOR, WIDTH, SCREW, OUTED, EARTH
January 7: GRAPH, OTHER, LUNGE, GHOUL, ASHEN, HORSE
January 6: SWORN, EMBER, THERE, SWEET, OMBRE, NERVE
January 5: DROLL, PRICK, TREND, DEPOT, OLIVE, LIKED
January 4: SWARM, ACORN, FIERY, STAFF, ADORE, MANGY
January 3: AXIOM, AWFUL, EERIE, AWARE, INFER, MELEE
December Waffle Answers
December 31: POWER, AGAPE, NEEDY, PRAWN, WEAVE, REEDY
December 30: ADOPT, GUISE, TEMPT, ANGST, ODIUM, THEFT
December 29: BLAND, LASSO, EXTOL, BILGE, ASSET, DROOL
December 28: GROAN, ALTER, HENCE, GNASH, OFTEN, NURSE
December 27: BRICK, SHADE, EVENT, BASTE, IRATE, KNELT
December 26: PAGER, UNIFY, PREEN, PLUMP, GRIME, RAYON
December 24: BEADY, AVOID, TOTAL, BEAST, ALOFT, YODEL
December 23: SPITE, ELITE, LIGHT, STEEL, ICING, EXERT
December 21: MANIA, NAVEL, CURVY, MANIC, NEVER, ALLAY
December 20: BLEED, SUSHI, COYLY, BASIC, ESSAY, DAISY
December 19: THESE, LOOSE, ELECT, TULLE, EVOKE, EJECT
December 18: OFFER, DRIFT, RELAY, ORDER, FRILL, RATTY
December 17: WHEAT, DEUCE, NOTCH, WIDEN, ERUPT, TEETH
December 16: TRILL, PRISM, COMFY, TOPIC, IDIOM, LUMPY
December 15: QUASH, ADMIT, LUNCH, QUAIL, ADMIN, HATCH
December 14: DICEY, SIEGE, OPTED, DISCO, CLEAT, YIELD
December 13: STALL, ALLOW, YAWNY, SOAPY, AGLOW, LOWLY
December 11: VOWEL, NOISY, LATER, VINYL, WAIST, LAYER
December 10: THIGH, BELOW, APTLY, TIBIA, INLET, HOWDY
December 9: SLOSH, OTTER, YUCKY, SNOWY, OPTIC, HARPY
December 8: STRIP, LUMEN, TENSE, SPLAT, ROMAN, PENNE
December 7: SCRAM, ORBIT, THIEF, SHOUT, RABBI, MOTIF
December 6: SHUCK, LOUSE, REPEL, SOLAR, USURP, KNELL
December 5: MAKER, FLOSS, ANNOY, MAFIA, KNOWN, RISKY
December 4: MUCUS, NINJA, EXCEL, MINCE, CONIC, SHALL
December 3: LIKEN, CLIMB, LEERY, LOCAL, KNIFE, NOBLY
December 2: FLESH, TRUMP, LIPID, FATAL, EQUIP, HOPED
December 1: PIANO, PLEAD, RETRY, PIPER, ALERT, ODDLY
November Waffle Answers
November 30: CHORE, MINUS, THREE, COMET, OWNER, ENSUE
November 29: HERON, PECAN, REPAY, HYPER, RECAP, NANNY
November 28: PRUDE, AUDIO, EARLY, PLACE, UNDER, EPOXY
November 27: CURVE, AFOOT, EATER, CRAZE, ROOST, ENTER
November 26: RULER, MOGUL, ARRAY, RUMBA, LAGER, RALLY
November 25: BANAL, CYBER, PIECE, BICEP, NOBLE, LARGE
November 24: BEVEL, ALLOT, TEASE, BLAST, VILLA, LATHE
November 23: USING, CELLO, RERUN, ULCER, IDLER, GROWN
November 22: SPOOF, OMEGA, DRAKE, STOOD, OPERA, FRAME
Waffle Answers FAQ
How to Play
Waffle Game is free to play on the official website. The objective is to figure out all six words in 15 moves or less. The color of each tile will give you hints as to correct or incorrect letter positioning. Yellow letters shared indicate the letter is in the wrong position, whereas green letters indicate the correct position.
After clearing each board, players can share their Waffle results by tapping the green share button. The results are automatically copied to the clipboard upon clicking the share button—press CTRL+V on your keyboard to paste the results on social media or in a chat window.
We have answers for other related games, including Wordle, as well, so check out the related pages if you want some more word game challenges. See our post on games similar to Wordle for other word games!