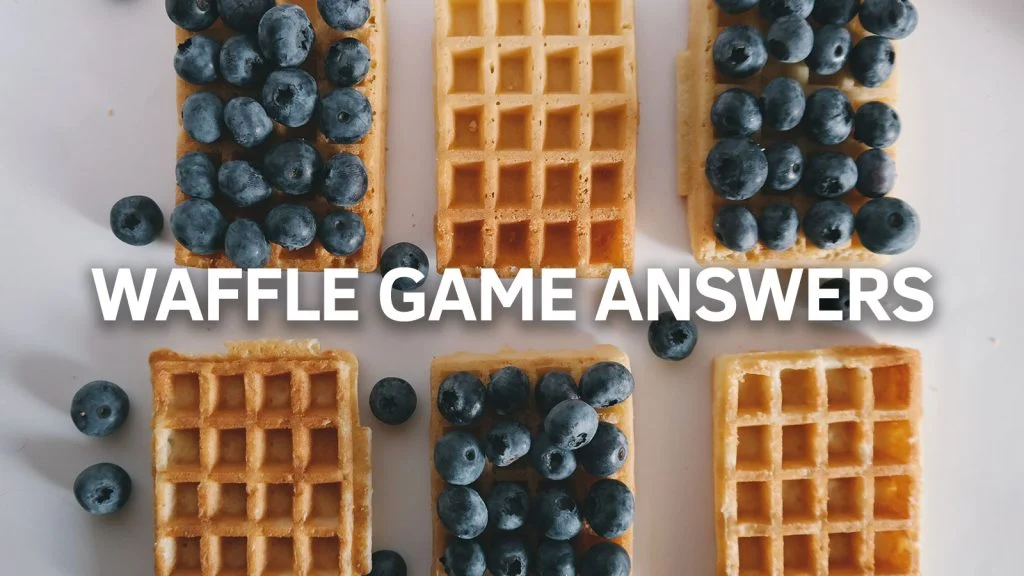 Waffle is a word game where players must rearrange letters to form six words on the board. Players get a total of 15 moves to solve the board and figure out the mystery words of the day. Luckily, the game provides some hints about correct and incorrect letters and letter positions, similar to Wordle.
Sometimes figuring out all six words can be a bit tricky in only 15 moves. If you're drawing a blank and need some help on the answer, that's why we made this Waffle answers post. We recommend solving it on your own, but if you want, you can find the current and historical answers below.
Waffle Answers
The Waffle answers today (October 5) are:
SCALE, OVATE, PLEAT, SCOOP, ADAGE, EVENT
October Waffle Answers
October 4:

VAPID, GOURD, NEEDY, VEGAN, PAUSE, DADDY

October 3: CUTIE, ADAPT, NYLON, CHAIN, TRAWL, EATEN
October 2: SNACK, OZONE, EXERT, SWORE, ATONE, KNELT
October 1: TRADE, APING, THEFT, TRAIT, ARISE, EIGHT
September Waffle Answers
September 30: LILAC, GENIE, TIRED, LIGHT, LINER, CREED
September 29: SPOON, ICING, TEMPT, SHIFT, ODIUM, NIGHT
September 28: AMUSE, HIPPO, NURSE, ASHEN, UPPER, ERODE
September 27: CREEK, AGONY, STEAK, CHAOS, ELOPE, KAYAK
September 26: BILGE, GUMBO, LOOSE, BAGEL, LIMBO, EVOKE
September 25: MARSH, RAVEN, EERIE, MERGE, RIVER, HINGE
September 24: GUSTO, AWAIT, TWEED, GRANT, SHAVE, OPTED
September 23: SNORE, ETHOS, FERAL, SHELF, OTHER, EASEL
September 22: WHALE, ANODE, EJECT, WEAVE, ABODE, ELECT
September 21: CLIFF, TALON, RATTY, CATER, INLET, FANCY
September 20: SLUMP, RABBI, DUNCE, SHRED, URBAN, PRIME
September 19: ALPHA, GLOSS, THESE, ANGST, PRONE, AISLE
September 18: SLUNG, NADIR, WEDGE, SINEW, UNDID, GORGE
September 17: SNARE, ERROR, LUNCH, STEAL, APRON, EARTH
September 16: ORBIT, THUMB, RUDDY, OTTER, BOUND, TUBBY
September 15: BOSSY, ARENA, STRUT, BRASS, SNEER, YEAST
September 14: SKIER, AMPLY, TITAN, SCANT, INPUT, RAYON
September 13: EXCEL, ADORE, TEETH, EXACT, CLOVE, LEECH
September 12: TOUGH, AIDER, NERDY, TRAIN, UNDER, HARDY
September 11: PLAIN, RHINO, HENCE, PERCH, ALIGN, NOOSE
September 10: SHAME, ABOUT, ENTER, STAKE, AFOOT, EATER
September 9: MIDST, ROOST, HOLLY, MORPH, DROLL, TATTY
September 8: BROKE, UDDER, FERRY, BLUFF, ORDER, EARLY
September 7: BUNCH, FINER, TRASH, BEFIT, NINJA, HARSH
September 6: LURCH, COCOA, DERBY, LUCID, RECUR, HEADY
September 5: FLARE, ELUDE, DOTTY, FREED, ADULT, ENEMY
September 4: CRUST, ALIBI, TONAL, COAST, UNION, TWILL
September 3: TEPID, ONION, LATER, TROLL, PAINT, DONOR
September 2: EQUIP, ALLOT, EXTOL, ERASE, UNLIT, PETAL
September 1: SNOOP, ANNUL, FIRST, STAFF, OWNER, PILOT
August Waffle Answers
August 31: SPORT, ALTER, LINGO, SMALL, OFTEN, TORSO
August 30: APART, OAKEN, THEME, ADOPT, ANKLE, TENSE
August 29: THREE, UNFED, HATER, TRUTH, REFIT, ELDER
August 28: GUSTY, OPIUM, ENTRY, GROVE, STINT, YUMMY
August 27: MAKER, REALM, TOKEN, MERIT, KNACK, RAMEN
August 26: TEASE, OUTDO, TORCH, TROUT, ALTAR, EPOCH
August 25: SUAVE, WRING, RISER, SEWER, AMISS, EAGER
August 24: FLUID, INSET, LATEX, FRILL, UPSET, DETOX
August 23: DEPOT, AGENT, TUNER, DRAFT, PREEN, TUTOR
August 22: CLEAN, AMASS, FIERY, CHAFF, ELATE, NOSEY
August 21: BULKY, TOPIC, DODGY, BATED, LIPID, YUCKY
August 20: TRIED, ALARM, PIETY, TRAMP, INANE, DUMPY
August 19: VIDEO, SLIME, ADEPT, VISTA, DRIVE, OVERT
August 18: BARON, LEARN, RETCH, BALER, REACT, NINTH
August 17: KAZOO, ABBOT, AWARD, KOALA, ZEBRA, OUTED
August 16: DOLLY, BUDGE, TREAD, DEBIT, LADLE, YIELD
August 15: ABIDE, HASTE, DWELT, APHID, ISSUE, ERECT
August 14: PESKY, SCREW, ARRAY, PASTA, SURER, YAWNY
August 13: CREAM, MOUND, TALLY, COMET, EQUAL, MADLY
August 12: PARSE, NUDGE, LEERY, PANEL, RIDGE, ELEGY
August 11: NAIVE, CREDO, RALLY, NICER, IDEAL, EBONY
August 10: SEVER, ELITE, LEGGY, SHELL, VYING, REEDY
August 9: LOWER, RIPEN, CURSE, LYRIC, WIPER, RINSE
August 8: CLOUT, EDICT, SCENE, CRESS, OLIVE, TITLE
August 7: GECKO, FOCUS, EVICT, GAFFE, CACTI, ONSET
Waffle Answers FAQ
How to Play
Waffle Game is free to play on the official website. The objective is to figure out all six words in 15 moves or less. The color of each tile will give you hints as to correct or incorrect letter positioning. Yellow letters shared indicate the letter is in the wrong position, whereas green letters indicate the correct position.
After clearing each board, players can share their Waffle results by tapping the green share button. The results are automatically copied to the clipboard upon clicking the share button—press CTRL+V on your keyboard to paste the results on social media or in a chat window.
We have answers for other related games, including Wordle, as well, so check out the related pages if you want some more word game challenges. See our post on games similar to Wordle for other word games!