From its humble beginning as a mod to its current status as the number one competitive first-person shooter, Counter-Strike has cemented itself in gaming history. As the game continues to evolve, it's clear Counter-Strike's legacy will remain a vital part of the competitive esports scene for years to come, especially since Counter-Strike 2 is just around the corner.
This past weekend, Counter-Strike broke yet another milestone, with 1,519,457 concurrent players on Sunday, March 26, 2023. These stats come straight from SteamDB, a reliable third-party Steam game and data tracker. The new record beats the previous by over 200,000 players, and some gamers may be wondering what's driving such growth.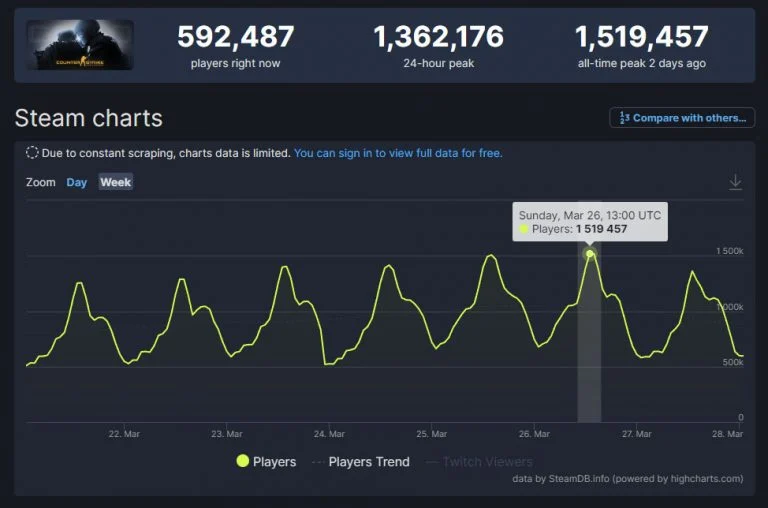 Why Are So Many People Playing Counter-Strike?
The recent growth in Counter-Strike is likely driven by the upcoming launch of Counter-Strike 2 and the ongoing Limited Test. Anticipation has been building around the Limited Test, an exclusive opportunity for select players to experience the highly anticipated upcoming version of Counter-Strike on the Source 2 engine.
However, misinformation has spread within the gaming community about how to gain access to the Limited Test, leading to some unintended consequences. Counter-Strike has released an official announcement to clarify the situation: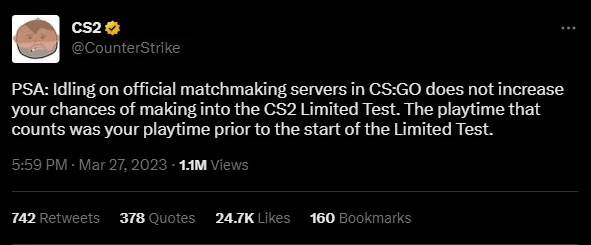 This announcement addresses the rumors circulating among players, which suggested that idling on official matchmaking servers would boost their chances of gaining access to the CS2 Limited Test. As a result, many gamers began occupying matchmaking servers without actively participating, hoping to increase their odds of selection.
However, Counter-Strike's announcement clearly states that this strategy is ineffective. The developers have confirmed that only the playtime logged before the Limited Test began would be taken into account when selecting participants. This means that idling on matchmaking servers has no impact on a player's eligibility for the CS2 Limited Test.
Sorry folks, no gaming the system for a Limited Test seat. But good news, because Counter-Strike 2 is slated for a full version release this summer. Until then, you can join the millions of other players and brush up on those Counter-Strike skills!