We're here to help you out with today's Wordscapes February 27 2023 daily puzzle answers. Today's puzzle has a total of 8 words, derived from 7 letters: N, A, O, I, M, N, S. Check out the answers below if you need any help.
We complete and post the daily puzzle every day, so check back later if you ever need help during your Wordscapes adventure. Bookmark our Wordscapes section if you ever need help with any future daily puzzles.
Wordscapes Daily Puzzle Answers February 27 2023
The answers to the Wordscapes daily puzzle on February 27 2023 are:
AIMS
INNS
IONS
MAIN
MOAN
AMINO
MASON
MANSION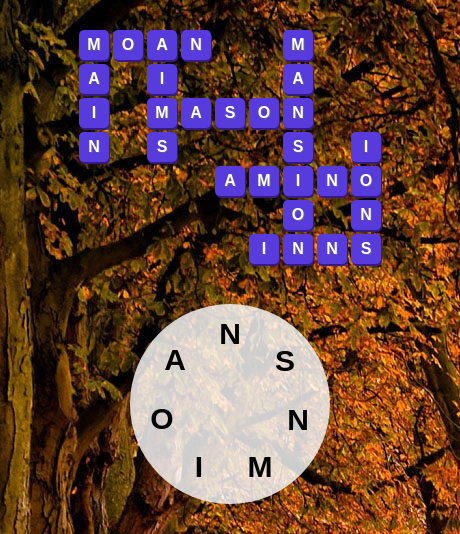 Wordscapes February 27 2023 Daily Puzzle Definitions
AIMS - point or direct (a weapon or camera) at a target
INNS - an establishment providing accommodations, food, and drink, especially for travelers.
IONS - an atom or molecule with a net electric charge due to the loss or gain of one or more electrons
MAIN - chief in size or importance
MOAN - a long, low sound made by a person expressing physical or mental suffering or sexual pleasure
AMINO - the group —NH₂, present in amino acids, amides, and many amines
MASON - a builder and worker in stone
MANSION - a large, impressive house.
Definitions via Oxford Languages.
That's everything you need to know about today's Wordscapes February 27 2023 daily puzzle answers. For more answers, guides, and puzzles, visit our website's word games section.
Wordscapes is available for Android and iOS devices on Google Play and App Store.