We're here to help you out with today's Wordscapes February 8 2023 daily puzzle answers. Today's puzzle has a total of 15 words, derived from 6 letters: L, O, O, G, A, N. Check out the answers below if you need any help.
We complete and post the daily puzzle every day, so check back later if you ever need help during your Wordscapes adventure. Bookmark our Wordscapes section if you ever need help with any future daily puzzles.
Wordscapes Daily Puzzle Answers February 8 2023
The answers to the Wordscapes daily puzzle on February 8 2023 are:
AGO
GAL
LAG
LOG
NAG
GOO
GOAL
LOAN
LOGO
LONG
GOON
LOON
ALONG
ANGLO
LAGOON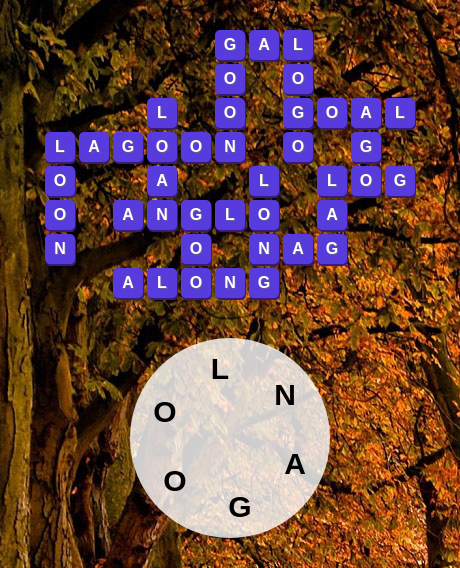 Wordscapes February 8 2023 Daily Puzzle Definitions
AGO - (used after a measurement of time) before the present; earlier
GAL - a girl or young woman.
LAG - fall behind in movement, progress, or development; not keep pace with another or others
LOG - a part of the trunk or a large branch of a tree that has fallen or been cut off
NAG - annoy or irritate (a person) with persistent fault-finding or continuous urging
GOO - a sticky or slimy substance
GOAL - (in football, soccer, rugby, hockey, and some other games) a pair of posts linked by a crossbar and often with a net attached behind it, forming a space into or over which the ball has to be sent in order to score.
LOAN - a thing that is borrowed, especially a sum of money that is expected to be paid back with interest
LOGO - a symbol or other design adopted by an organization to identify its products, uniform, vehicles, etc.
LONG - measuring a great distance from end to end
GOON - a stupid, foolish, or eccentric person
LOON - a silly or foolish person
ALONG - moving in a constant direction on (a road, path, or any more or less horizontal surface)
ANGLO - a white, English-speaking American as distinct from a Hispanic American
LAGOON - a stretch of salt water separated from the sea by a low sandbank or coral reef.
Definitions via Oxford Languages.
That's everything you need to know about today's Wordscapes February 8 2023 daily puzzle answers. For more answers, guides, and puzzles, visit our website's word games section.
Wordscapes is available for Android and iOS devices on Google Play and App Store.