Wordscapes is a free-to-play mobile word puzzle game developed by PeopleFun. The challenging brainteaser game combines elements from various types of word puzzles like word searches, anagrams, and crosswords. Connect letters from a letter wheel to form words hidden inside the puzzle.
Some days, there are some hidden words in the puzzle that can be challenging to figure out. That's why we have the Wordscapes July 30 2022 daily puzzle answers, in case you're missing a word or two and could use some assistance. You can bookmark this page and check back every day for daily answers if you ever have trouble.
Wordscapes July 30 2022 Daily Puzzle Answers
The answers to the Wordscapes July 30 2022 daily puzzle are:
SUIT
TISSUE
ITS
SITE
SUE
ISSUE
SUITE
SIS
SIT
USE
SET
TIE
TIS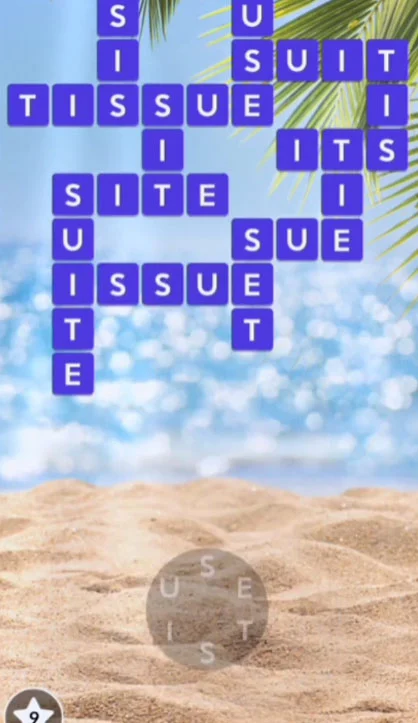 Wordscapes Word Definitions
SUIT – a set of outer clothes made of the same fabric and designed to be worn together, typically consisting of a jacket and trousers or a jacket and skirt.
TISSUE – any of the distinct types of material of which animals or plants are made, consisting of specialized cells and their products.
ITS – belonging to or associated with a thing previously mentioned or easily identified.
SITE – an area of ground on which a town, building, or monument is constructed.
SUE – institute legal proceedings against (a person or institution), typically for redress.
ISSUE – an important topic or problem for debate or discussion.
SUITE – a set of rooms designated for one person's or family's use or for a particular purpose.
SIS – a person's sister (often used as a form of address).
SIT – adopt or be in a position in which one's weight is supported by one's buttocks rather than one's feet and one's back is upright.
USE – take, hold, or deploy (something) as a means of accomplishing a purpose or achieving a result; employ.
SET – put, lay, or stand (something) in a specified place or position.
TIE – attach or fasten (someone or something) with string or similar cord.
TIS – contraction for it is.
For more answers, guides, and to learn about more puzzles, visit our website's word games section.
Wordscapes is available for Android and iOS devices on Google Play and App Store.