Dead by Daylight is bringing back the Twisted Masquerade for its 7th Anniversary. The developers have added some new twists to make the Invitations a more engaging part of the festivities. We've got all the details just ahead.
Dead by Daylight Twisted Masquerade Event Dates
The Twisted Masquerade event will occur from June 21-30, 2023. Warm-up events will end on June 13, so there's still time to prepare, and if you've been away from Dead by Daylight, shake the rust off.
Dead by Daylight Twisted Masquerade Invitations
Players now have multiple uses for the Invitations used to obtain new masks. As before, they're found in the Trials to be picked up by either side. Unlike last year, Survivors and Killers need to reach the end-game (when the exits are open) with an invitation on hand and still holding at least 1 charge. Savvy players are likely already asking why they have charges, so let us explain.
Survivors and Killers can now use their invitations to grant boons during the Trial itself. Survivors can block Vault locations and create 1-use pallets; Killers can reduce stun times, inflict Exposed after reaching Bloodlust, or remotely break pallets or walls. We're sure to see some exciting plays as a result of this new mechanic. These will be especially useful on Killers with simpler kits, like Michael Myers.
Dead by Daylight Twisted Masquerade Masks
In exchange for completing the challenge, players will start unlocking this year's Twisted Masquerade Masks. There are 12 available in total for the following characters:
The Oni
The Blight
The Knight
The Legion
The Nurse
The Singularity (upcoming Killer)
Felix Richter
Gabriel Soma (upcoming Survivor)
Jeff Johansen
Jonah Vasquez
Meg Thomas
Zarina Kassir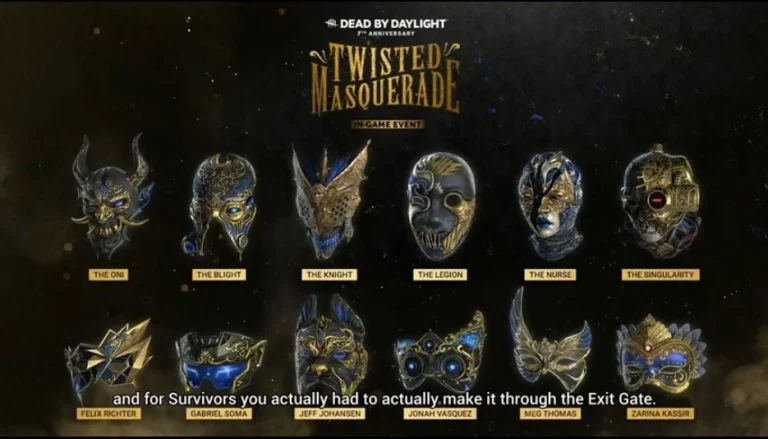 Last year's masked and related cosmetics will also return. There will also be 2 new cosmetic sets for this year, one for Nea Carlsson and one for the Hillbilly. It will also be easier to track cosmetic progress, as there will be 2 new tabs in the event menu: 1 for store items, and 1 for those earned by gameplay.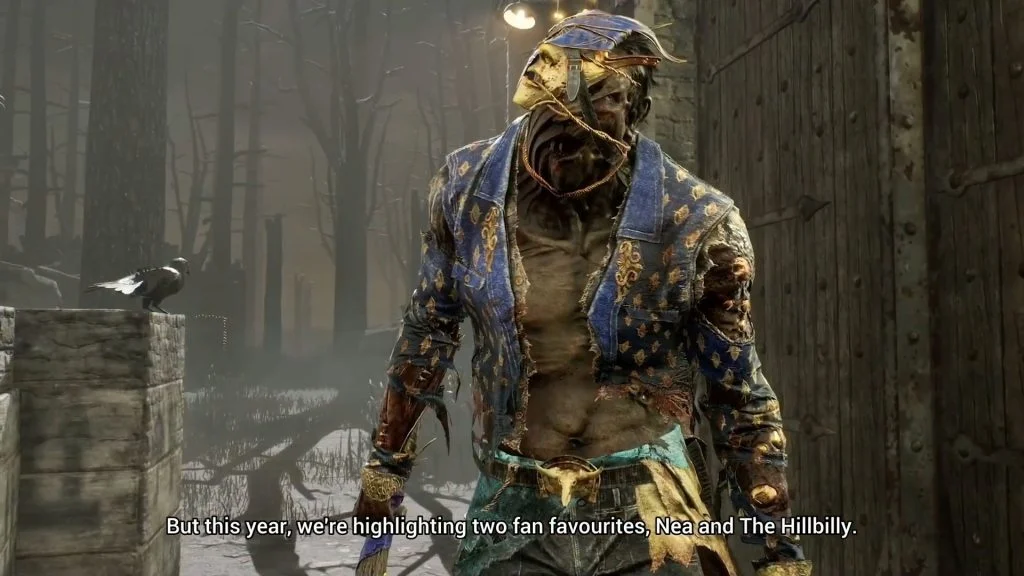 New Charms have been mentioned as well, but none were specifically mentioned during the Anniversary Stream, so they'll be a surprise.
Father Campbell's Chapel Map Changes
Father Campbell's Chapel has been decorated for the occasion. It looks wonderfully festive and we can't wait to break it in with some hectic chases. The main building is likely to see even more traffic than usual; be careful not to stumble into someone else's pursuit.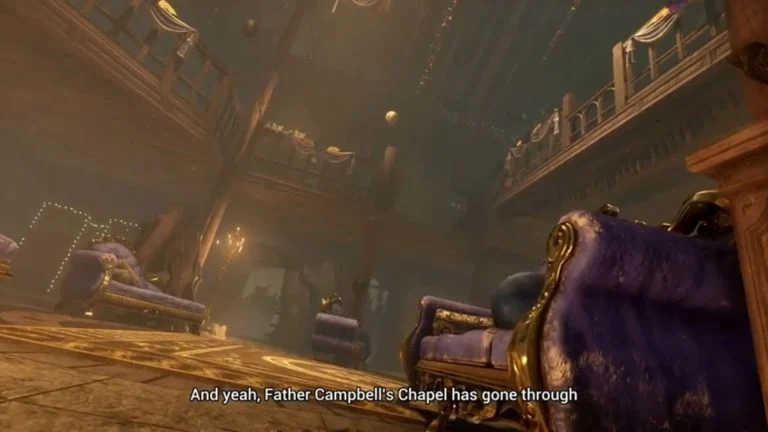 The Dead by Daylight 7th Anniversary celebration is looking like a wonderful event. We're eager to dive back in and experience that as well as the upcoming additions to the roster. To learn more about the event, visit the Dead by Daylight blog post about the anniversary.
For more news on game updates, see our news section.