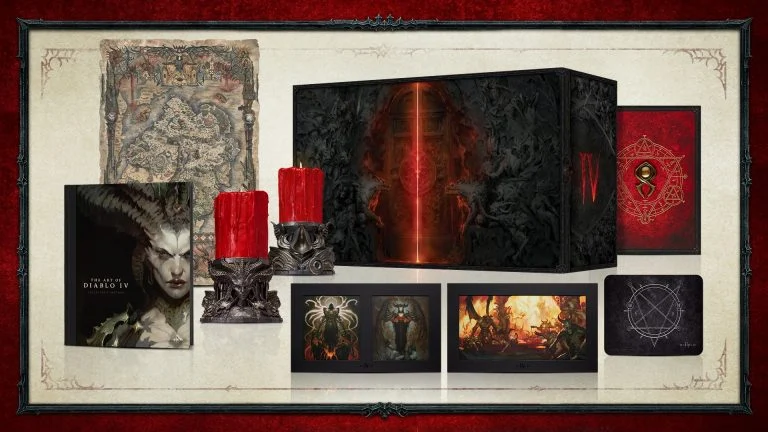 Today's Diablo IV developer live stream gave an overview of some exciting features and gameplay players can expect in the next installment of Diablo. The live stream also marks the launch of the Diablo 4 Collector's Box, which was previously mentioned in Blizzard's Diablo 4 pre-order post on the official blog. For hardcore Diablo fans, this may be something you'll want to pick up before it sells out.
The Diablo IV Collector's Box is now available for pre-order. The collector's box is a limited-run item, so there are only 50,000 units to be sold. Once they're gone, that's all, folks! One thing to note is that an actual copy of Diablo IV is not included, as the contents include only merch inspired by the game.
What's in the Diablo 4 Collector's Box?
The Diablo 4 Collector's Box includes:
Candle of Creation: two-sided Diablo-themed electric candle
Occult Mouse Pad: premium Diablo-themed mouse pad
Cloth Sanctuary Map: a scroll-like cloth map of Diablo IV's Sanctuary
Hordadrim Pin: a pin to "display the vestige of ancient brotherhood"
Art Book: a 300-page collection of artwork that created the world of Sanctuary and its heroes
Art prints: two Diablo-themed matted fine art prints (18.54″ x 10.79″)
The Diablo IV Limited Collector's Box is available for purchase on the Blizzard Gear Store for $96.66. Only available while supplies last. The Collector's Box is available in North America, Latin America, Europe, and the UK at the Blizzard Gear Store. The Collector's Box will be available from select retailers in Australia and South Korea.
Players looking to pick up a copy of Diablo IV for launch can visit Diablo.com to pre-purchase it.