There are several daily activities available to you after becoming a part of The Shadows in Diablo Immortal. Shadow-only quests allow Shadows to improve their own strength and that of the entire faction. After gaining enough progress, Shadows can then challenge the Immortals in the Rite of Exile. One activity that might be confusing to new players is to seek Blessing from other Shadows.
The Shadow-specific Diablo Immortal quest to seek blessings from other Shadows is an easy way to get a ton of bonus experience. To complete this quest, players need to seek out four Blessings from other Shadows at the Assembly. The area is open from Monday through Saturday, 6 p.m. to 8 p.m., and requires level 43 or higher to enter.
How to Seek Blessings from Other Shadows in Diablo Immortal
To seek Blessings from other Shadows in Diablo Immortal:
Visit the Assembly Hall anytime from 6 p.m. to 8 p.m. Monday through Saturday.
Wait for the Akeba's Blessing countdown timer to expire.
Request a blessing from an assigned Shadow.
Repeat the process for each of the four Blessings.
The Shadow quest outlined above is unique in that it requires a few faction-specific players to cooperate for a few minutes. Shadow players looking to complete this quest will want to visit the Assembly Hall when it is active at 6 p.m. At that time, Akeba's Blessings will rotate for the next two hours.
A countdown shows up on the top of the screen, saying "Akeba's Blessing: Strength, Vision, Sacrifice, and Cunning." When the countdown ends, a few players will be randomly assigned the Blessing. Those players can then bless other players simply by clicking on them. Non-blessed players can click on those assigned to request to be blessed.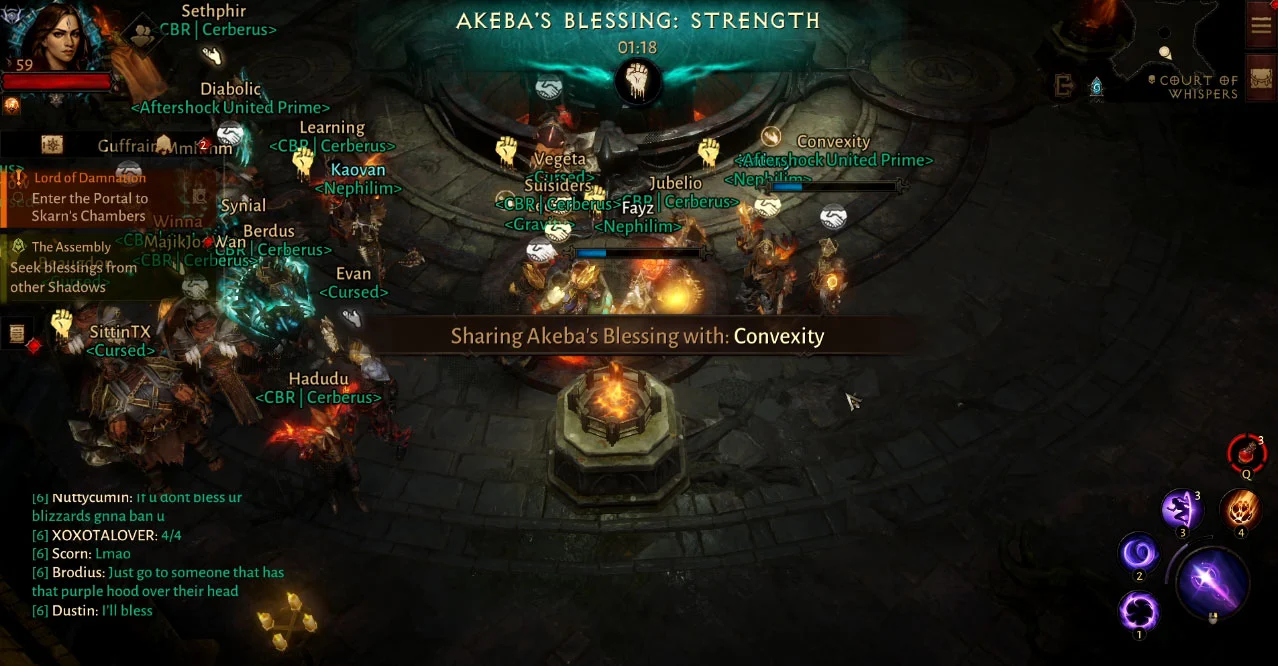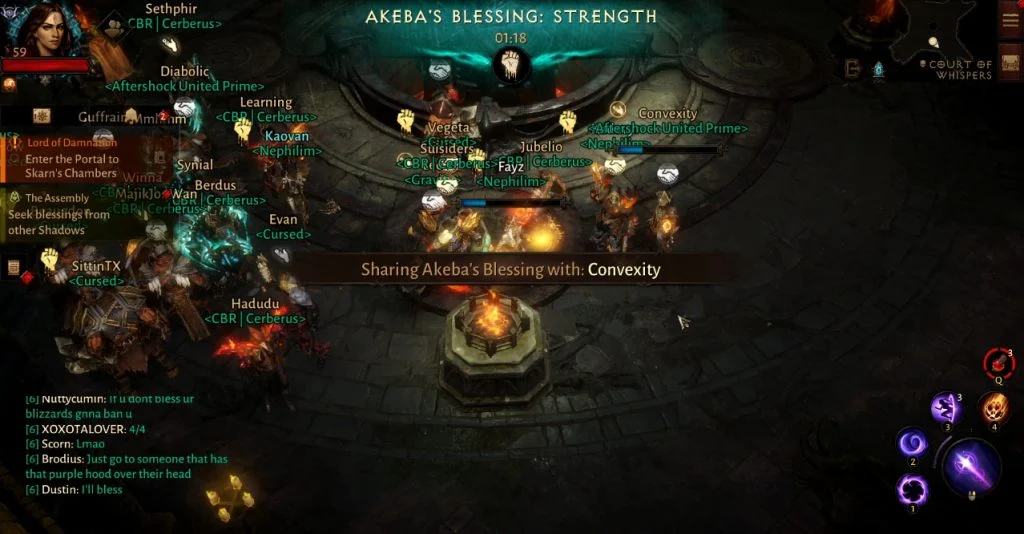 Each blessing period lasts two minutes, and then another 10-second-long countdown begins to prepare the following Blessing. The process repeats for all four blessings for the remaining two hours that the Assembly is active. You can stand around for a few minutes to get all four Blessings.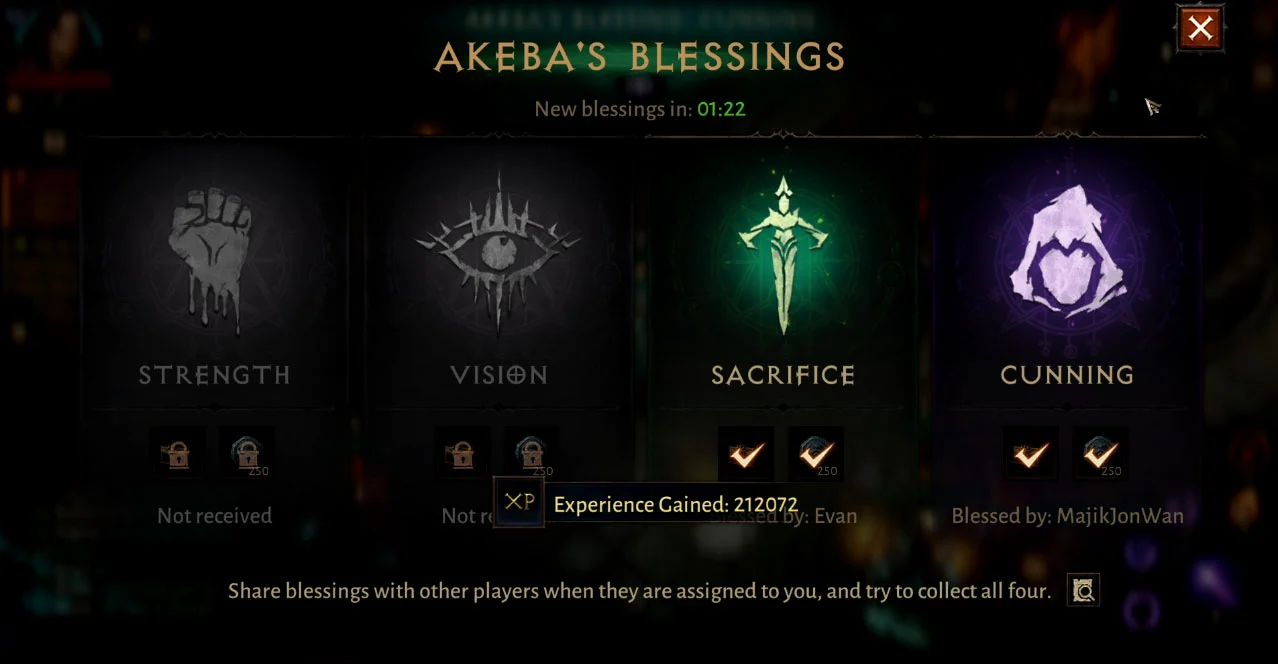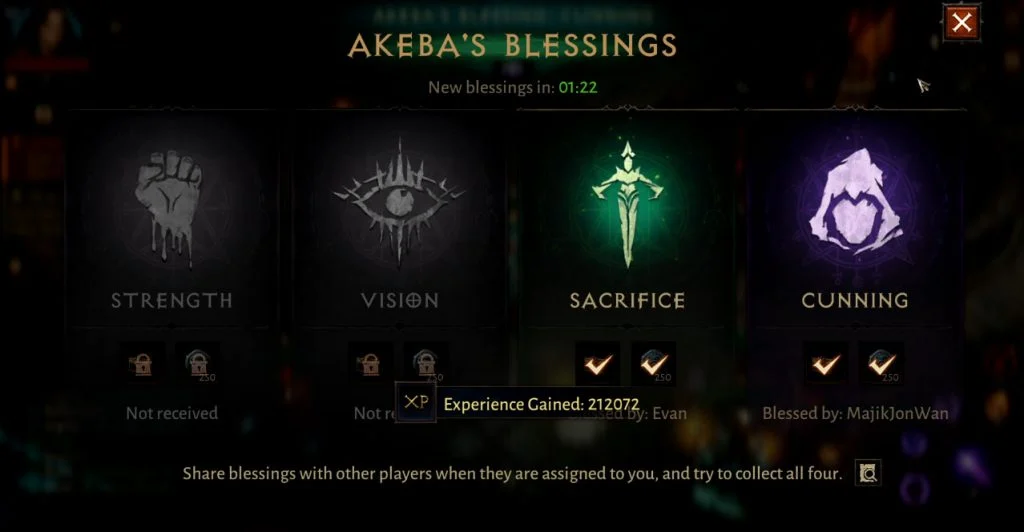 Akeba's Blessings Rewards include 212,072 XP, 250 Marks, three Aspirant's Keys, and around 3,000 gold per Blessing. That equates to a hefty ~800K XP for a few minutes of hanging out with some fellow Shadows.
Visit our Diablo Immortal section for guides and more related game content.
Diablo Immortal is available via Battle.net, Google Play, and the App Store.