Diablo Immortal is finally available, and the free-to-play MMOARPG from Blizzard Entertainment is the company's first foray into mobile. As with all mobile games these days, it's free-to-play because endless in-game microtransactions are available for purchase. You don't necessarily need to buy any of them, but if you're looking to spend some cash, you're probably looking for good deals. One in-game purchase you can make is the Boon of Plenty. So, what is the Boon of Plenty in Diablo Immortal? Let's find out.
What is the Boon of Plenty in Diablo Immortal?
The Boon of Plenty is an in-game item available for purchase in Diablo Immortal that gives players the following rewards and bonuses:
Inventory Expansion: expand your inventory with six additional rows (36 cells).
Remote Market Access: open the Market anywhere from an item in your Inventory.
Market Trade Slots: gain access to four additional Market trade slots.
The Boon of Plenty can be purchased for $9.99 from the in-game shop in Diablo Immortal. You can purchase it up to three times to stack a total of 90 days of rewards. In other words, each Boon of Plenty lasts for 30 days.
For logging in for cumulative days, players with a Boon of Plenty will get rotating rewards, a five-day login bonus, and temporary access to the three bonuses listed above. Here's a look at the cumulative login rewards for Boon of Plenty purchasers:
Legendary Crest – Claimable at 5, 10, and 15 cumulative login days
Legendary Crest and Fervant Fang – Claimable at 20 and 25 cumulative login days
Legendary Crest x2 – Claimable at 30 cumulative login days
How to Get the Boon of Plenty in Diablo Immortal?
To get the Boon of Plenty in Diablo Immortal:
Launch Diablo Immortal and log in.
Tap on the three bars on the top right to open the menu.
Open the Shop menu.
Go to the Services tab.
Tap on Boon of Plenty on the bottom right.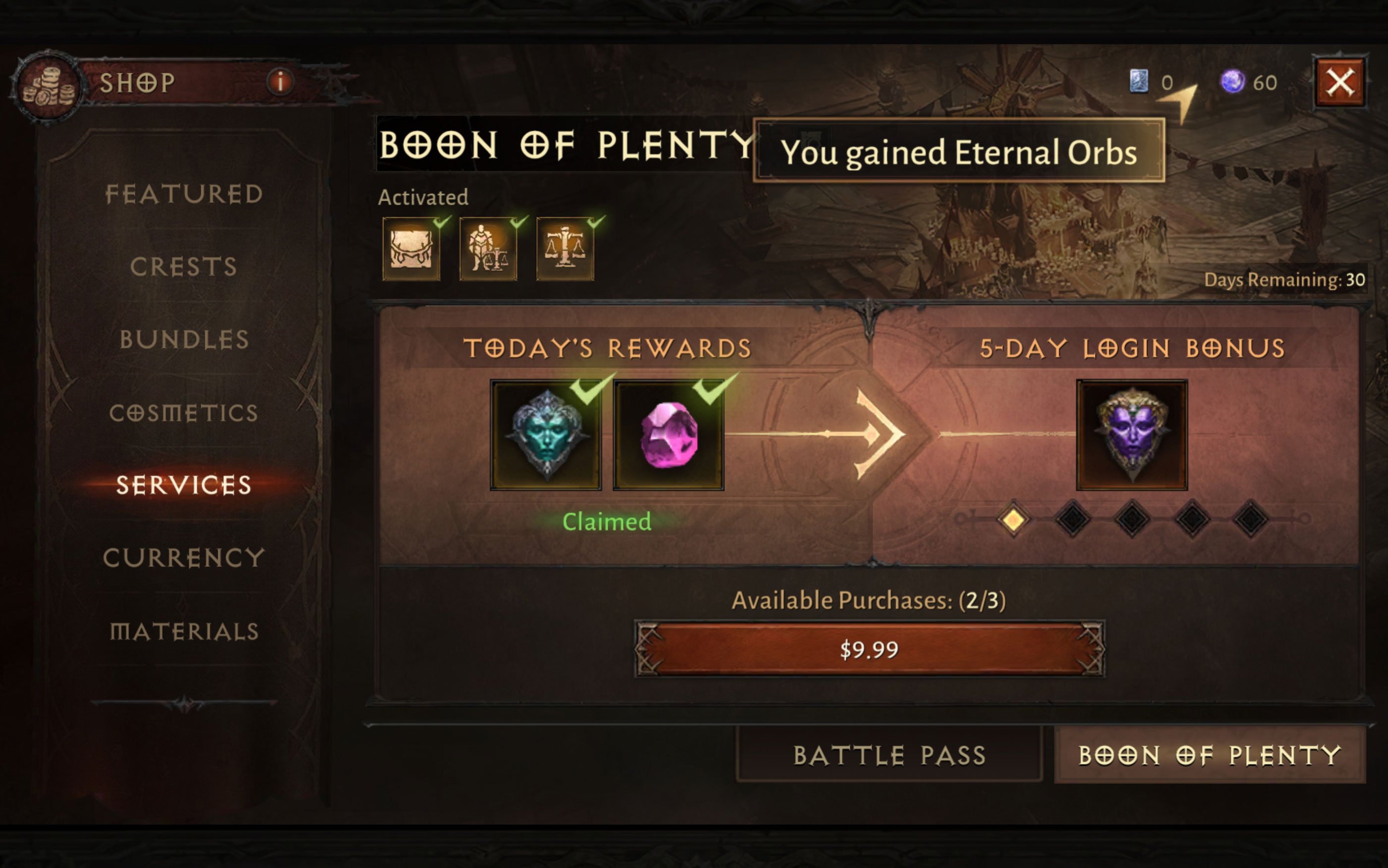 Is the Boon of Plenty worth it?
The Boon of Plenty comes at the cost of $9.99 for thirty days. One could look at it as a $9.99 per month subscription to play Diablo Immortal. In reality, though, it's $9.99 for the opportunity to get login rewards. As it's a free-to-play game, you'll have to decide whether it's worth it or not for you. You do get three bonuses and cumulative login rewards, so a player who plans to play every day and use the Market heavily may benefit significantly from having an active Boon of Plenty.
Visit our Diablo Immortal section for guides and more related game content. See you in the Sanctuary!
Diablo Immortal will be available via Battle.net, Google Play, and the App Store.