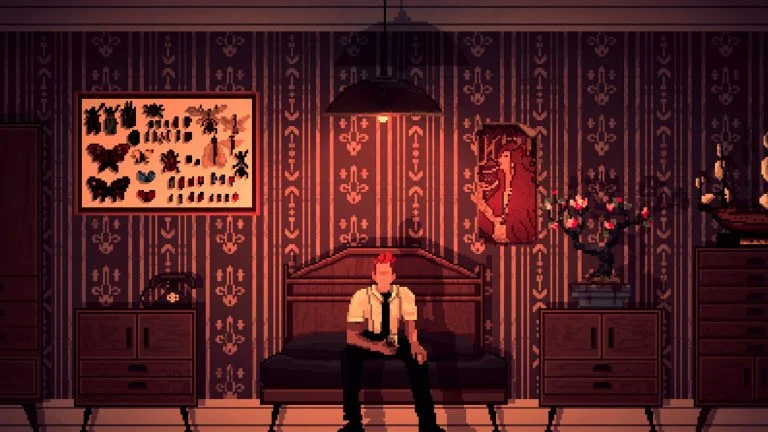 Are you a fan of indie titles? Well, this week's Epic Games Store free game offerings are two indie games, and to be honest, they look pretty intriguing. These games will be free on the Epic Games Store this week from January 26-February 2, 2023.
Check out our Epic Games Store free games list for a full roundup of all the weekly freebies.
Epic Games Store Free Games this Week for January 26, 2023
Epic Games Store is now offering Adios and Hell is Others. These Epic Game Store's free games of the week will be available until February 2, 2023. They will be taken off the Epic Games Store at 11 a.m. EST.
Adios
Adios, developed and published by Mischief, is a super interesting first-person cinematic game about a pig farmer in Kansas. However — this isn't some farm simulator. Instead, in Adios, you work with the mob to use your pigs to dispose of bodies. Sound morbid? Well, it is, and the game's aesthetic also gives uncanny valley vibes, making the visuals match the peculiar premise.
Watch the trailer for Adios here:
Hell is Others
Hell is Others, developed by Strelka Games & Yonder and published by A List Games, is a top-down PvPvE horror shooter. Set in the fictional universe of Century City, you must explore, loot and hunt to gain valuable currency — in the form of blood. In the universe of Hell is Others, blood is the main source of sustenance, and players must survive and thrive in this tough climate. An extraction game, Hell is Others is a unique take on the burgeoning genre of games.
Watch a trailer for Hell is Others below.
What were Epic Games Store's Last Free Games?
The last free game that Epic gave away was Epistory – Typing Chronicles.
How Do I Get the Epic Free Games?
To get the free games from Epic Games:
Download the Epic Game Launcher.
Head over to their Free Game Page.
Redeem the free games.
What Other Games are Free on Epic?
See our Full List of Epic Free Games to see what Epic has to offer.
Head over to our News Section for the latest.