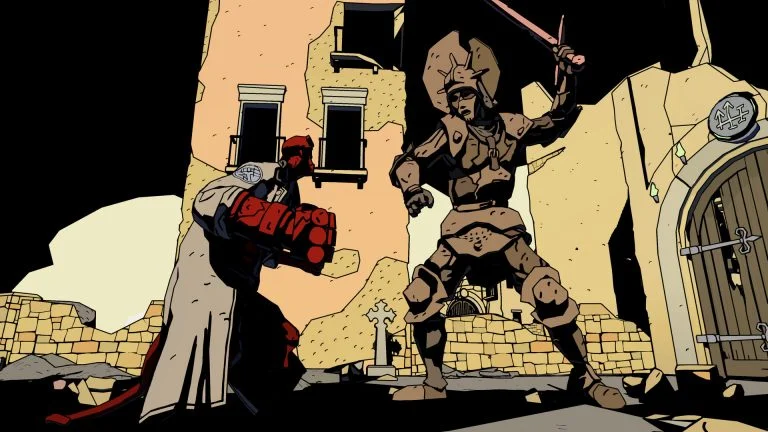 Fans of the Hellboy franchise got some good news at The Game Awards 2022, with the announcement of an all-new cel-shaded experience, Hellboy Web of Wyrd, which has the player assume the role of Hell's most antagonistic demon, Hellboy. 
Hellboy Web Of Wyrd, developed by Upstream Arcade, is a 3rd-person rougelite based on the famed Dark Horse comic book. Web of Wyrd transports players back to 1982, where you play as Hellboy, trying to uncover the dark secrets of what is known as The Butterfly House.
Hellboy Web of Wyrd was created in collaboration with Hellboy's creator, Mike Mignola, and is a unique story that lives within the Hellboy canon. With an aesthetic reminiscent of the graphic novels and comics, this is a game made for true Hellboy fans.
Here's the official Hellboy Web of Wyrd trailer announcement:
While not much is known about the game, the combat looks snappy and stylistic, according to early footage and the trailer. Reminiscent of the game Sifu, we're excited to get our hands on this one.
According to the Steam Page,
"Built in 1962 by occultist Pasquale Deneveaux, The Butterfly House is more than a mere residence; it's a gateway. Its perverse angles and non-Euclidean geometries were designed with a singular foul purpose in mind: to open doorways into a terrible and fascinating dimension called The Wyrd."
Gamers and Hellboy fans can wishlist the game on Steam.
To learn more about the game and follow along with the story, visit the official Hellboy Web of Wyrd website.
For more updates on new games, visit our News Section.