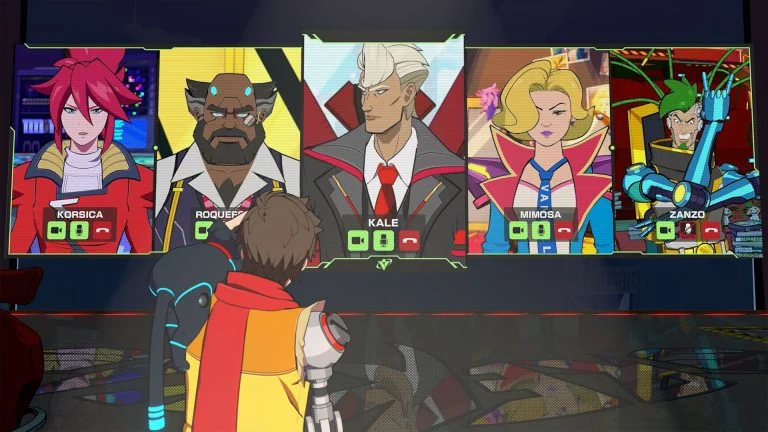 Hi-Fi Rush is a rhythm action game from Tango Gameworks (the studio behind Ghostwire: Tokyo and The Evil Within) and Bethesda Softworks that took the gaming world by surprise when it was both announced and released on January 25, 2023, during the Xbox and Bethesda Developer_Direct event. The game boasts an impressive cast of voice actors, some well-known in the industry and others making their first foray into video games, all of whom are listed below.
Hi-Fi Rush Voice Actors
Robbie Daymond: Chai
David Fane: Roquefort
Roger Craig Smith: Kale
Gabe Kunda: Macaron
Misty Lee: Rekka
Sunil Malhotra: CNMN
Erica Lindbeck: Peppermint
Sarah Elmaleh: Korsica
Camilla Arfwedson: Mimosa
Todd Haberkorn: Zanzo
Robbie Daymond as Chai
Robbie Daymond voices protagonist Chai, a wannabe rockstar with a robotic arm and the ability to see the world's rhythm. Daymond is well known for his voice acting work in various anime series and video games, including his voice work as Tuxedo Mask in Sailor Moon, Mumen Rider in One Punch Man, Peter Parker in the Spider-Man TV series, Prompto Argentum in Final Fantasy XV, and many more.
David Fane as Roquefort
David Fane is an actor and writer who makes his first foray into video game voice acting as the voice of Roquefort in Hi-Fi Rush. Roquefort acts as the head of finance for Vanedelay, the robotics enhancement megacorp. Fane has a career in television, most known for his work on Bro'Town, The Tattooist, and The Strip.
Roger Craig Smith as Kale Vandelay
Roger Craig Smith, perhaps the most well-known name on the list, is an actor and voice actor with a diverse range. He's particularly well-known in the gaming industry, as he has lent his voice to several iconic games throughout the years, including Sonic the Hedgehog in a number of Sonic titles, including the most recent Sonic Frontiers, Ezio Auditore da Firenze in Assassin's Creed, Chris Redfield in the Resident Evil series, Mirage in Apex Legends, and Batman in Batman: Arkham Origins.
Gabe Kunda as Macaron
Gabe Kunda is an actor perhaps best known to gamers as the voice of Newcastle in Apex Legends and the voice of KAY/O in Valorant. He also voices Jackal in Call of Duty Cold War's Season 4 Battle Pass and has lent his voice to World of Warcraft: Dragonflight. Kunda's resume also includes several TV series, including the new hit Netflix anime Chainsaw Man, where he voiced Bat Devil in two episodes. In Hi-Fi Rush, Kunda voices Macaron, a former employee of Vandelay.
Misty Lee as Rekka
Misty Lee boasts an impressive resume with many voice-acting roles in the gaming industry, including The Ninth Sister Inquisitor in Star Wars Jedi: Fallen Order, Grand Widow Faerlina and Lady Liadrin in Hearthstone, Princess Leia in Star Wars Battlefront, She-Hulk and Squirrel Girl in Lego Marvel's Avengers, Garland in Just Cause 4, and more. In Hi-Fi Rush, Lee voices Rekka, one of the first bosses you'll encounter and the production leader at Vandelay.
Sunil Malhotra as CNMN
Sunil Malhotra is an actor and writer who is no stranger to the gaming industry. Malhotra is known for voicing characters like Kung Lao in Mortal Kombat 11, Jun in Halo: Reach, and Akshan in League of Legends, to name a few from his extensive list of roles. Most recently, he plays CNMN ("cinnamon") in Hi-Fi Rush, a robot and psychoanalyst created by Macaron.
Erica Lindbeck as Peppermint
Erica Lindbeck is an American voice actress who has worked on various productions and has assumed the role of characters like Loona from Helluva Boss, Cassie Cage in Mortal Kombat 11, and Black Cat in the 2018 Spider-Man video game. In Hi-Fi Rush, Lindbeck plays Peppermint, the best friend of the story's protagonist, Chai.
Sarah Elmaleh as Korsica
Sarah Elmaleh is a voice actress best known for her roles in God of War: Ragnarok, Halo Infinite, and Gears 5. Credited as the "additional voice" for many of the large titles she's been in, she is perhaps best known for her role as Elizabeth "Lizzie" Carmine in Gears 5. In Hi-Fi Rush, Elmaleh lends her voice to the role of Korsica, the measured leader of the Vandelay Security team.
Camilla Arfwedson as Mimosa
Camilla Arfwedson stands out from the rest of the cast as an English actress best known for her live-action acting roles in TV shows like The Lincoln Lawyer, The Stranger, and the MacGyver series. In Hi-Fi Rush, she voices Mimosa, head of marketing at Vandelay and one of the bosses Chai encounters in the game.
Todd Haberkorn as Zanzo
Todd Haberkorn is a voice actor well-known for his work in the anime and video games industry. Gamers may recognize him as the voice of Razor in Genshin Impact, and anime lovers might know him from Bleach, JoJo's Bizarre Adventure, and the long-running Fairy Tale series — his resume is extensive. Haberkorn voices Zanzo in Hi-Fi Rush, the head of research and development at Vandelay, and the second boss Chai encounters.