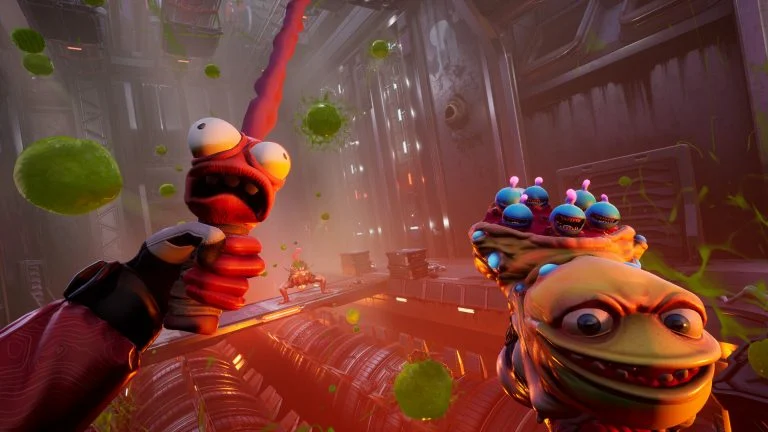 High On Life is an upcoming single-player first-person shooter Metroidvania game developed and published by Squanch Games, a company founded by Justin Roiland, co-creator of the popular franchise Rick and Morty. The game is looking to launch on Windows, Xbox One, and Xbox Series X/S on December 13, 2022.
High On Life takes place in the future, where humans are taken hostage and being used as drugs by an alien gang called the G3 Cartel. Players must try and do whatever they can to save the human race with the help of four different weapons and a plethora of movement abilities unlocked through the in-game store. 
The game features four actors and comedians voicing the weapons: Justin Roiland as the pistol Kenny, JB Smoove as the shotgun, Gus, Betsy Sodaro as Sweezy, and Tim Robinson as Creature. Design director Erich Mayr describes High On Life's game style as a blend of Blade Runner and The Muppets during a stream.
High On Life releases on Xbox and PC Game Pass on:
Xbox and PC Game Pass: December 12 at 4 p.m. PT
PC (Steam): December 12 at 11 p.m. PT.
Minimum System Requirements for PC:
OS: Windows 10 64-bit
Processor: Intel Core i5-4430K CPU @ 3GHz (quad core)
Graphics: Nvidia GeForce GTX 1060 (3GB) / AMD Radeon R9 290x (4GB) DirectX 11
Memory: 8GB Ram
Storage: 50 GB
High On Life is available for preorder in the Microsoft Store for $59.99 and can be added to the wishlist via Steam. There are no special editions, just one flat price without any special preorder bonuses. Xbox/PC Game Pass subscribers can start preloading the game now for PC.