Steam is a storefront developed by Valve, originally launched in 2003. It has come a long way since its initial release and has become somewhat of a social platform in addition to being a video game distribution hub and storefront. Users can customize their profile with different avatars, frames, backgrounds, widgets, and more. The first thing a new user might want to do is change their profile picture, commonly known as an avatar. But how do you do it? Here's a walkthrough for changing your Steam avatar.
Changing your Steam avatar can be done through the Steam client or the website. Since the website is more or less identical to the app, the process will be very similar. Let's dive into how to customize your profile picture.
How to Change Your Steam Avatar
To change your avatar or profile picture on Steam:
Log in to the Steam client or website.
Tap on your avatar on the top right and click View Profile.
Click on the Edit Profile button on the right side of your profile.
Navigate to the Avatar submenu.
Upload an avatar or choose one from the avatar library.
Save your profile.
Changing your avatar on Steam is a basic profile customization feature. Navigate to your profile page, and tap on the Edit Profile button. There are a bunch of submenus for customizing different areas of your profile, but we'll dive into the Avatar section. You're free to upload an avatar or choose from your Game Avatars. If you upload an avatar, it needs to be specific dimensions.
What Dimensions are Steam Avatars?
Steam avatars must be square and at least 184px by 184px. Steam profiles are displayed in three different sizes, depending on where it's being viewed:
Consider the three dimensions, and ensure your avatar looks good in all sizes. Steam scales them down automatically, so you'll only need to upload one that's 184px by 184px.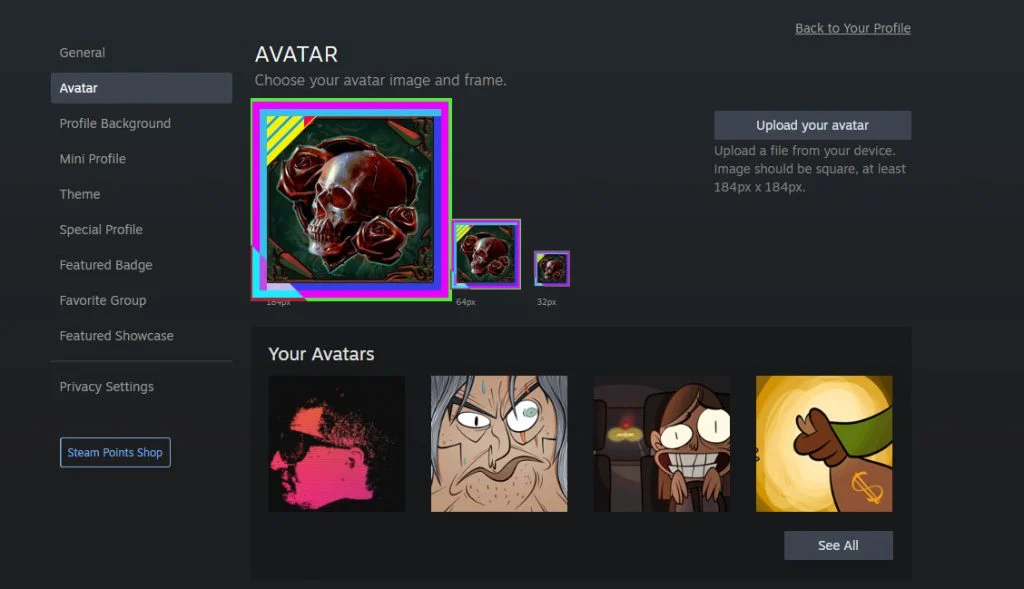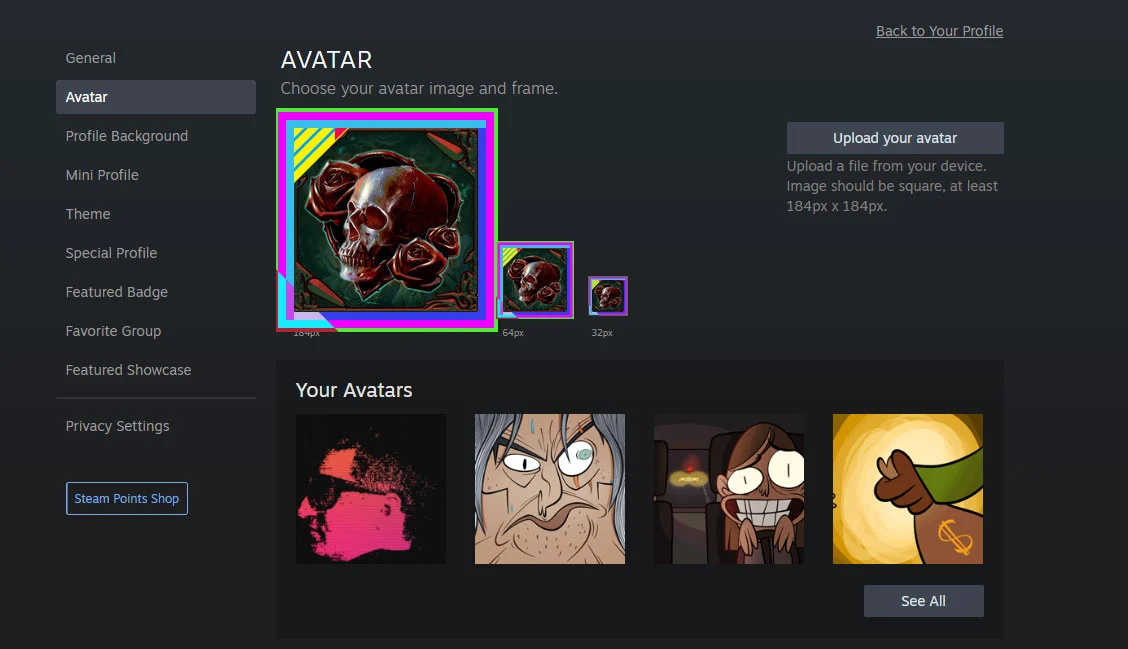 How to Get More Avatars on Steam
One way to get more Steam Avatars is by purchasing them with Steam Points, which are accumulated by purchasing games through Steam. Avatars purchased with Steam Points are generally animated, which offers a unique way to stand out from other users.
Another way to get Steam Avatars is by buying and playing different games on Steam. Browse the Game Avatars page to see which Avatars you already own. Most games have unique Game Avatars, which unlock automatically by playing the game. Other Avatars are unlocked by completing different in-game achievements or participating in limited-time Steam events.
For more Steam walkthroughs, head over to our Steam Section!