Steam users who create a new profile on the digital storefront will have a plain-looking background by default and may want to spice it up with some profile customization. Luckily, there are thousands of profile customization options to choose from to make your profile unique. In this guide, we'll show you how to change your Steam profile background.
Changing your Steam background can be done through the Steam client or the website. Since the website is more or less identical to the app, the process will be very similar. Let's dive into how to customize your Steam background.
How to Change Your Steam Profile Background
To change your Steam profile background:
Log in to the Steam client or website.
Tap on your avatar on the top right and click View Profile.
Click on the Edit Profile button on the right side of your profile.
Navigate to the Profile background submenu.
Browse and choose a background from the library.
Tap on the Save button beneath the backgrounds.
Changing your Steam background is a basic profile customization feature. Users can access the option by going into the Edit Profile page and navigating to the Profile background menu. A wide range of backgrounds are available by default, and many more can be unlocked through game-specific achievements and Steam promotional events.
Special profiles can also include a custom background, like the Steam 3000 Summer Sale event. Follow Steam on Twitter and pay attention to any promotional events for a chance to unlock Steam profile cosmetics. There are a few other ways to get more backgrounds as well, and we'll dive into how to do that next.
How to Get More Steam Profile Backgrounds
Here's how to get more Steam profile backgrounds:
Craft Badges using Steam Trading Cards.
Purchase Steam profile backgrounds from the Points Shop.
Purchase Steam profile backgrounds from the Market.
Crafting Badges
One of the free ways to get Steam profile backgrounds is by collecting Steam Trading Cards and crafting Badges. You can get Steam Trading Cards by playing a participating game. Once you play through a game enough, you have a chance to receive Trading Cards in your Steam Inventory. Trading Cards can be crafted into Badges once you have collected a set of cards. Collecting a set of Trading Cards and crafting badges can earn you items to customize your profile, including backgrounds and showcase slots.
Users can purchase missing Cards to complete sets by visiting the Market or trading with friends. Navigate to your Badges page on Steam to see which sets you're close to completing.
Purchasing Steam Profile Backgrounds using Steam Points
Steam users can use Steam Points to purchase profile customizations, including backgrounds. If you don't already know, Steam Points can be accrued by shopping on Steam or by contributing to the Steam Community. Every $1.00 spent translates to 100 Steam Points. This includes purchases for games, in-game items, DLC, hardware, soundtracks, and applications.
To purchase Steam profile backgrounds using Steam Points:
Go to the Points Shop.
Navigate to Backgrounds under Profile Items.
Find and click on a background you want to use.
Tap the Points button to purchase the background.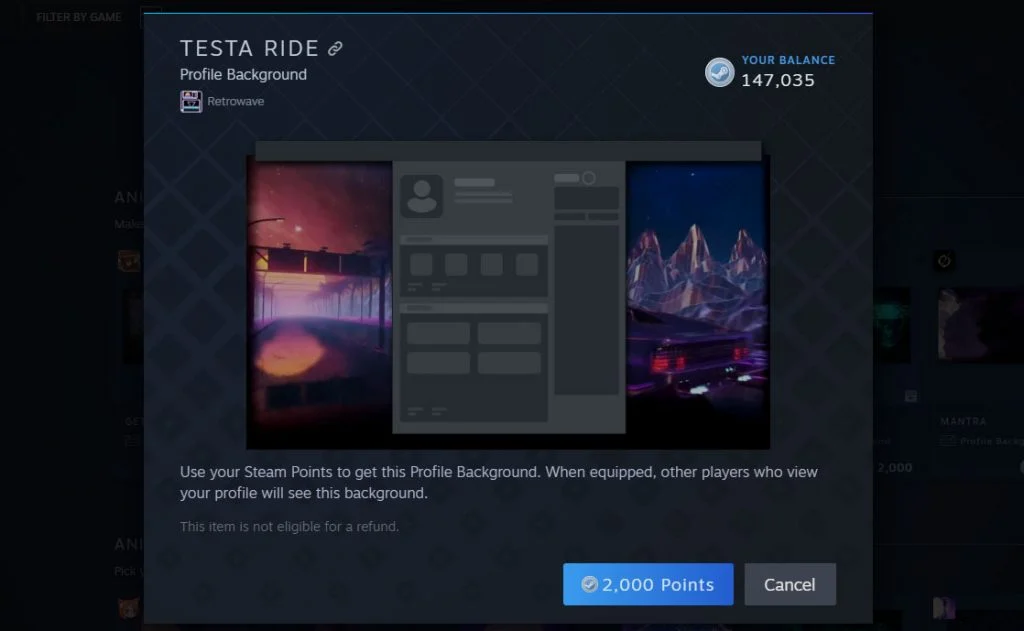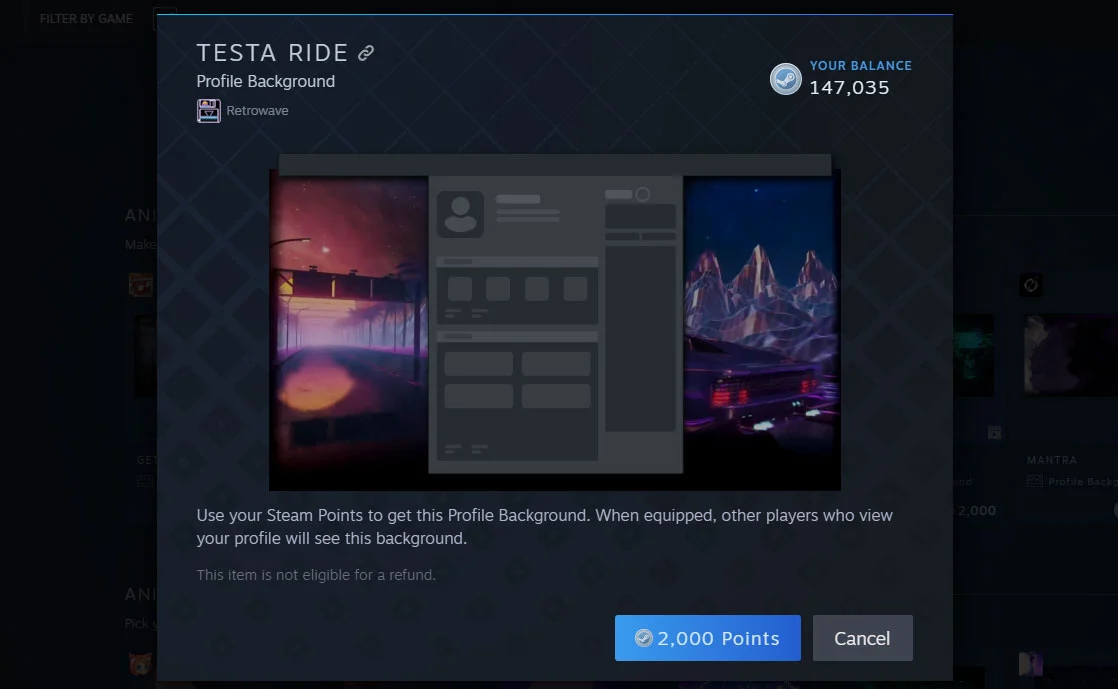 There are three categories of backgrounds: Animated Profile Backgrounds, Animated Mini-Profile Backgrounds, and Still Profile Backgrounds. Mini-Profile Backgrounds appear when someone hovers over your avatar in places like the Friends list.
Purchasing Steam Profile Backgrounds on the Market
One easy way to get new Steam profile backgrounds is by purchasing them through the Steam Market. To purchase a Steam profile background:
Go to the Steam Market page.
Click on Show advanced options under Search for Items.
Click on All Games and select Steam.
Check the Profile Background box.
Click on Search to scan the Market.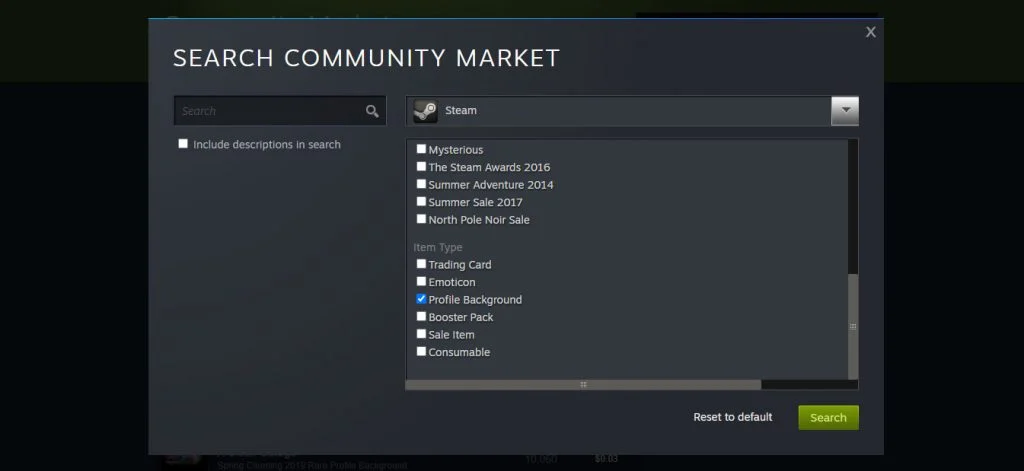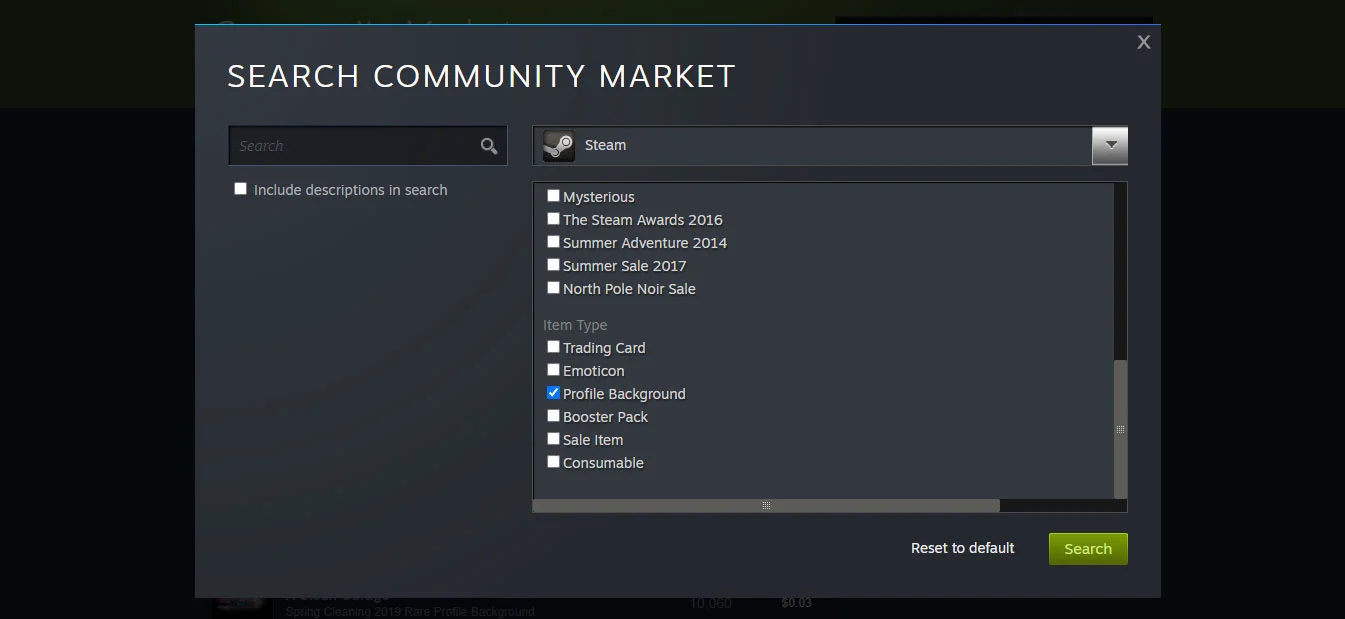 If you're logged into the Steam website, you can visit this link to see Steam profile backgrounds sorted by descending quantity. Purchasing Steam profile backgrounds can be as cheap as $0.03, but prices will vary depending on many factors.
There you have it–now you can customize your Steam profile with a brand new background.
Check out our Steam section for more customization walkthroughs.