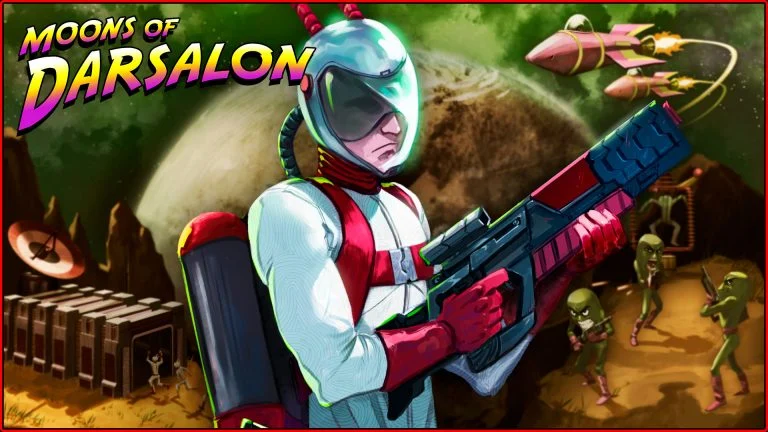 Lead a group of hapless AI robots in the colorful retro action platformer Moons of Darsalon.
If you're anything like me, you loved the Lemmings titles as a kid. There was just something special about those mindless little sprites that would happily dive off the edge of a cliff just because you told them to. Well, we may be able to re-live some of that childhood fun in a new deep-cut title called Moons of Darsalon, scheduled to release on April 19, 2023, for PC and Mac computers.
In the game, players control the title's hero, who must lead a group of AI-controlled darsanauts stranded on a mining colony on a moon orbiting the planet Darsalon. Once located, players must lead the darsanauts to a base station to save them, all while editing the terrain, avoiding dangers, and preventing their AI companions from succumbing to their own destruction.
Moons of Darsalon Trailer
The Moons of Darsalon gameplay trailer showcases some of the gadgets, weapons, and mechanics players will gain access to upon release. With retro, pixel-art style graphics and 2.5D models reminiscent of Donkey Kong Country, this one hit us right in the nostalgia. 
In addition to the Lemmings-like gameplay, players must also use tools and equipment like jetpacks and space rovers to move across the rugged alien terrain.
Developed by Dr. Kucho, an indie developer and DJ from Spain, who worked on the game for 8 years, Moons of Darsalon is a followup to the developer's earlier work, Pilots of Darsalon, a retro pilot shooter. This upcoming entry continues the story of the Darsalon planet and its inhabitants. 
Players can find a demo of Moons of Darsalon on Steam.
For more new game releases, see our News Section.