Amazon Prime Gaming has recently announced a new event coming up in July called The Ultimate Crown, pitting two of the most well-known influencers against each other, MrBeast vs Ninja. Here's everything you need to know about The Ultimate Crown showdown on Twitch.
What is the Ultimate Crown?
Details about the actual event are somewhat vague. According to the Prime Gaming blog,
"Audiences from around the world can tune in on Twitch and Prime Video to watch the Ultimate Gamer and gaming and entertainment icon, Ninja, vs. the Ultimate Creator and YouTube legend, MrBeast, supported by an all-star lineup of gamers, streamers, and their friends, competing live from Las Vegas at the HyperX Arena."

Dustin Blackwell @ Prime Gaming
Welp. That's a mouthful yet still somehow doesn't describe exactly what the event is. What we do know is it'll be a live-action show featuring various Twitch personalities. In the YouTube video below, MrBeast mentions League of Legends–so we could see some of that action.
We're not sure who those personalities are or what games/activities they'll be engaging in, but we did get a teaser trailer of MrBeast trash-talking Ninja like they're about to walk into a UFC cage to fight each other. How fun.
See the somewhat cringe-inducing teaser for the event below:
When Is MrBeast vs Ninja on Twitch Happening?
The event will take place right before Prime Day on July 9, 2022. Tune in from 4–7 p.m. PDT and 7-10 p.m. EDT to see all the action.
Where Can I Watch MrBeast vs Ninja?
The event will take place on the Prime Gaming Twitch Crown Channel and YouTube Channel.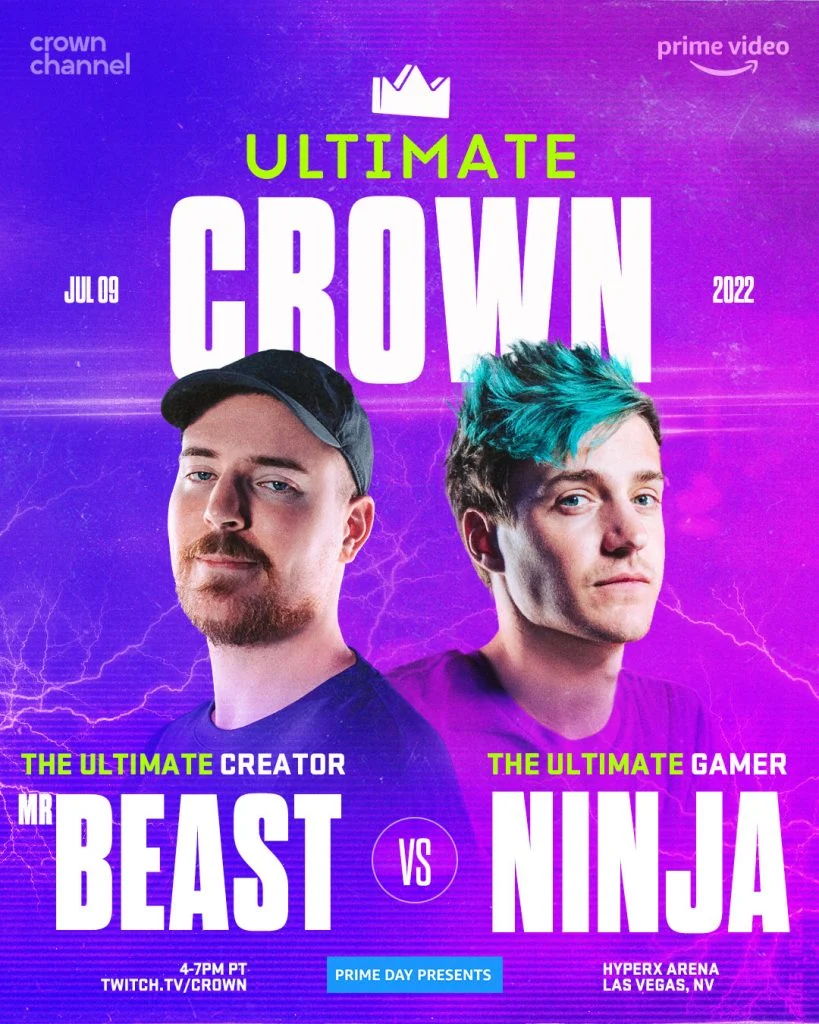 That's all we know about the event right now, but we're sure we'll receive some updates from Prime Gaming leading up to the event.
Stay tuned to our News Section to stay up-to-date with all MrBeast and Ninja news and news on Prime Gaming events.