Roblox Nuke Simulator is a game created by Big Boom Games where players make various destructible in-game environments explode. Earn coins and gems for explosions, collect and upgrade a variety of different in-game items that blow up, and unlock new worlds with your coins.
Players can use the list of Roblox Nuke Simulator codes below to get some free in-game boosts to help get started. Codes reward things like coins, gems, and unique items. The codes do not last forever, so make sure to use them while they last, or you might miss out on freebies!
August 8 2023: We added 1 new Nuke Simulator code.
All Roblox Nuke Simulator Codes
HARDCOREBUG: Free Rewards
MAGMIFACENT: Magma Shark Nuke, Mega Tickets
STILLFASTERTHANTHEDMV: 50 Mega Nuke Tickets, 25x Coin Boost, 15x Damage Boost
BIGTICKETZ: 10 Mega Nuke Tickets
BIGTICKETZZ: 15 Mega Nuke Tickets
MASSIVEGIFT: Coins and Gems
MEGANUKE: Mega Silo Tickets
Only1ThisTime: 1 Spin
ThanksAzure!: 2 Mega Silo Tickets
ThanksSky: 10 Spins
MOREBOOSTS2: 8 Coin & Damage Boosts, and 6 Extra Luck & Crazy Luck Boosts,
ILikeGems: 500,000 Gems
CYBERCOINZZ2: 5,000,000 Cyber Coins
ILikeGems: 500,000 Gems
LUCKYBOI: 3 Crazy Luck Boosts
How to use codes
To use codes in Nuke Simulator for Roblox, follow these steps:
Open Nuke Simulator on Roblox
Tap the button at the bottom of the screen
Tap the Twitter icon from the expanded menu
Enter a working code into the code redemption box
Press Confirm to enjoy your rewards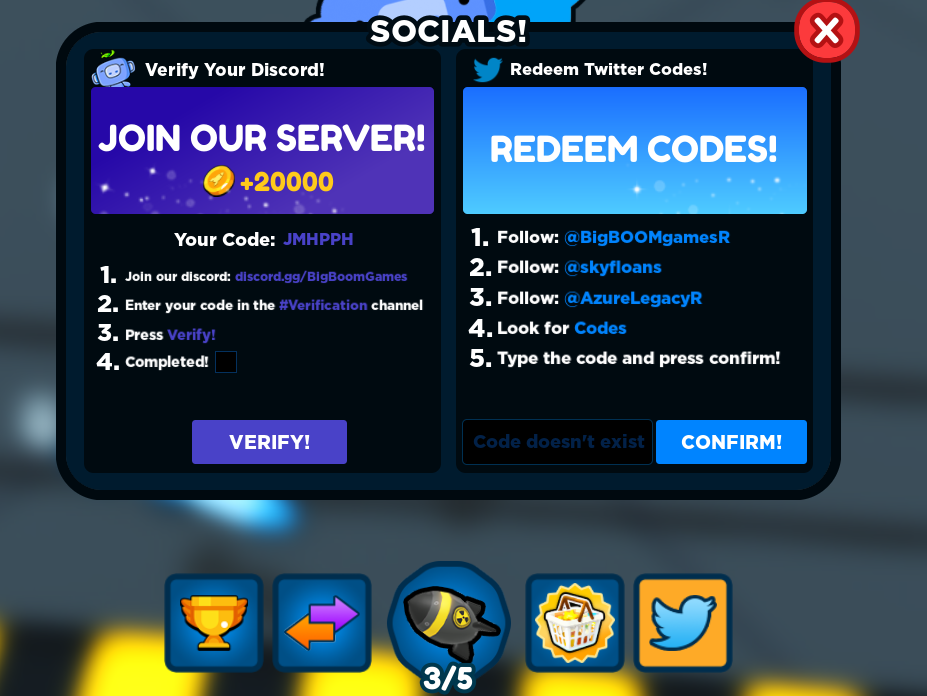 Players can follow the same steps above and tap the verify button after joining the Discord server for an additional 20,000 Coins.
Where to get more codes
Players can join the Big Boom Games Discord server to get more codes and follow the developers on Twitter. On top of getting codes, players can also find game updates and announcements and chat with other players at those locations. We also round up all the codes on our website for our readers' convenience.
Get more codes for your favorite Roblox experience by visiting our Roblox game codes page.
More Roblox codes: Survive the Slasher codes | Zombie Uprising codes | Glide Race codes | Blox Fruits codes | Shindo Life codes