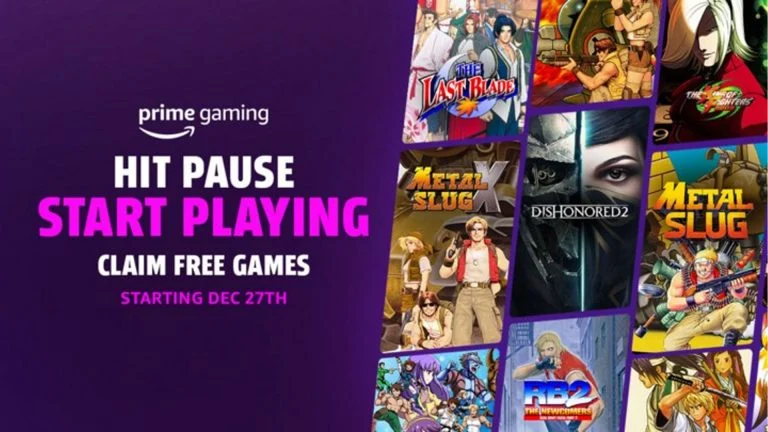 From December 27 through January 3, Amazon Prime Gaming will give away multiple free PC games, including Metal Slug, Dishonored 2, and SNK 40th Anniversary Collection.
The holidays are quickly approaching, which means more deals for your favorite videogames. Amazon Prime Gaming is rolling out the red carpet this year with numerous titles that cash-strapped gamers can scoop up completely free. Last week we reported on a bunch of free titles and DLC you could pick up in December, but the hits keep coming. Keep reading for all the details on which games are available and how you can get them. 
Contents:
Prime Gaming Free Holiday Games
Users with an Amazon Prime Membership can download and own the following games for free from December 27, 2022, to January 3, 2023:
Dishonored 2
Metal Slug
Metal Slug X
Metal Slug 3
Real Bout Fatal Fury
SNK 40th Anniversary Collection
The King of Fighters 2003
The Last Blade
The Last Blade 2
Twinkle Star Sprites
Free Mobile DLC
In addition to all the free games, there will also be some free in-game bonuses for several mobile games, including: 
Farm Heroes Saga: 40 Gold Bars, 24-Hours Unlimited, Lives, Shovel, Hunter, Tractor (not available in India)
Candy Crush Soda Saga: 2 Color Bombs, 24-hour Striped Candy, 24-hour Wrapped Candy, 2 Double Fish, 2 Coloring Candy, 24-hour Unlimited Lives (not available in India)
Candy Crush: 50 Gold Bars, 2 Color Bombs, 1 Striped and Wrapped, 1 Lucky Candy, 1 Coconut Wheel, 1 Jelly Fish, 1 Lollipop Hammer, 1 Switch, 1 30-minute Color Bomb, 1 30-minute Striped and Wrapped, 1 30-minute Unlimited Lives (not available in India)
Bloons TD 6: Pat Fusty Hero Bundle, Pat Fusty avatar, Penguin pet for Fusty the Snowman
BTS Island: In the SEOM: First Drop – 100 Gems, 1x Heart (20 minutes), 1x Bomb & Rocket (15 minutes), 1x Blast (15 minutes), 3x Axe, and 3x Glove. Second drop – 1x Heart (30 minutes), 100 Gems, 1000 Gold, and 1x Glove
How to Get Free Prime Gaming Games
To redeem your free Amazon Prime games:
Visit the official Prime Gaming page.
Click the Games tag above the titles.
Click the games you'd like to claim.
Users must have an Amazon Prime account to redeem these games for free. 
For more news on gaming offers, make sure to check back to our News Section.