Roblox Project Mugetsu, also known as PM, is an anime experience based on the popular Japanese manga series from Tite Kubo, Bleach. In this game, players can choose the path of Hollow or Soul Reaper. Players can use our list of Project Mugetsu codes below to get in-game freebies, including race resets, spins, and boosts to help you progress through the game faster. You can also find out how to redeem these codes in the section below.
You can get more information about the game on the Project Mugetsu Trello and learn the Project Mugetsu controls to better understand all the movement key binds in the game.
September 3 2023: We added 4 new Project Mugetsu codes.
Project Mugetsu Codes
Here are the valid Project Mugetsu codes:
140KLIKESBOOSTS: 1 Hour Boosts
140KLIKESORBS: 15 Legendary Orbs
140KLIKESREROLL: Ability Reroll
140KLIKESSPINS: 115 Spins
135KLIKESBOOSTS: 1 Hour Boosts
135KLIKESORBS: 8 Legendary Orbs
135KLIKESREROLL: Ability Reroll
135KLIKESSPINS: 125 Spins
130KLIKESBOOSTS: 1 Hour Boosts
130KLIKESORBS: 3 Legendary Orbs
130KLIKESREROLL: Ability Reroll
130KLIKESSPINS: 85 Spins
Pantera: Ability Reroll
ULQRES: Ability Reroll
ULQORB: 1 Legendary Orb
EXCALIBUR: 75 Spins, All Boosts x2
120KLIKESREROLL: Ability Reroll
120KLIKESBOOSTS: Mastery, Gold and EXP Boost
120KLIKESORBS: 3 Legendary Orbs
120KLIKESSPINS: 85 Spins
JUICYRETURN: Master Boosts and 100 Spins
SUPRISEORBS: 5 Legendary Orbs
MAYBEANORBFIX: 3 Legendary Orbs
MOREBUGFIXES: Ability Reroll
ANOTHERSHUTDOWNSORRY: Mastery Boosts and 85 Spins
SORRYFORWANDEN: 75 Spins
BUGFIXESREROLL: Reroll Ability
MOREORBS: Legendary Orb
110KLIKES: 100 Spins
ABILITYREROLLOCKEDIN: Reroll Ability
ABILITYREROLL: Reroll Ability
SORRY4BUGS: 75 Spins
QUINCY: Reroll Ability
SORRYFORTHEWAIT: Reroll Ability
SCHRIFTS: Reroll Ability
UPDATE1RACERESET: Reset Race
NEWCLANS: 150 Spins
GAMEMODES: Gold Boost, XP Boost
UPDATE1 : Legendary Orb
BANKAIS: Mastery Boost
MothersDayLegendaryOrbndGold: 2 Legendary Orbs
MothersDayMastery: Mastery Boost
MothersDaySpins: 65 Spins
OneMonthResetRace: Reset Race
OneMonthREROLLAbility: Reroll Ability
OneMonthLegendarySPINS: 45 Spins
OneMonthLegendaryOrb: 3 Legendary Orbs
FINALLY100KLIKES: Legendary Orb, 45k Gold, 50 Spins, All Boosts 1 Hour
28MVISITS: Reroll Ability
UPDATESOON: Reroll Ability
95KLIKE: Reroll Ability
90KLIKES: Reroll Ability
85KLIKES: 65 Spins
160KFAVORITES: 15k Gold (Lvl 30+)
EIDMUBARAK: 35 Spins, Mastery Boost, Gold Boost, XP Boost, 1 Legendary Orb
80KLIKES: Ability Reroll
HERESTHESPINS: 85 Spins
70KLIKES: 85 Spins
SORRY4DASHUTDOWN: Ability Reroll
THANKSFOR200KMEMBERS: Ability Reroll
EASTERUPDATE: Race Reset
FIRSTWEEKISOVER: 1 Hour Mastery Boost
60KLIKES: 30 Spins
HERESABILITYREROLLONE: Ability Reroll
HERESABILITYREROLLTWO: Ability Reroll
HERESABILITYREROLLTHREE: Ability Reroll
HERESABILITYREROLLFOUR: Ability Reroll
HERESABILITYREROLLFIVE: Ability Reroll
SORRYFORPINGS: 75 Spins
EXCUSETHESHUTDOWN2: 30 Minute Gold & Mastery Boost
10MVISITS: 50 Spins
SOULSOCIETYISBACK: Ability Reroll
50KLIKES: 35 Spins
SHUTDOWNABILITYRERO: Shikai/Res Reroll
EXCUSETHESHUTDOWN: 30 Spins, 30 Minutes Mastery & XP Boost
40KLIKES: 15 Spins on one slot, Ability Reroll
35KLIKES: 50 Spins on one slot
SORRYITSEXPENSIVE: Double Gold for 2 Hours
ABILITYREROLLONE: Ability Reroll
ABILITYREROLLTWO: Ability Reroll
ABILITYREROLLTHREE: Ability Reroll
ABILITYREROLLFOUR: Ability Reroll
RESETRACE: Reset Race (erases progression)
100KMEMBERS: Reset Res
10KLIKES: 30 Minutes Mastery Boost
15KLIKES: 30 Minutes Mastery Boost
20KLIKES: Reset Shikai
SHUTDOWNSPINS: 25 Spins
EXPLOITFIXES: Rewards
SORRYFORSHUTDOWN: Spins, Mastery and Double XP
RELEASE: 20 Spins, Double XP
Expired codes:
How to redeem codes for Project Mugetsu
Here's how you can redeem these codes in Project Mugetsu:
Launch the game and select your character.
Look for the codes area on the left side of the screen.
Enter a working code into the box.
Tap on Redeem to claim the rewards.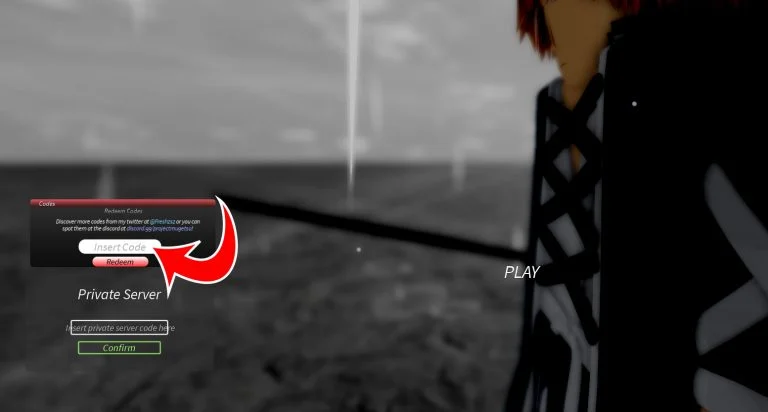 You can only use each code once, and the rewards corresponding to each code are listed above. Codes may be case-sensitive, so make sure to enter them exactly as shown in the list.
That's just about all you need to know about Project Mugetsu codes. You should also know that new codes release nearly every day, so consider bookmarking this page so you can easily check back later for more freebies. Be sure to visit our Roblox game codes page to get more in-game freebies for your favorite Roblox experiences!