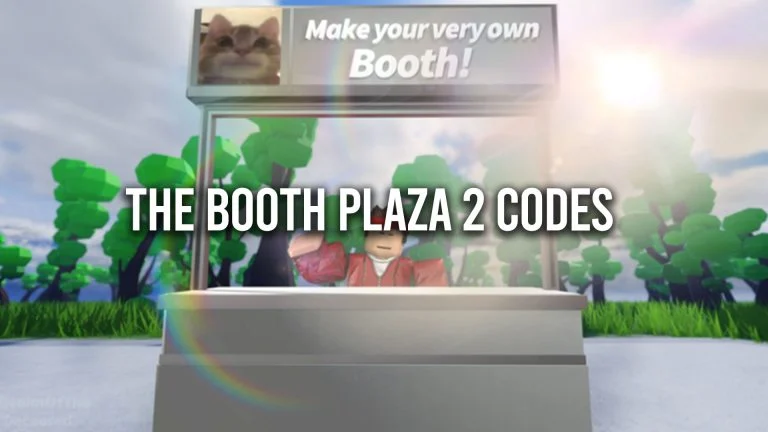 Booth Game is a roleplaying Roblox experience created by developer Manual. In this experience, players can roleplay with friends by exploring the plaza and visiting different themed booths. Make your own booth, or visit your favorite restaurants, learn about history, go shopping, go on blind dates, and do anything else you can think of in the game!
Players can use our list of Roblox Booth Game codes to get free in-game rewards, exclusive items, and limited-time goodies. Codes usually expire after a short time, so make sure to use them while they last if you don't want to miss out.
February 3 2023: New update released. We are checking for The Booth Plaza 2 codes.
All Booth Game Codes
BoothCleanUp: 30 Minutes Boost
New10KLikes: 30 Minutes Boost
FixedSeats141: 20 Minutes Boost
VCUPDATE: 45 Minutes Boost
Cool7.5KLikes: 30 Minutes Boost
WinterMap: 30 Minutes Boost
FixedBlocklist1112: 30 Minutes Boost
FixedCodes123122: 30 Minutes Boost
Christmas2022: Christmas 2022 Reward
5KLikes: 30 Minutes Boost
WinterMap: 30 Minutes Boost
FixedBlocklist1112: 15 Minutes Boost
How to redeem codes in Booth Game
To use codes in Booth Game, follow these steps:
Launch Booth Game
Tap the codes button at the top of the screen
Enter a working code into the box
Tap the icon to the left of the code box
Enjoy your rewards
Make sure to copy and paste the codes directly from the list above to avoid making any typos or misspellings. Let us know in the comments if a code doesn't work anymore so we can check it!
Where to get more codes for Booth Game
Players can get more codes by visiting Booth Game game page on Roblox and checking the game description. There's also a Manual Discord server players can join to chat with other players and learn more about the game. Otherwise, you can visit this page at a ny time for an up-to-date list of codes!
Get more codes for your favorite Roblox experience by visiting our Roblox game codes page.
More Roblox codes: Farming Simulator codes | Project Menacing codes | Friday Night Bloxxin codes | Berry Avenue codes