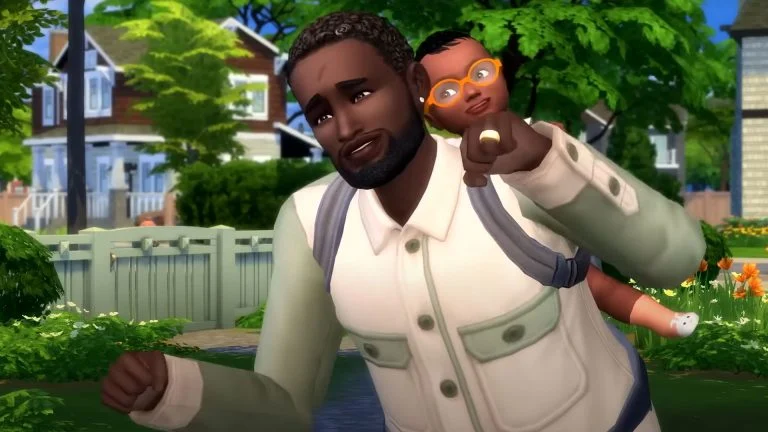 The Sims 4 Baby Carrier in the new Growing Together Expansion pack enables your Sims to walk around and act normally while still paying attention to their new infant. Here's how to use one.
Raising a child in The Sims 4 isn't a cakewalk. You'll need to attend to your infant's needs, play with your infant, and do everything required to be a good parent in the newly released Infants Update and Growing Together expansion. If you want to try out all the new functionalities but are stuck on using the baby carrier in the game, you've come to the right place.
How to Use the Baby Carrier in Sims 4 Growing Together Expansion
The baby carrier in the Sims 4 Growing Together expansion enables Sims to go about their day while having their infant strapped to their back. To use the baby carrier, pick up your infant, select More Choices, then click Baby Care, More Choices, then Set Preferred Back Carrier. Once your back carrier has been set, click on your baby again and select Put Baby in Back Carrier.
This can save a load of time and help them keep an eye on them while they are occupied or doing chores. Players will have the following options for their baby carrier:
Infant Wrangler: Black with Yellow Accents
Infant Wrangler: Blue with Gray Accents
Infant Wrangler: Gray with White Accents
Infant Wrangler: White with Pink Accents
Simmer Emma Nicole reviewed the new mechanics in The Sims 4 Growing Together expansion and tried it out on her infant.
Ultimately, the Baby Carrier in The Sims 4 lets players and Sims go about their normal routines while still raising their children and ensuring that they are safe. This makes it much easier to look after them while not disrupting your main game too much.
See our The Sims 4 Section for more news and guides!