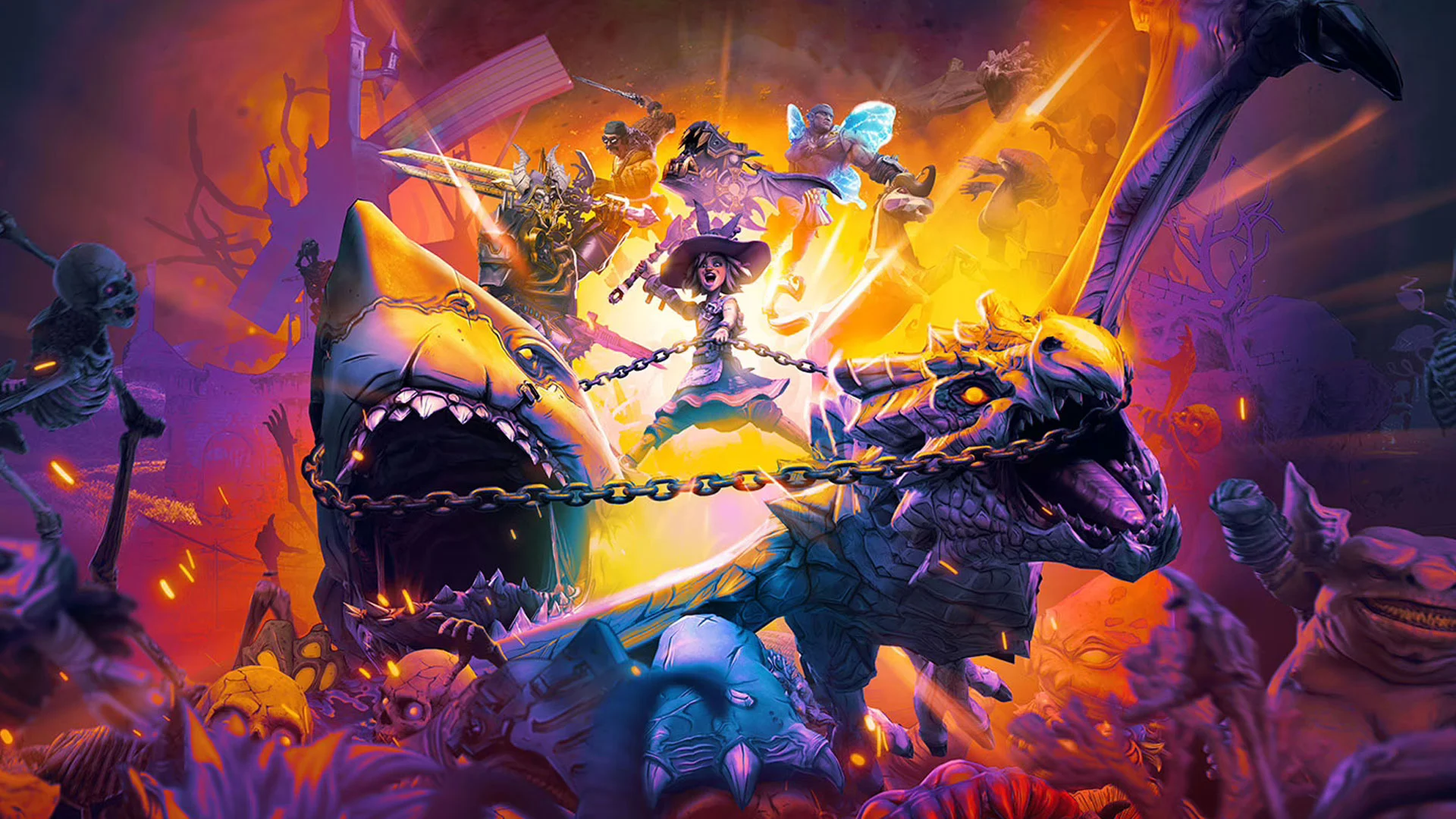 Gearbox and 2K announced that Tiny Tina's Wonderlands is coming to Steam on June 23 with a special launch price and exciting new content. For a limited time, fans can pick up the game on sale and claim the Golden Hero Armor Pack. The deal will be active on Steam from June 23 to July 7, 2022, at 1 p.m. ET.
Tiny Tina's Wonderlands Steam Release Date
Steam users can pick up the Tiny Tina's Wonderlands Standard Edition or the Chaotic Great Edition on June 23, 2022. The Chaotic Great Edition includes the Dragon Lord Pack of bonus content and an extra class, all four Mirrors of Mystery, and the Butt Stallion cosmetics pack via the Season Pass. Additional content features new dungeons like Coiled Raptors, Glutton's Gamble, and the new Molten Mirrors DLC.
Tiny Tina's Wonderlands Molten Mirrors DLC
The announcement also sheds some light on the third Mirror of Mystery, Molten Mirrors, debuting alongside the Steam launch on June 23. Like the other Mirrors of Mystery, Molten Mirrors gives players a chance to explore and collect high-quality loot in a high-security prison gauntlet-style dungeon.
For three weeks after the launch of Molten Mirrors, Fyodor, the dungeon's boss, will take on various, progressively more challenging forms. Each form adds new Legendary loot, incentivizing players to return for another playthrough. Here's the schedule for Fyodor's forms:
First form: June 23 at 12:30 p.m. ET

Fealty oath Legendary Ring
Wheel of Fate loot: Stab-O-Matic gun, Lovestruck Beau spell, Greed Warden and Petty Tantrum melee weapons, Protagonizer amulet

Second form: June 30 at 12:30 p.m. ET

Smithy's Ire Legendary spell

Third form: July 7 at 12:30 p.m. ET

Tyrant's Truth Legendary armor

Final Form: July 14 at 12:30 p.m. ET

Echoing Phoenix Legendary gun
Molten Mirrors is available for individual purchase or via the Season Pass, which is sold separately and as part of the Chaotic Great Edition of Tiny Tina's Wonderlands.
Tiny Tina's Wonderlands launched on PlayStation 4, PlayStation 5, Xbox Series X/S, and PC via the Epic Games Store on March 25, 2022. Initially launched as an Epic Games Store exclusive for PC, the game will be available on Steam beginning on June 23, 2022.
Stay in the loop with gaming news by visiting our News Section.