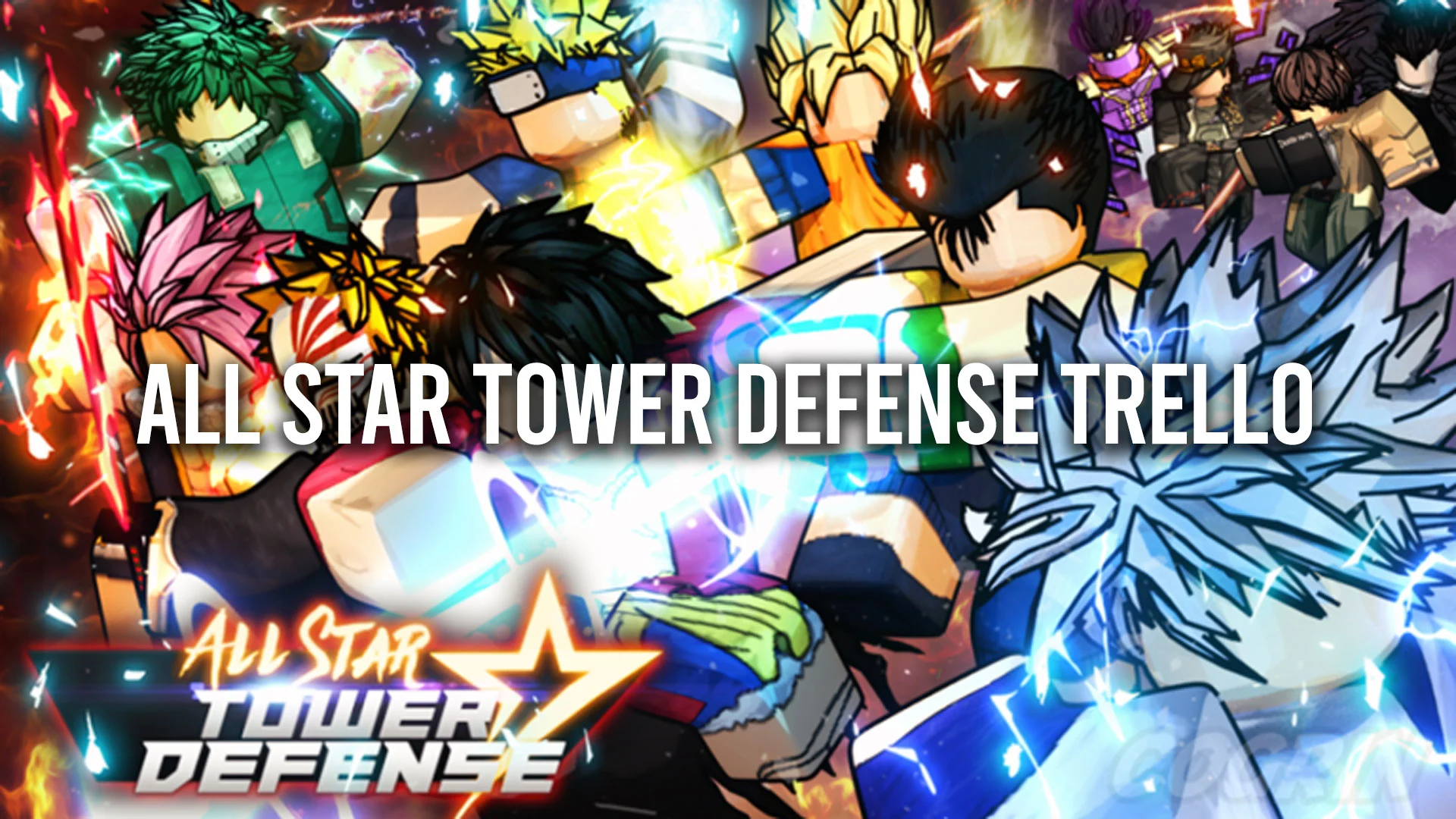 Developed by Top Down Games, All Star Tower Defense is a super fun Roblox Experience where you use popular anime heroes to defend against waves of bots. Like other Tower Defense games, the goal is to ensure that none of the enemies get to the finish line! If you're looking for the ASTD Trello link and Discord, you're in luck because we have it.
Visit our ASTD codes page to get free gems, limited-time units, skins, and more for All Star Tower Defense.
All Star Tower Defense Trello Link
The All Star Tower Defense Trello link is: https://trello.com/b/UOSKn2yu/all-star-tower-defense-official
Many experiences in Roblox have a Trello, which helps the developer communicate to players and reveal their plans for the future. While Wikis are useful, Trello's are better because you can see what is upcoming in the game. The ASTD Trello has information about units, abilities, orb tier lists, summons, metas, tips, special effects, guides, and tutorials.
All Star Tower Defense Discord
The All Star Tower Defense Discord is: https://discord.gg/8sgJmNx
Trello is great for researching, but Discord is better for chatting with other players. There are channels for everything in the game, including a channel to show you which towers are currently on rotation in the live banner. It's pretty useful, so if you're an avid player, we recommend joining up and saying hello.
All Star Tower Defense Trello Guide
The All Star Tower Defense Trello guide contains the following information:
All Star Tower Defense FAQ
Unit Effects
All Star Tower Defense FAQ
We retrieved the All Star Tower Defense Frequently Asked Questions from the official Trello.
Q: What is the best way of getting gems?
A: Currently, the best way of obtaining more gems is by completing the damage task by playing in infinite mode or material farming mode. Because of this, if you need to find the meta damage farming team, look at Meta and Beginner Tips. If you've finished the damage task, the best way is to wait in the time chamber.
Q: How often is the game updated?
A: The game is updated every 2-3 weeks. Minor updates may occur a week from a previous update but is not guaranteed.
Q: When will [insert unit suggestion] be added?
A: The developers always add characters from different anime series into the game. If your character is from a popular series such as One Piece, Dragon Ball, Naruto, etc., you'll have a higher chance of it coming into the game.
Q: How do I stop the game from lagging so much?
A: You can turn off visual effects in the settings region (a gear icon is found in the bottom right). You should turn it off so that your game will be as lag-free as possible. If this does not fix it, it might be an issue on your side.
Q: How often are codes added?
A: 1 big code is added with every update with other codes put out between them. These codes are made whenever a goal is reached (sub-goal, follower goal, etc) or made randomly for various other reasons.
Questions Related to the Trello/Trello Server:
Q: When are mod applications open on the server?
A: Mod applications are open whenever there is a lack of moderators on the server. There is no set time for when it happens.
Q: How do I check a unit's stats?
A: Scroll around to the right until you find the category in which the unit is (3-star, 4-star, 5-star, or 6-star). Once you do that, scroll down and find the in-game name of it. Remember that the list is made in alphabetical order (Refers to in-game name).
Q: What does it mean when a unit has the "not recommended" tag?
A: It means that the unit has bad stats and/or is not worth the effort of getting it. An example would be a 5-star that is heavily outclassed by other similar units with better stats.
All Star Tower Defense Unit After Effects List
Here is all the possible Unit After Effects in All Star Tower Defense, according to the Trello:
Bleed
Burn
Black Flames
Poison
Freeze/Stun
Timestop
Slow
That's everything you need to know about the All Star Tower Defense Trello and Discord server. Hopefully, you'll become a master of the game in no time, thanks to all the information. Remember to visit our Roblox guides wiki for codes, Trello links, and updates for your favorite Roblox experiences.