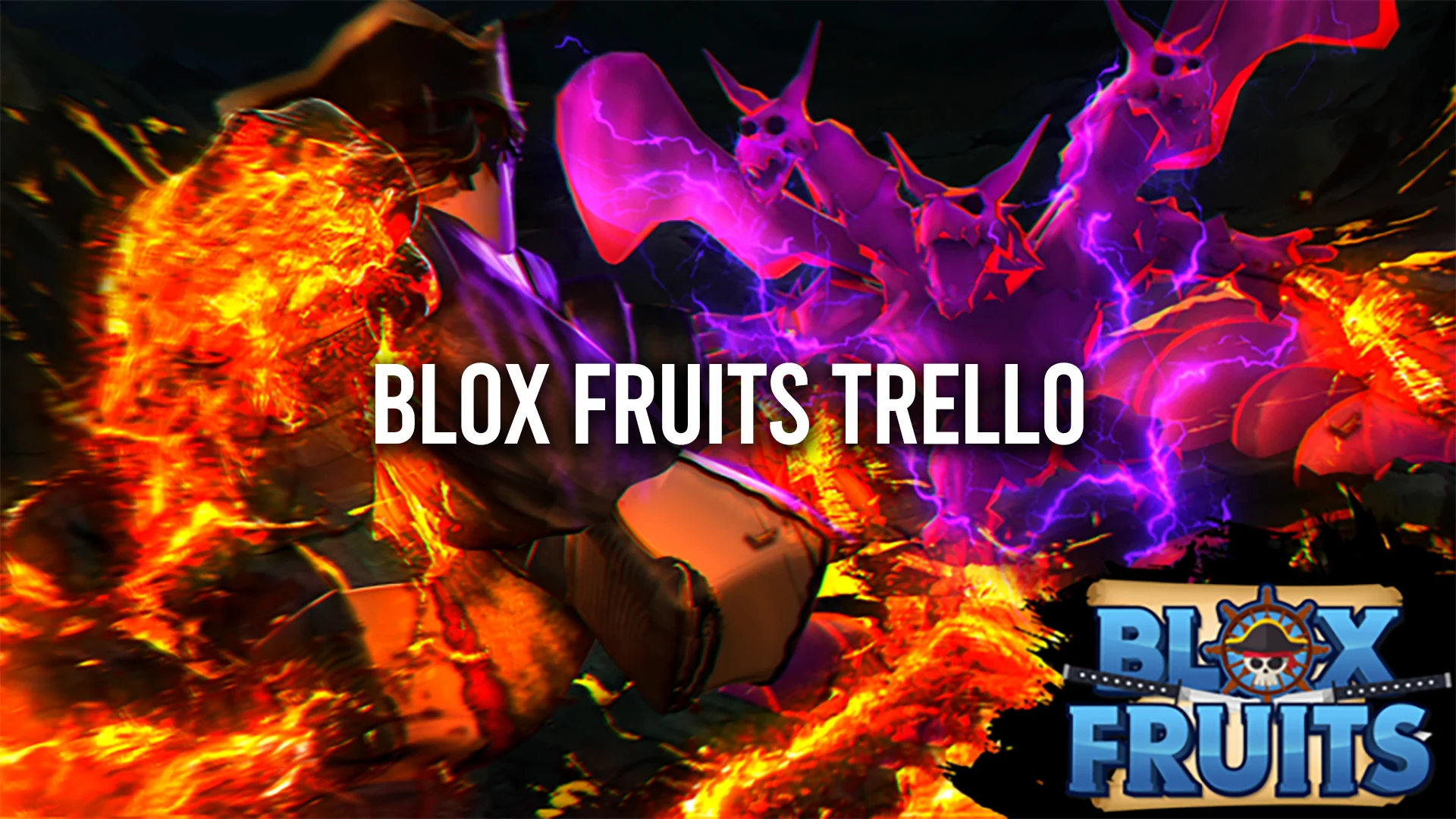 Blox Fruits, developed by Gamer Robot, is one of the most fun Roblox experiences out there. Blox Fruits is inspired by One Piece the manga and anime. With both PvE and PvP, you get to play one of the characters from the anime! Your goal is to consume all the Devil Fruits possible, so you can become the strongest on the server. To learn more about the game's fruits, weapons, and fighting styles, you might want to join the Trello and Discord server.
See our Blox Fruits codes page for free Double XP and Stat Resets, and visit our Blox Fruits Tier List for the best heroes!
Blox Fruits Trello Link
The Blox Fruits Trello Link is https://trello.com/b/imb75BzG/blox-fruits-trello
Many experiences in Roblox have their own Trello, which shows you the basic moves and helps the game's developer communicate to the community and plan for the future. While WIKIs are useful, Trello's are even better because you can also see what is upcoming in the game. The Blox Fruits Trello has information about maps, devil fruits, weapons, fighting styles, islands, swords, story, and more.
Blox Fruits Discord
The Blox Fruits Discord is: https://discord.gg/bloxfruits
Trello Guide
Update 12 brought a new game mode called RAID to Blox Fruits. In RAID you fight on 5 islands filled, each with enemies and one boss. On the 5th island, you get a premium reward. Players also get free sky jumps by beating the different islands.
How to Get Fragments in Blox Fruits
To get Fragments in Blox Fruits:
Beat Blackbeard or Darkbeard: 1.5K Fragments
Defeat a Seabeast or Sea King: 250 Fragments
Complete a raid in under 3 minutes: 1k Fragments
Complete a raid in over 3 minutes: 300-1000 Fragments
Blox Fruits Trello Guide to Boats
Here are the different boats you can get in Blox Fruits and their prices:
Basic: B$1K
Brigate: B$50K, Get a 50K bounty
Dinghy: Free
Enforcer: B1K, In Gamepass
Flower: B$5K, Trade 1.5K fragments to Cyborg
Santa's Sleigh: B$5K, Trade with Santa Claus
Sloop: B$300
Speedboat: In Gamepass
Swam: B$5K, Destroy Flamingo
That's all you need to know about the Blox Fruits Trello and Discord, so put on your reading glasses because it's time to learn. Visit our Roblox guides wiki to get codes and Trello links for your favorite experiences.