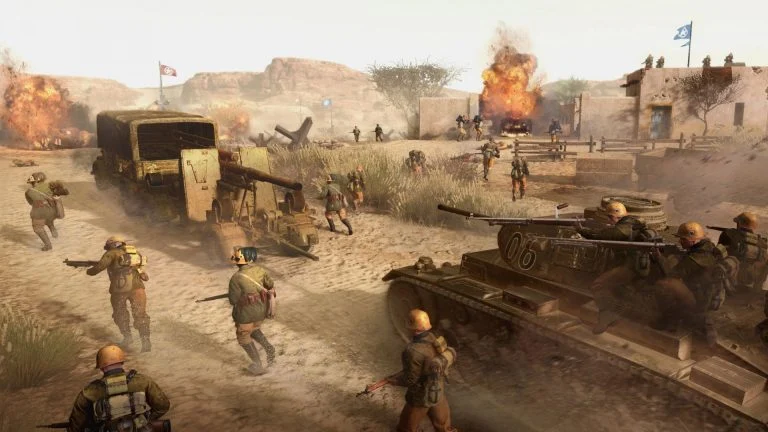 Company of Heroes 3, the highly-anticipated third entry to the epic WWII real-time-strategy game, is now accepting players into their playtest, which will begin on January 11, 2023.
After a few delays, it's finally here–a new RTS to keep us strategy gamers busy. Company of Heroes 3, published by SEGA, is a real-time-strategy game based on the Mediterranean theater in WW2. If you're itching to get your hands on the game early, you're in luck–as the developer, Relic Entertainment, is hosting a public playtest you can sign up for.
How to Sign Up for the Company of Heroes 3 Playtest
Players that want to get into the playtest need to visit the official Company of Heroes 3 Steam Page and click the Request Access button. You'll need a Steam account to register for the playtest.
Steam will notify users on January 11 when the playtest starts. If you register after January 11, you'll automatically be prompted to download the game.
This playtest will be the last public playable build of COH 3 until the official launch on February 23, 2023. It will feature the following:
Access to all four factions.
12 Launch battlegroups.
1v1, 2v2, 3v3, 4v4 multiplayer modes
8 unique maps
Company of Heroes 3 Gameplay
Company of Heroes 3 boasts a new theater of war–the Mediterranean–as the main setting for your campaign. From coastal towns to mountainous terrain, this creates a new and unique environment for the game. There will also be a "sandbox-style" campaign overview map that will give players even more strategic options in their playthrough.
COH3 also has a new interface, which has received mixed reviews from the community.
Here is gameplay footage from the last Alpha for the game:
Stay up-to-date with the latest game news in our News Section.