Company of Heroes 3 released a roadmap outlining major updates in June and July.
Relic Entertainment, the developers of Company of Heroes 3 (COH3), recently laid off 121 employees, as we reported last week. With the layoffs, the team there hopes to refocus concentration on their flagship titles, and COH3 is one of those games. In addition to large planned updates throughout 2023, the team is also launching the game on console tomorrow, May 30.
In a recent Steam community post, the team outlined what's in store for the title, including announcing dates for upcoming updates. Here's everything you need to know about the Company of Heroes 3 roadmap.
Company of Heroes 3 Roadmap 2023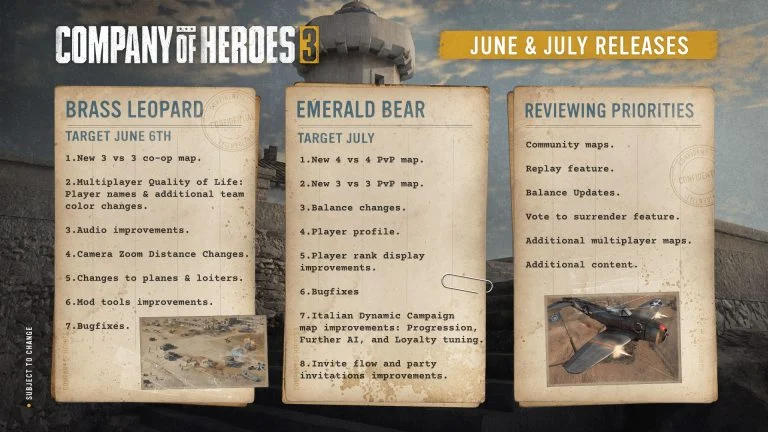 Relic announced two major updates named Brass Leopard and the Emerald Bear.
Brass Leopard: Brass Leopard will release on June 6 and will include 3v3 co-op maps, gameplay changes, audio improvements, and QoL enhancements.
Emerald Bear: Emerald Bear will launch in July and will include new maps, balancing, bugfixes, and other improvements.
Company of Heroes 3 was released on February 23, 2023, to wide criticism online. Currently sitting on Steam with Mostly Negative recent reviews, the game has struggled to gain popularity and has suffered criticism, mostly pointing toward the game's polish, a multitude of bugs, and missing features from the previous entries in the title.
Hopefully, this roadmap and feature enhancements will go a long way in the community's eyes and start to improve the game's quality.
For more articles like this, see our news section.