You're not alone if you're curious about the Dead by Daylight x Meet Your Maker crossover event. Here's everything you need to know about the limited-time event.
Updated 4/4/23: This post was updated to reflect the March 28 speculation that blue barrels would appear in DbD.
Would it surprise you if I told you that the creators of the iconic Dead by Daylight, Behaviour Interactive, are also the creators of the upcoming raid and build game Meet Your Maker? Well, they are, and to celebrate the official release of the latter game, they have been running an in-game event in Dead by Daylight without officially announcing much about it. Here's everything you need to know.
Dead by Daylight Meet Your Maker Crossover Event Dates
The Dead by Daylight x Meet Your Maker Crossover Event officially started on March 14, 2023, as indicated by this cryptic Tweet from the official Dead by Daylight Twitter account and an in-game update. The event is speculated to run until the official launch of Meet Your Maker on April 4, 2023, though nothing has been officially announced by Behaviour Interactive.
Genmat Barrels that players can interact with for special Meet Your Maker rewards will spawn on the map as part of the event. These rewards change each week (so far) and could potentially only be available for a limited time, so take advantage of them while you still can. In addition, there are a few cosmetic items players will get for free for owning both games.
How Do Genmat Barrels Work in Dead by Daylight?
Each week, a new color Genmat Barrel will start spawning in Trials after 20 seconds, which both Survivors and Killers can collect along with completing objectives for special rewards. So far, the barrels are:
Red Barrel (as of March 14)
Green Barrel (as of March 21)
As the new color barrel spawns, the old barrels will also spawn — meaning you still have time to scoop the limited-time items for the Red and Green barrels, as long as the event hasn't concluded.
Once players collect the Genmat, they will glow the color of that Genmat. If they collect more than 1 color barrel, they will flicker the colors of the barrels they interacted with.
Genmat Barrels respawn on specific timers between a minimum of 90 seconds and a maximum of 120 seconds.
How to Get Genmat Barrel Rewards
Players must collect the Genmat from the barrels in Trials then meet specific objectives to get the limited-time Meet Your Maker charms as rewards.
Killers: Must hook Survivors at least 4 times in a single Trial.
Survivors: Must complete repairs on 2 generators in a single Trial
For their efforts, players will receive the following Genmat Barrel rewards:
| | | | |
| --- | --- | --- | --- |
| Reward Image | Charm Name | Rarity | Description |
| | The HRV Figurine | Rare | An engineered creature built to carry genetic material. |
| | The Chimera Figurine | Very Rare | A hybrid human thirsting for power to defy extinction. |
Meet Your Maker x Dead by Daylight Crossover Rewards
In addition to the in-game events, players can also snag special cosmetics for owning both Dead by Daylight and Meet Your Maker. The rewards for Dead by Daylight include:
Biomechanical Spine: The Wraith
Crunching Blade: The Trapper
Toothed Axe: The Huntress
Pentekath's Suit: Meg Thomas
The rewards for Meet Your Maker include:
2 Building Blocks
2 Props
1 Animated Generator Prop
8 Decals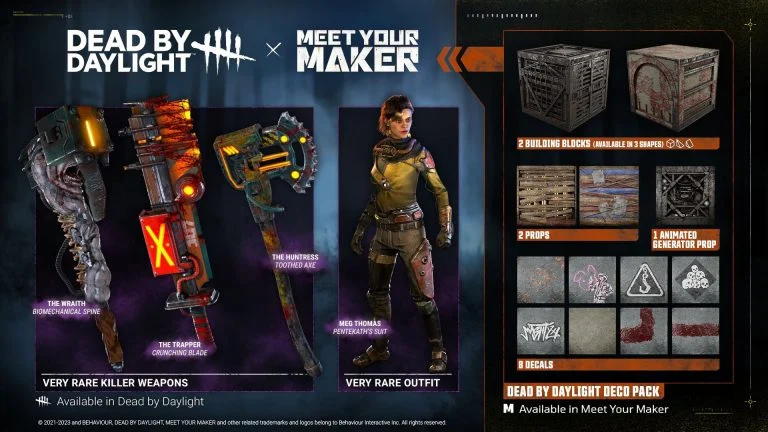 It's understandable if you missed this at first, as Behaviour hasn't actually published anything official for the event. For now, it's an easter egg for people with the inside knowledge, like yourself, now that you've read this guide.
We will keep this post updated as the game updates.
Visit our Dead by Daylight Section for more content, including guides, on the game.