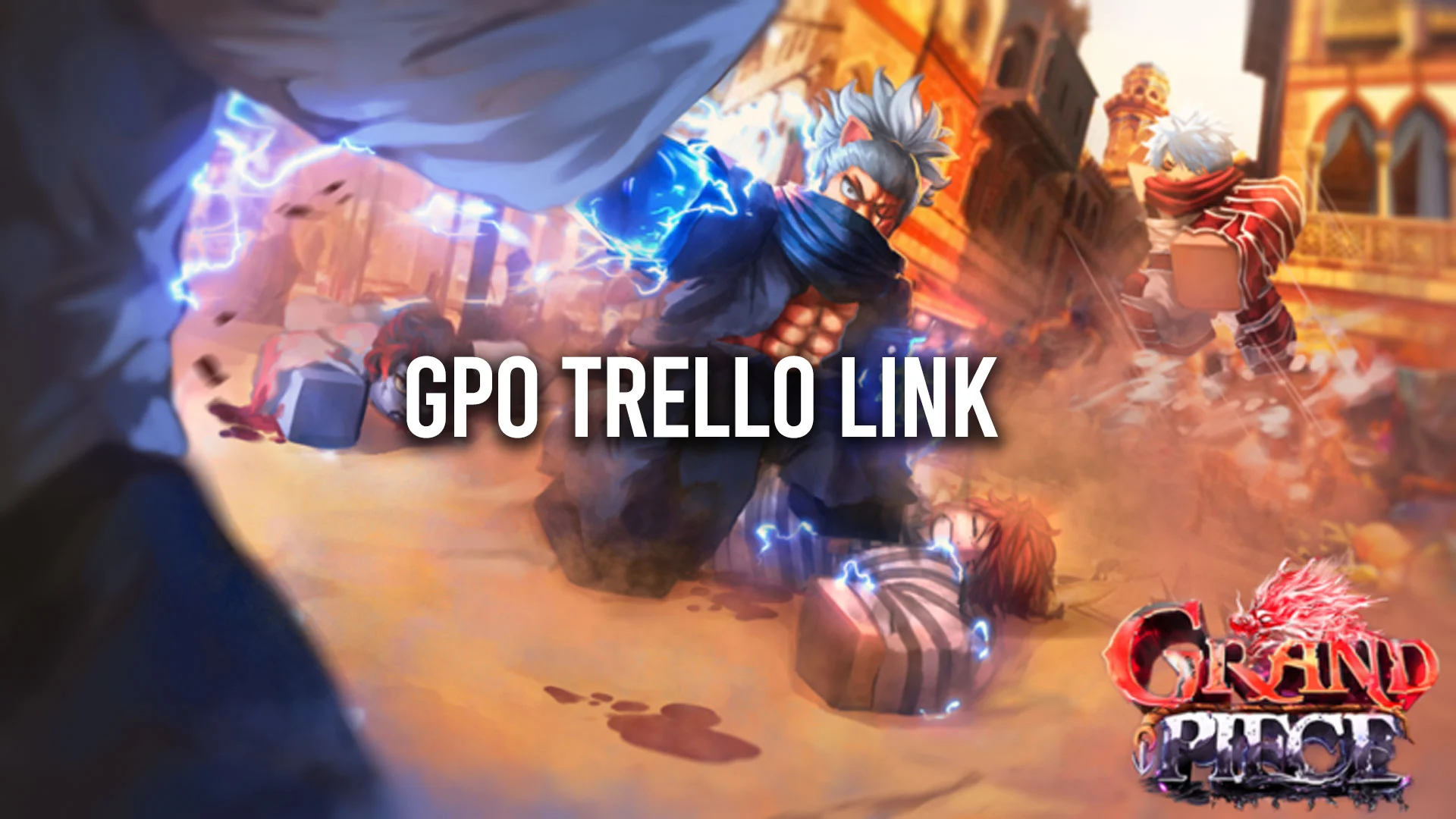 GPO, or Grand Piece Online, is a Roblox Experience developed by Grand Quest Games. Much like other Roblox experiences based on One Piece, in GPO, you travel to different islands, seeking treasure and plunder while collecting Devil Fruits. Even though you'll never truly be Luffy, you can always come close in GPO. For players looking to learn more about the game, the Trello board and Discord server if where you'll find your information.
Visit our GPO codes page for free in-game rewards and items.
GPO Trello Link
The GPO Trello link is: https://trello.com/b/N6zNVEU8/grand-piece-online
The GPO Trello connects the developers to gamers who play the Roblox experience. Trello sheds more light on what's going on behind the scenes in Grand Piece Online. On the other hand, the GPO Wiki has almost every detail you'd need to know about the universe, world, missions, and items. You can find information about Devil Fruits, the Trading Hub, locations, races, fighting styles, NPCs, Bosses, and more!
GPO Discord Server
The GPO Discord server is: https://discord.com/invite/grandpieceonline
There are also two other Grand Piece Online-related Discord servers, including a Trading Hub and an Item Shops server. The main server is where you can find general information about the game, including updates, announcements, and chat rooms. For more trading-oriented servers, you can visit the latter two servers.
GPO Trello Guide
Controls
M: Menu
CTRL: Climb
P: Sit on your ship
WW: Sprint
V: Carry
B: Grip
Locations
Town of Beginnings
Roca Island
Sandora
Shell's Town
Island of Zou
Baratie
Orange Town
Sphinx Island
Shark Park
Kori Island
Land of the Sky
Gravito's Fort
Fishman Island
Ryu's Palace
Neptune's Throne
Marine Base G-1
Reverse Mountain
Coco Island
Mysterious Cliff
Devil Fruits
Devil Fruits spawn every 1-4 hours
Devil Fruits despawn after 1 hour
Another way to get is by killing ship NPCs that spawn
Resetting your Devil Fruits refunds your points
Devil Fruits spawn on ANY island with trees
Is there a Grand Piece Online Wiki?
There is no official Grand Piece Online wiki, but the Trello board and Discord server contain all the information you may need to know about the game, including a list of controls, locations, and Devil Fruits. You're covered whether you want to know which fruits are in the game, where to find specific NPCs or enemies, or a list of controls.
You can visit the Grand Piece Online page on Roblox to play the game. Feel free to visit our Roblox section to find more awesome Roblox games and claim some in-game freebies.