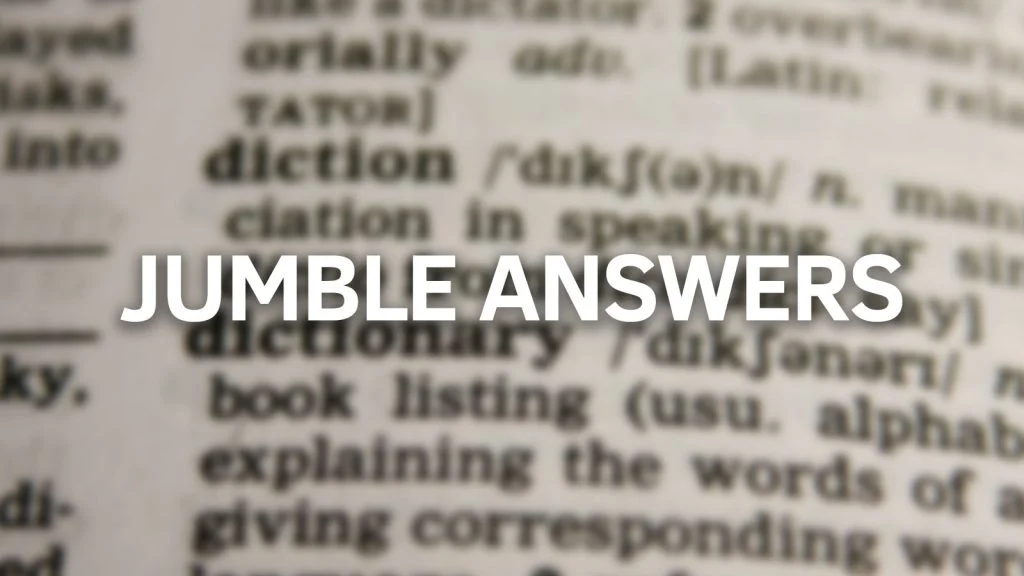 Jumble is a popular word game originally created by Martin Naydel in 1954. The game was initially called Scramble because the objective is to unscramble a mess of letters into real words. Decades later, it's now a popular word game syndicated across dozens of the world's most popular publications and apps under the name Jumble.
Solving the Jumble is not always easy, and that's why we put together this Jumble answers and solution guide to help you out on each daily puzzle. If you want to know today's answer, yesterday's answer, or any other answer for the month, you can find it in the list below.
Jumble Answers
The Jumble answers today are:
EAGLE

POUND

CANDID

CAMPUS

UP AND 'AD EM'
October 4
MYDIL -

DIMLY

VONWE -

WOVEN

GMYOSG -

SMOGGY

CBNEOK -

BECKON

BLOWING SMOKE
October 3
SUAEM - AMUSE
ROMNI - MINOR
GRELIB - GERBIL
NATGME - MAGNET
A MILE A MINUTE
October 2 (color)
DOICIY - IDIOCY
HBBOON - HOBNOB
INILCC - CLINIC
TONEED - DENOTE
SKYCTI - STICKY
GDEAAN - AGENDA
INACTION IN ACTION
October 1
KALOC - CLOAK
FARET - AFTER
WOSDIN - DISOWN
SOCOYH - CHOOSY
FOOTHOLD
September 30
EGLAL - LEGAL
RDOPU - PROUD
TARROO - ORATOR
MAAELF - AFLAME
PALM READER
September 29
PRWIE - WIPER
HLOSS - SLOSH
DTREVI - DIVERT
SATHAM - ASTHMA
WHAT'S THE DEAL?
September 28
SEGSU - GUESS
NUMDO - MOUND
TTPIEE - PETITE
SIWAGJ - JIGSAW
JUMPED AT IT
Those are all the jumbled words with answers for today's Jumble puzzle. You can bookmark this page and check back daily for more daily solutions if you can't figure it out or want to know the answers to the previous day's puzzles.
Jumble FAQ
Where can I play Jumble?
Jumble is available for free across many popular newspapers and websites, including the Chicago Tribune, USA Today, and the official Jumble website.
When does the Jumble daily puzzle reset?
The Jumble daily puzzle resets at midnight Eastern Time (12:00 PM). At midnight, a new Jumble becomes available on all the websites that syndicate the puzzle.
What is the Jumble daily?
The daily Jumble is a classic scrambled word game that's been around for decades. The brain-teaser delivers just the right amount of challenge and puns. Unjumble the words to figure out today's cartoon and caption.
Check out our game guides page to discover brand new words games that you might find interesting. We have lots of Wordle content and other challenging word games to test your knowledge.