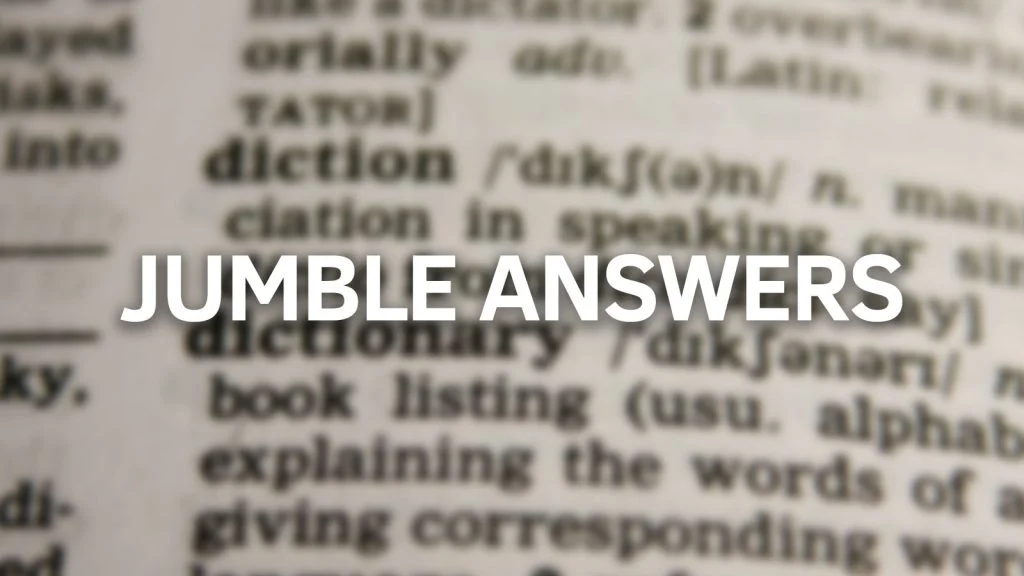 Jumble is a popular word game originally created by Martin Naydel in 1954. The game was initially called Scramble because the objective is to unscramble a mess of letters into real words. Decades later, it's now a popular word game syndicated across dozens of the world's most popular publications and apps under the name Jumble.
Solving the Jumble is not always easy, and that's why we put together this Jumble answers and solution guide to help you out on each daily puzzle. If you want to know today's answer, yesterday's answer, or any other answer for the month, you can find it in the list below.
Jumble Answers
The Jumble answers today are:
MINUS

HUNCH

MOMENT

METHOD

'HI' NOON
January 29 (color)
LNBOOG -

OBLONG

ADARIF -

AFRAID

DRUYEL -

RUDELY

TUWLOA -

OUTLAW

CRUYSR -

SCURRY

AHINEL -

INHALE

DOLLAR FOR DOLLAR
January 28
GRIRO - RIGOR
TYPET - PETTY
WLLUAF - LAWFUL
GHNIKT - KNIGHT
OUT LIKE A LIGHT
January 27
VNYEO - ENVOY
PLESL - SPELL
GAUTEO - OUTAGE
KUANSM - UNMASK
SPOKE VOLUMES
January 26
RNDAG - GRAND
NTAEG - AGENT
XREPIF - PREFIX
HEVEAB - BEHAVE
BEAR REPEATING
January 25
RIGEM - GRIME
LHEVA - HALVE
SIRCSI - CRISIS
SRTHHA - THRASH
HIGH ACHIEVERS
January 24
RNWOS - SWORN
SPOIE - POISE
NTEHLG - LENGTH
GPOAAD - PAGODA
'PEST' IN SHOW
January 23
GTHIS - SIGHT
HLACS - CLASH
TRAAKE - KARATE
CNEREO - ENCORE
SEE A SHRINK
Jumble FAQ
Where can I play Jumble?
Jumble is available for free across many popular newspapers and websites, including the Chicago Tribune, USA Today, and the official Jumble website.
When does the Jumble daily puzzle reset?
The Jumble daily puzzle resets at midnight Eastern Time (12:00 PM). At midnight, a new Jumble becomes available on all the websites that syndicate the puzzle.
What is the Jumble daily?
The daily Jumble is a classic scrambled word game that's been around for decades. The brain-teaser delivers just the right amount of challenge and puns. Unjumble the words to figure out today's cartoon and caption.