In Killer Frequency, players must walk the residents of Gallows Creek through stressful scenarios to avoid the Whistling Killer.
In Killer Frequency, there are a bunch of residents that you'll need to walk through dangerous scenarios to save them. One of the first things you'll need to do is help Sandra hotwire her car. If you're not a mechanic, we get it — doing so might not be so straightforward. If this quest has got you stumped, this guide will outline exactly how to fix Sandra's car.
How to Fix Sandra's Car Guide
To fix Sandra's car, players must find a note in the office, then navigate to the bathroom to find the Fix all Cars magazine. From here, they can mount the magazine on their DJ booth and use it to help hotwire Sandra's car and complete the mission, with Sandra alive at the end.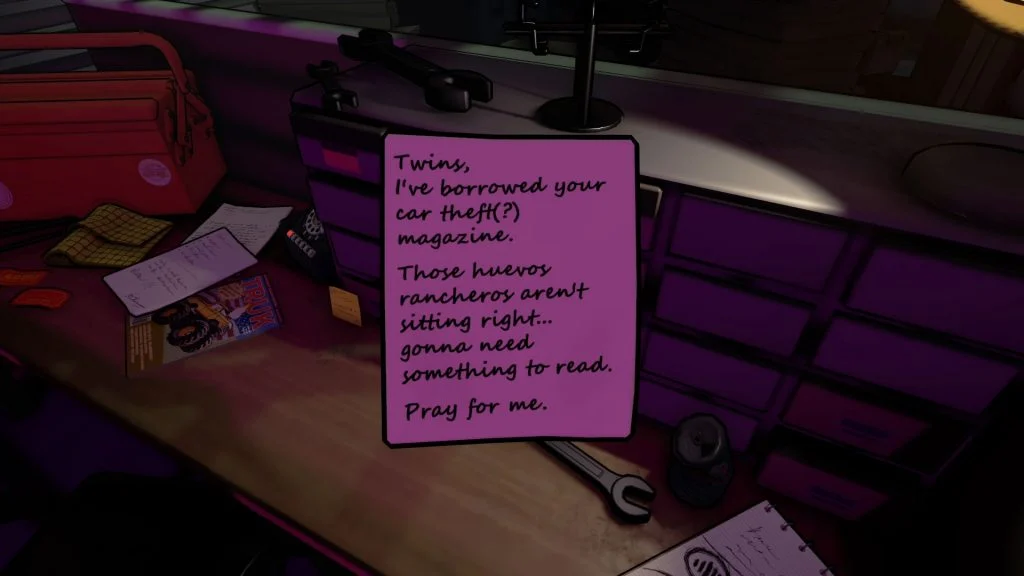 Hotwiring Sandra's Car
To hotwire Sandra's car correctly, select these dialogue prompts when they appear:
Put the screwdriver in the ignition and twist clockwise.
Unscrew the steering column.
Strip and twist together the Red and Yellow wires.
Strip the purple wire and brush against the twisted wires!
There are a few dialogue options in between that don't really matter — so you can select whatever you want for those. We thought maybe this part was dynamic, but we played through it twice to ensure that those options worked, resulting in Sandra making it out alive.
If you'd prefer, you can also follow along with the Fix all Cars magazine and walk through the steps to figure it out yourself. If you're just looking for a quick way through this mission, however, the steps above will get you there.
For more guides on this game, see our Killer Frequency section.