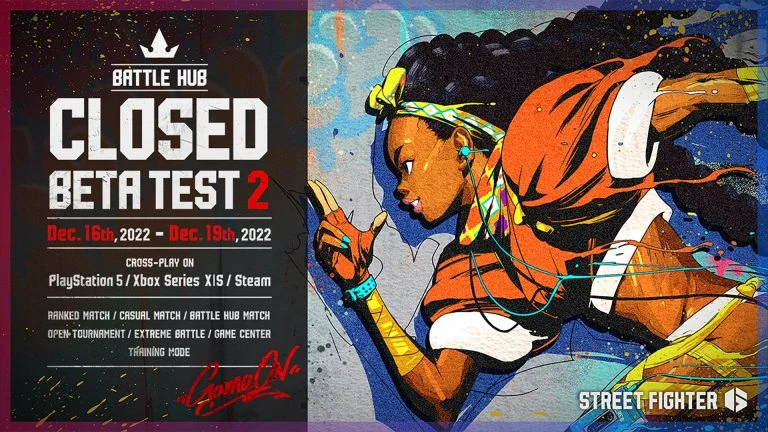 Everyone in the FGG is eagerly awaiting the drop of Street Fighter 6. Capcom has hinted at a 2023 release date, but players lucky enough to get into the Closed Beta before then will have the opportunity to play the game. Capcom recently announced a second closed beta, but you'd better be quick. Applications are only open for the first and second week of December.
Applications for the Street Fighter 6 Closed Beta will be accepted from December 1 – 11, 2022, and are on a first-come, first-served basis. Players will be notified via email around 3 p.m. UTC / 10 a.m. EST on December 14, 2022. Players must sign up on the official Street Fighter 6 Beta Registration Page and link their accounts to a platform.
Earlier in the year, Street Fighter 6 held another closed beta, and some players got a chance to play the game early. Players that got access during the first closed beta will automatically receive access to the second beta and do not need to apply again.
Street Fighter 6 Closed Beta Details (December 2022)
Players will have access to 8 playable characters, 6 playable stages, and various game modes. In addition, Capcom has worked on patching and enhancing some of the game's features since the first closed beta.
Playable Street Fighter 6 Beta Characters
Playable Characters in the second Street Fighter beta include:
Chun-Li
Guile
Jamie
Juri
Kimberly
Ken
Luke
Ryu
Playable Game Modes
The game modes in the upcoming Street Fighter 6 beta include the following:
Ranked Matches
Casual Matches
Battle Hub Matches
Extreme Battles
Open Tournaments
Training Mode
Hub Goods Shop
Game Center
Challenges
DJ Booth
Photo Spot
Character Creation
Closed Beta Stages
There will also be a variety of playable stages, including:
Metro City Downtown
Genbu Temple
Carrier Byron Taylor
Tian Hong Yuan
The Macho Ring
Training Room
How to Get into the Street Fighter 6 Closed Beta
To get into the Street Fighter 6 closed beta in December 2022, visit the official Street Fighter 6 Closed Beta Page and click the Apply for the Closed Beta Test button. Follow the prompts and apply for the beta.
Players must link their platform profile with their Capcom account to be eligible to play. To link your Capcom account with your platform account:
Create a Capcom account and log into your Capcom Account Settings.
Click the Link button next to your desired platform.
Enter your platform credentials.
Once you accept the Privacy Policy and Terms, you'll see a confirmation screen confirming your entry. Keep in mind you can't change the platform you selected in the application process, so make sure it's the platform you plan to play Street Fighter on.
There is no real way to improve your odds, so good luck getting into the beta!
Read the full blog post from Capcom.
Bookmark our News Section for more opportunities to access Closed Betas.