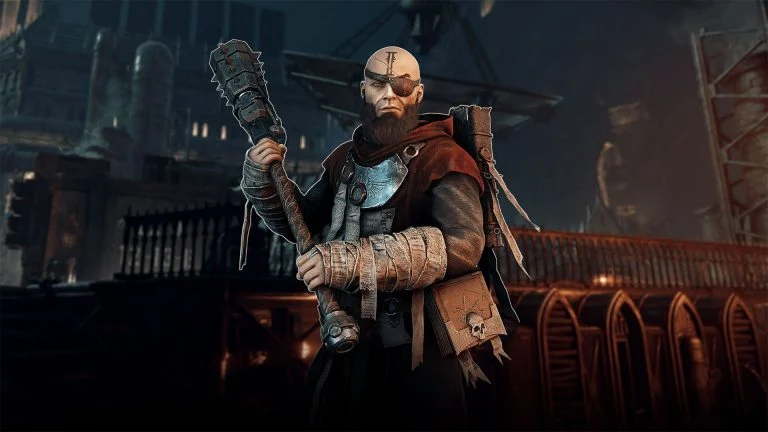 The Warhammer 40K: Darktide 1.0.20 "The Signal" patch for December 15, 2022, includes a new level, additional weapons, Private Play raids, and more.
Warhammer 40K: Darktide has just received a sizeable patch that adds a new level called Comms-Plex 154/2f, two new weapons, a host of performance tweaks, and Private Play. The patch also focuses on QoL and performance issues. Many of these features, specifically Private Play, are ones the community has been clamoring for since the launch of Darktide. See below for all the details you need to know. 
Warhammer 40K: Darktide Patch Notes (December 15, 2022)
The Warhammer 40K: Darktide patch notes for December 15, 2022, include the following:
New Content
The Darktide patch includes the following content additions:
New Level: Comms-Plex 154/2f – Make your way to the HL-19-24 Archivum and transmit a message.
New Weapons: The Indignatus Mk IVe Crusher (two-handed Power Maul for Zealots) and The Achlys Mk I Power Maul (one-handed Power Maul for Ogryns).
Private Play lobbies have been added to the game. You must have a team of 2-4 players.
Refine has been added to the Shrine of the Omnissiah. Players can Refine Perks to boost their power, but it will lock other perks.
Added Condition: Hunting Grounds – Rejects must fend off many Pox Hounds.
QoL and Performance Updates
Many other updates with this patch surround the performance and stability issues players have been having. In addition to a bunch of crash fixes, Fatshark has also added a chat window to the cinematic screen, tweaked many weapons, and improved character animations.
Some highlights include:
Fixed several cases that would generate GPU crashes.
Fixed a bug where clients would get mismatching player loadouts from the server, which could cause many different crashes.
Fixed a bug with fired projectiles VFX crashing the game when the player leaves the game.
Fixed an issue that could cause a client crash when using weapons while under the influence of various attack speeds or reload speed buffs.
Fixed various and numerous unspecified crashes.
Multiple fixes to prevent GPU Hangs
Fix for clustered shading on high end-cards that sometimes ended up in an infinite loop leading to a GPU Hang
Increased GPU visible descriptor heaps. Larger buffers on these can prevent GPU hangs from happening in certain situations when over-allocation has occurred.
Fixed streamable texture initialization code that could lead to page fault hangs.
Multiple fixes for players with AMD GPUs.
Raytracing is now available on AMD RX 6/7000 cards.
There are so many tweaks and enhancements we couldn't list them all here. Head to the Darktide Steam News HUB to see the entire list of patch notes.
See our News Section for more patch notes on your favorite games.