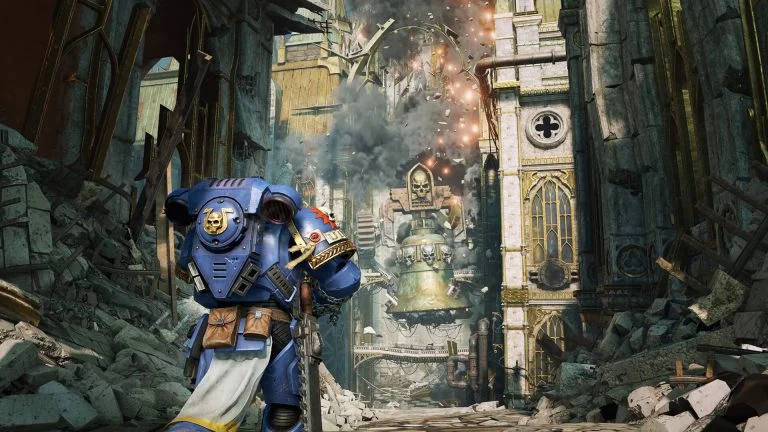 Warhammer 40,000: Space Marine 2, developed by Saber Interactive and published by Focus Entertainment, was announced last night at The Game Awards 2022. This news was perhaps the biggest announcement for Warhammer fans and gamers that played the original Space Marine.
For the uninitiated, Warhammer 40,000: Space Marine, developed in 2011 by Relic Entertainment, was one of the most popular and memorable videogames to ever grace shelves for Warhammer fanatics. In the game, you play as Captain Titus, a Space Marine and member of the souped-up super soldiers known as Ultramarines.
These battle-hardened veterans blaze into space battle, taking on Orks, Ogres, and a slew of other monstrous beasts set in the Warhammer universe.
What's New in Space Marine 2?
In Warhammer 40K: Space Marine 2, much seems the same in terms of game genre, albeit with a decade of new gaming technology incorporated into the final product. Much like the original, this will be a third-person hack-and-slash shooter & horde game, where you'll be taking on innumerable waves of enemies. We're sure the new game will incorporate new, updated mechanics to add further depth as well.
Speaking of enemies, in Space Marine 2, you'll be taking on primarily the Tyranids–a roaming alien race based on H.R. Giger's Xenomorphs, which should lend a creepy and interesting aesthetic to the adversaries you face in the game. The Tyranids are mentally bound through a powerful Hive Mind–which is a perfect setup for a horde game.
Watch the Warhammer 40,000: Space Marine 2 trailer here:
Warhammer 40K: Space Marine 2 is expected to release sometime in 2023, though no date has been confirmed as of yet.
What Warhammer game are you most excited about? Let us know in the comments below. 
For more gaming news, make sure to check out our News Section.