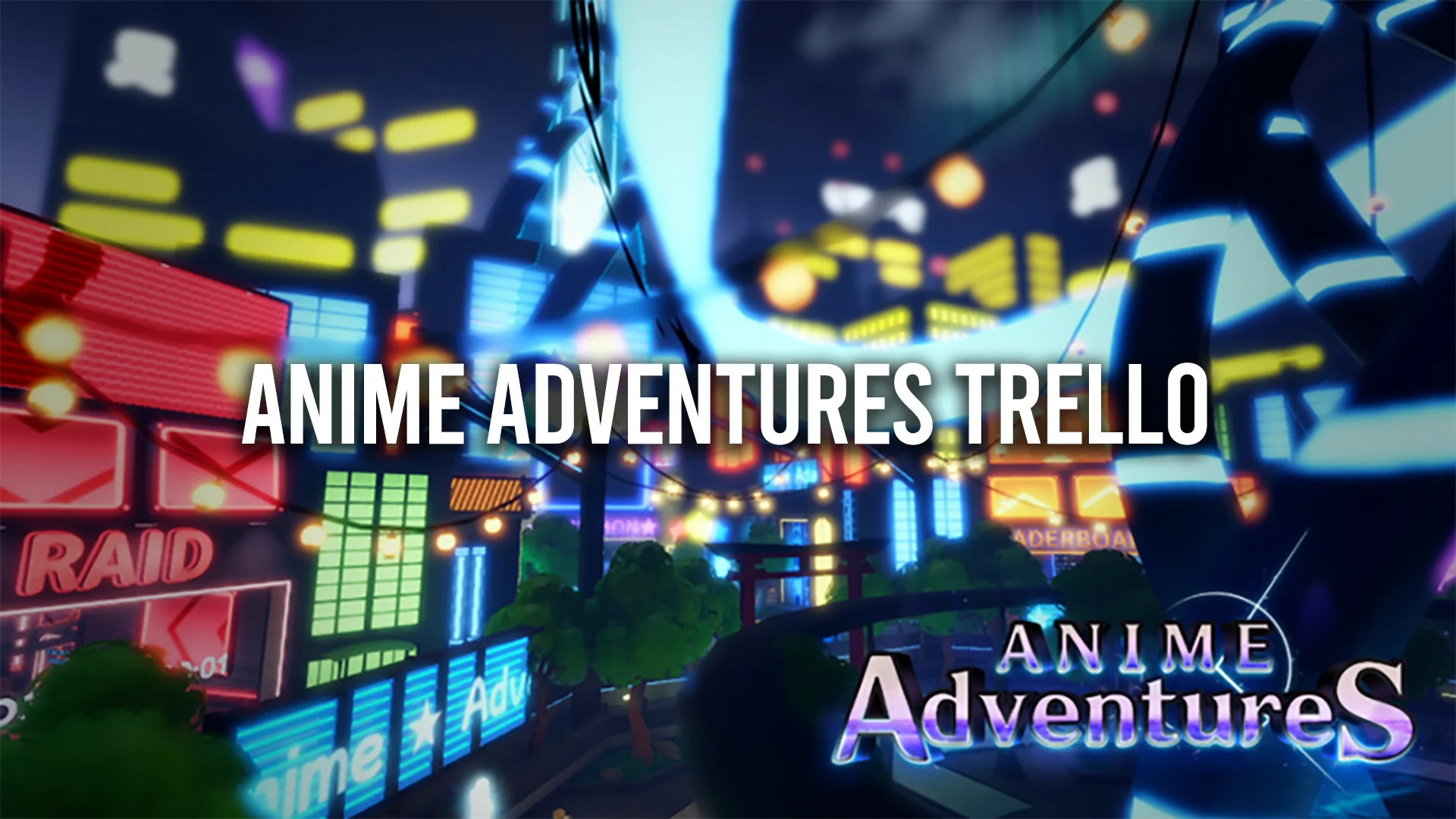 Anime Adventures, developed by Gomu, is one of the most fun Roblox experiences out there. In Anime Adventures, a crazy event happens, which summons enemies. Your goal? To defeat them and become the strongest hero on the server. In Anime Adventures, you can get Mythical, Epic, and Legendary units that will make your hero even stronger. There's no better place to learn more about the game than the Trello and Discord, which you can find in the post below.
Visit our Anime Adventures Tier List for the best heroes, and check our Anime Adventures codes list for freebies and in-game rewards.
Anime Adventures Trello Link
The Anime Adventures Trello Link is https://trello.com/b/3TFL3xY9/anime-adventures.
Many experiences in Roblox have their own Trello, which helps the game's developer communicate to the community and plan for the future. While WIKIs are useful, Trello's are even better because you can also see what is upcoming in the game. The Anime Adventures Trello has information about heroes, gems, infinite loadouts, items, maps, traits, updated information, and more. 
Anime Adventures Discord
The Anime Adventures Discord server is: https://discord.gg/adventures
Discord is the number one source for game updates, announcements, and chatting with other players. The Roblox Anime Adventures server is massive, so you'll find tons of like-minded players and maybe even meet some friends.
Anime Adventures Trello and FAQ
The following FAQs are from the official Anime Adventures Discord:
How do I get more gems?
Daily/Story/Event Quests
Daily wave rewards for infinite mode (there is one for each world)
Completing story mode stages
Completing challenges
Replaying story mode levels/challenges
Codes
AFK in the time machine (beside Trunks in the lobby)
This story level/challenge/infinite level is too hard!
Unlike other games, your unit level matters a lot. This is to prevent a new player from getting a Mythic on first summon and rolling through all the stages (we want to reward people for spending time in the game instead). Units gain levels from feeding them XP food items, or by finishing levels. You can see the recommended unit level on each world in level select.
Why do I get items from the banner? Does this mean I didn't get a unit?
No, items are rare drops from the banner in addition to units, as a bonus. You always get at least one unit for each summon.
How does the banner/summon system work? Why does it switch every hour?
The banner randomly selects 6 units from a global pool every hour. These units are only available during this time (until they are randomly selected again), so be sure not to miss out on any units you want to get!
The game is too laggy, what can I do to reduce lag?
In the lobby, go to settings -> hide other pets. In-game, go to settings -> turn off attack effects
What codes are there?
Visit the Anime Adventures Codes page for up-to-date codes.
What are shiny units?
Shiny units are very rare skins for units and are purely cosmetic. You have a small chance to get a shiny from each summon.
Is there an Anime Adventures Trello?
Yes, there is. See the above article.
What are traits?
Traits are modifiers that apply to your unit, like more damage to bosses, more range, etc. When you summon a unit, it can come with a trait or you can reroll traits through the use of Star Remnants.
Why are my unit stats different than my friend's if they are the same character?
Units in this game use a randomized system, where stats like damage are randomly rolled with about a 10% variance (like Dungeon Quest items). When you evolve a unit they also reroll their stats, but it will always be strictly better than the pre-evolved version. This is to make units different from each other and also to prevent a new player from opening the best unit stat-wise in the entire game.
How do I play infinite mode?
Finish all levels of a world to unlock its infinite mode. Each world's infinite mode has its own leaderboard, and you can gain gems by reaching certain waves per day for each world's infinite mode.
Do gems save when you get kicked/disconnect from time machine?
Yes, even if the UI resets back to +0, the gems you earned from previous session were already saved. Go back to lobby to check.
What is the Banner Tier?
It's a new system to avoid people getting really good units on alts. Here's a quick rundown on how it works:
Tier 0: Can't summon secrets or shinies
Tier 1 (Player Level 5+): Can summon shinies but not secrets
Tier 2 (Player Level 20+): Can summon secrets and shinies!
That's all you need to know about the Anime Adventures Trello and Discord, so put on your reading glasses because it's time to learn. Visit our Roblox guides wiki to get codes and Trello links for your favorite experiences.