What's the best spot to farm XP in Diablo Immortal? Grinding is the name of the game in Diablo, and if you're going to spend hours on end slaying demons, you may as well be doing it efficiently. When it comes to maximizing experience gain, there are a ton of different places you can go to get it done. However, over time some popular areas emerge as the best XP farm spots, and we have the most popular sites listed below.
We have four of the best spots to gain levels quickly in Diablo Immortal outlined below. For all four spots, you'll want to make sure to loot all magic and rare items and collect all Monstrous Essences. When you collect ten essences, turn them in at the Bestiary and salvage them. Then, return back to your group and continue the grind. The optimal experience gain comes when you party in a group of four.
Best XP Farm Spots in Diablo Immortal
The best areas to gain experience quickly in Diablo Immortal are:
Sanctified Earth Monastery in Mount Zavain
Sand Scorpion Camp in Shassar Sea
Hidden Alcove in Library of Zoltun Kulle
Moon Clan Encampment in Mount Zavain
Update: Note that Moon Clan Encampment and Library have been slightly nerfed in the June 16, 2022, Diablo Immortal update. These two spots are also heavily occupied by botters. We recommend Mount Zavain and Shassar Sea for quick levels.
Sanctified Earth Monastery in Mount Zavain
The number one spot to grind experience quickly in Diablo Immortal is currently the Sanctified Earth Monastery in Mount Zavain. With a group of four, go clockwise around the circle, killing mobs as a group. The enemies will respawn by the time you complete the circle, which means you can string together an infinite killstreak. Make sure your group moves together tightly, and this is by far the most experience per hour that you can possibly get in Diablo Immortal. There are two shrines in the circle, and one to the northeast of it–always grab XP shrines.
Mobs here are Risen, which means they are Undead type. Undead are some of the weakest mobs in the game, so you can easily grind a difficulty up from what you normally do as long as your CR is at least relatively close to the recommended level. The location is also a good spot for elites and ancient elites. Remember to collect Monstrous Essences and turn them in at the Bestiary as you grind.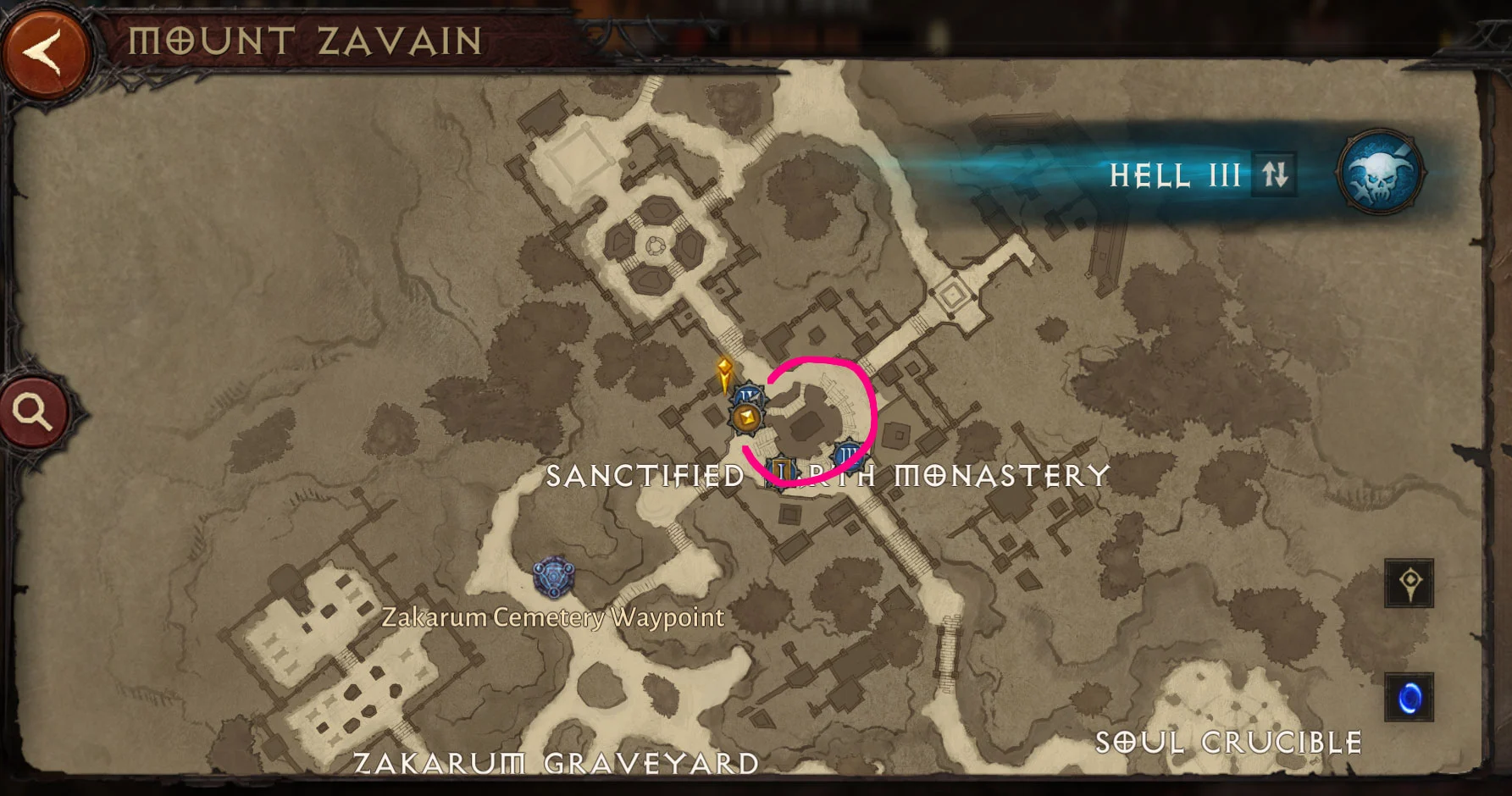 Sand Scorpion Camp in Shassar Sea
The second best spot, and a lesser-known one, for grinding experience in Diablo Immortal is the Sand Scorpion Camp at Shassar Sea. Like the previous location, there's a circular route to follow. Get with a group of four and pick a direction. Stay tightly knit together as a group and kill mobs to string together killstreaks. There are overall fewer mob spawns here, but you can still make it work just as well if, say, the previous spot is crowded. The mob types here are humanoid bandits and scorpions, and you will likely spot a bunch of elites, including ancients.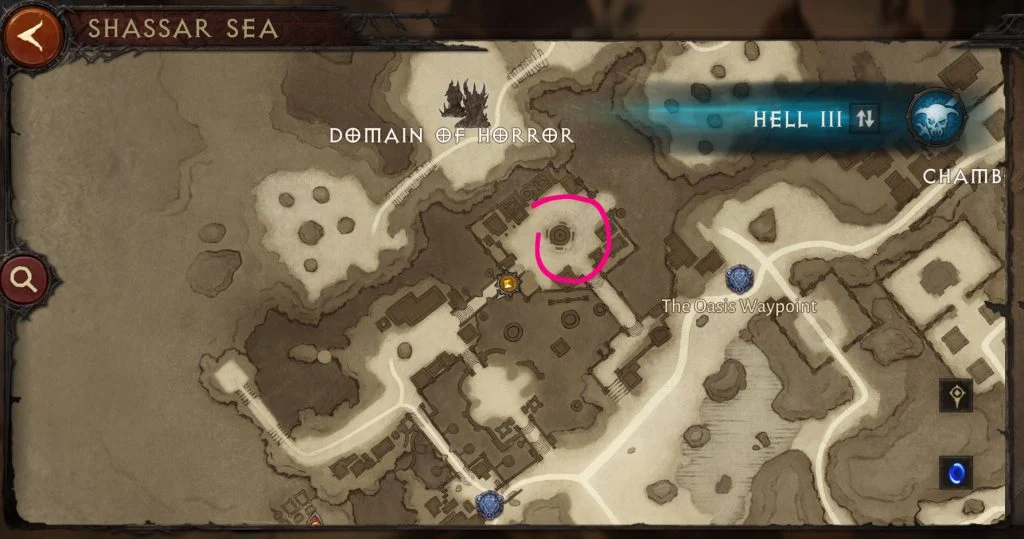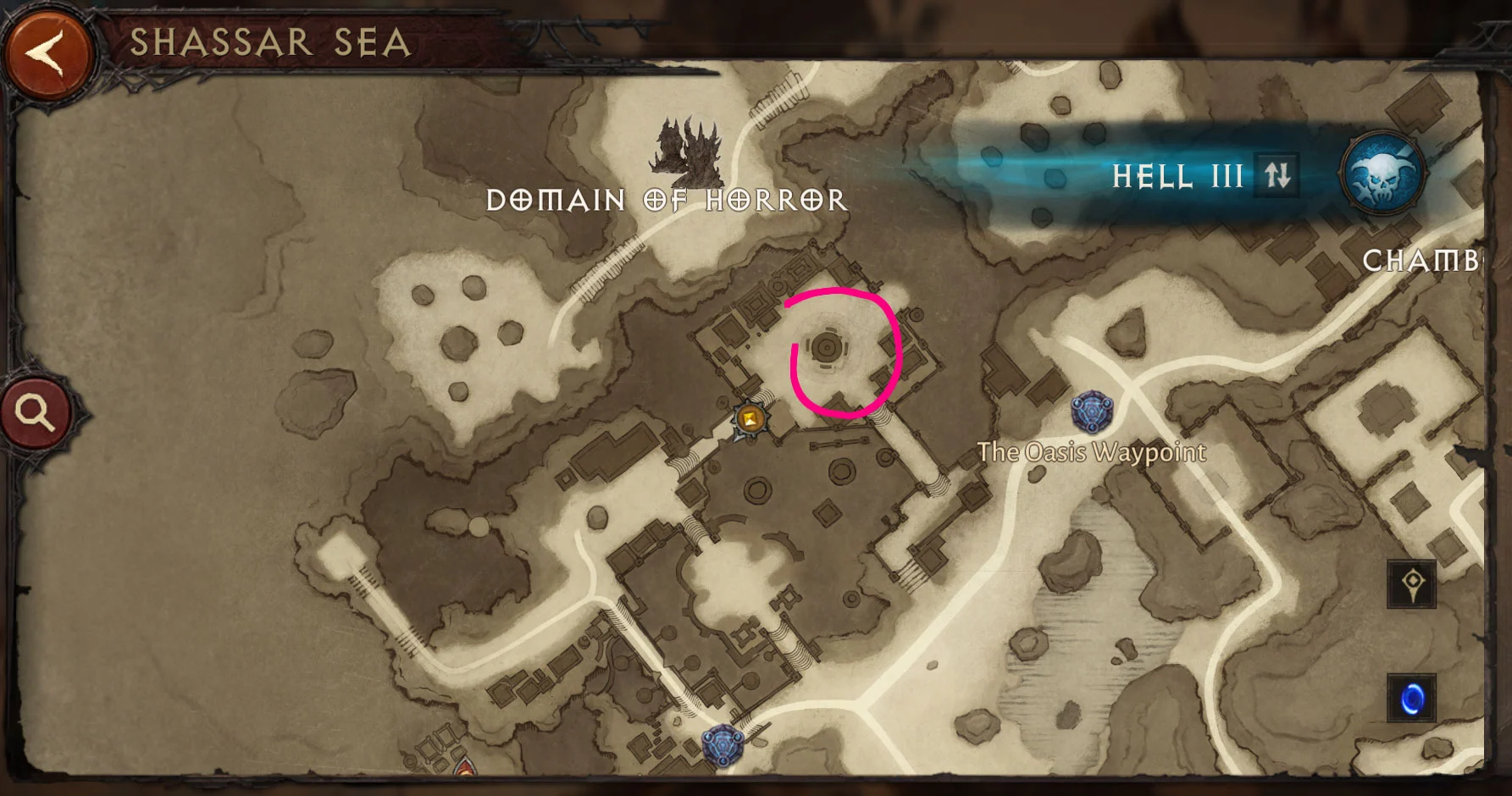 The Library of Zultan Kulle is a popular farm area for a good reason. Not only can you collect Lost Tome Pages here to summon the Golem and Hydra, but there's a particular area with high mob density and fast monster respawn timers. The Hidden Alcove is on the far east side of the map, so you can teleport to camp and walk over there in less than a minute.
When you reach the Alcove, it won't take long to find people willing to group, and you'll want to for the bonuses. If you have no luck, check the in-game Party Finder, as there may be a group looking for more players in a separate layer. Your objective here is usually to string together as tall a kill chain as possible to stack the bonus experience.
Collect all the monster essences you see, as well, as this will supplement your experience significantly. I'd also recommend turning on auto pickup for all items and salvaging them when you return to camp to turn in the Monster Essences at the bestiary.
Moon Clan Encampment in Mount Zavain
Another great but lesser-known spot for XP farming in Diablo Immortal is the Moon Clan Encampment in Mount Zavain. Look for the camps that spawn Moon Clan Impalers, Brutes, Berserkers, and Shaman, along with Shrines that reactivate every few minutes for buffs. Teleport to the Sentinel's Watch Waypoint, and make your way north.
Like the Library of Zoltun Kulle, you'll want to group up in a party of four and collect all the Monster Essence you can to supplement your experience gain. Try to spread out in your group, so each person covers their a zone, and you can maximize kills as a party.
These are the best spots to farm XP in Diablo Immortal. We'll update the list as things in the game change and we discover new methods to farm experience more quickly.
Diablo Immortal is free-to-play and available on Google Play, the App Store, and Battle.net.