One of your main quests in Stray involves repairing an old tracker found in Doc's lab. The tracker may hold clues about Doc's location, which Seamus is also eager to discover. Unfortunately, the tracker must be repaired by someone who knows what they're doing. Luckily, there's a perfect robot for the job. Here's how to fix the tracker in Stray.
How to Fix the Tracker in Stray
To fix the Tracker in Stray:
Visit Elliot's Shop and speak with Elliot.
Acquire Super Spirit Detergent from Kosma's Shop.
Trade the Super Spirit Detergent for Electric Cables at the Barterman.
Give the Electric Cables to Grandma in exchange for a Poncho.
Give the Poncho to Elliot.
Visit Elliot's Shop
Eliott is the programmer of the town in Stray. Elliot's shop is located in an alley next to Grandma Clothing. Scratch on the door of Elliot Programming, and Elliot's assistant will let you inside. Head upstairs and talk to Elliot. Elliot can fix the tracker easily, but it turns out Elliot has the shakes. To help out, we'll need to obtain a poncho from Grandma through a series of trades.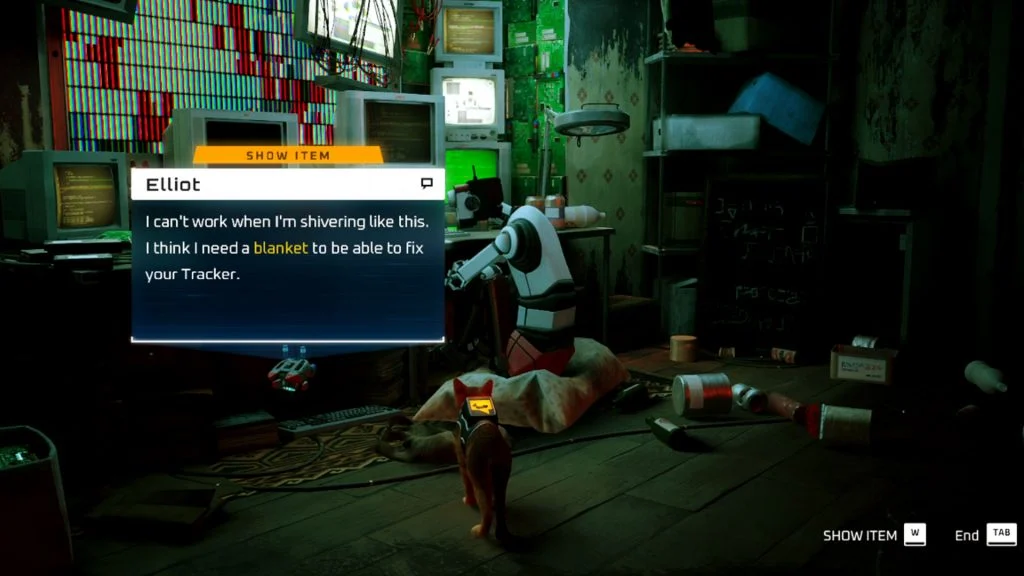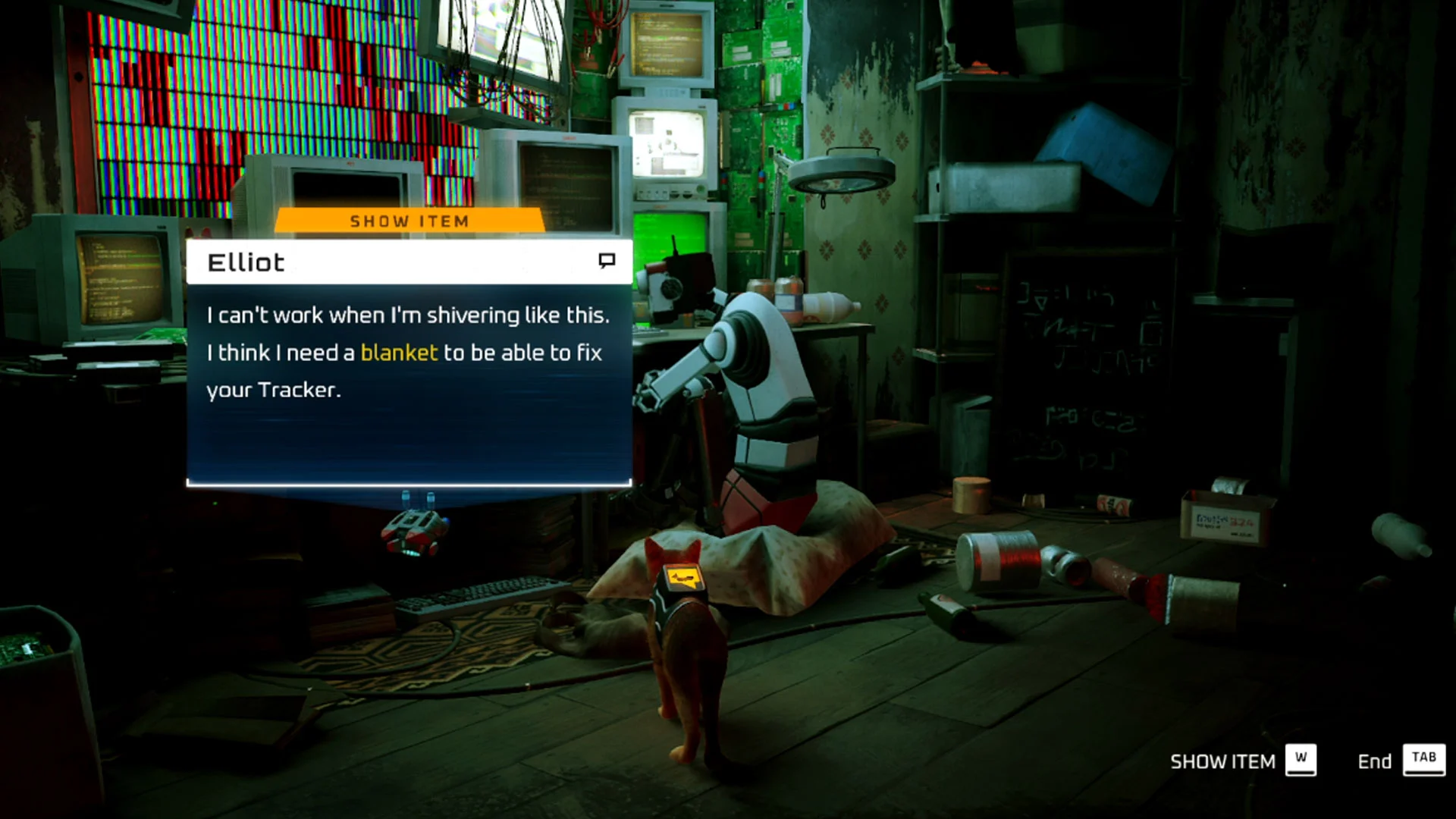 Where to get Super Spirit Detergent in Stray
To get Super Spirit Detergent in Stray, you'll need to grab it from Kosma's Super Spirit Shop. The problem is the door is locked, but there's a clever way we can get inside: distract Vapora and cause an accident.
Vapora is the one above the Super Spirit Shop tossing buckets of paint across the rooftops. Climb up to the roof, and speak with Vapora. You'll need to keep meowing a few times to do the distraction. After a few meows, Vapora will drop the paint on the floor, causing Kosma to come running outside. That's your chance to sneak inside and grab the Super Spirit Detergent!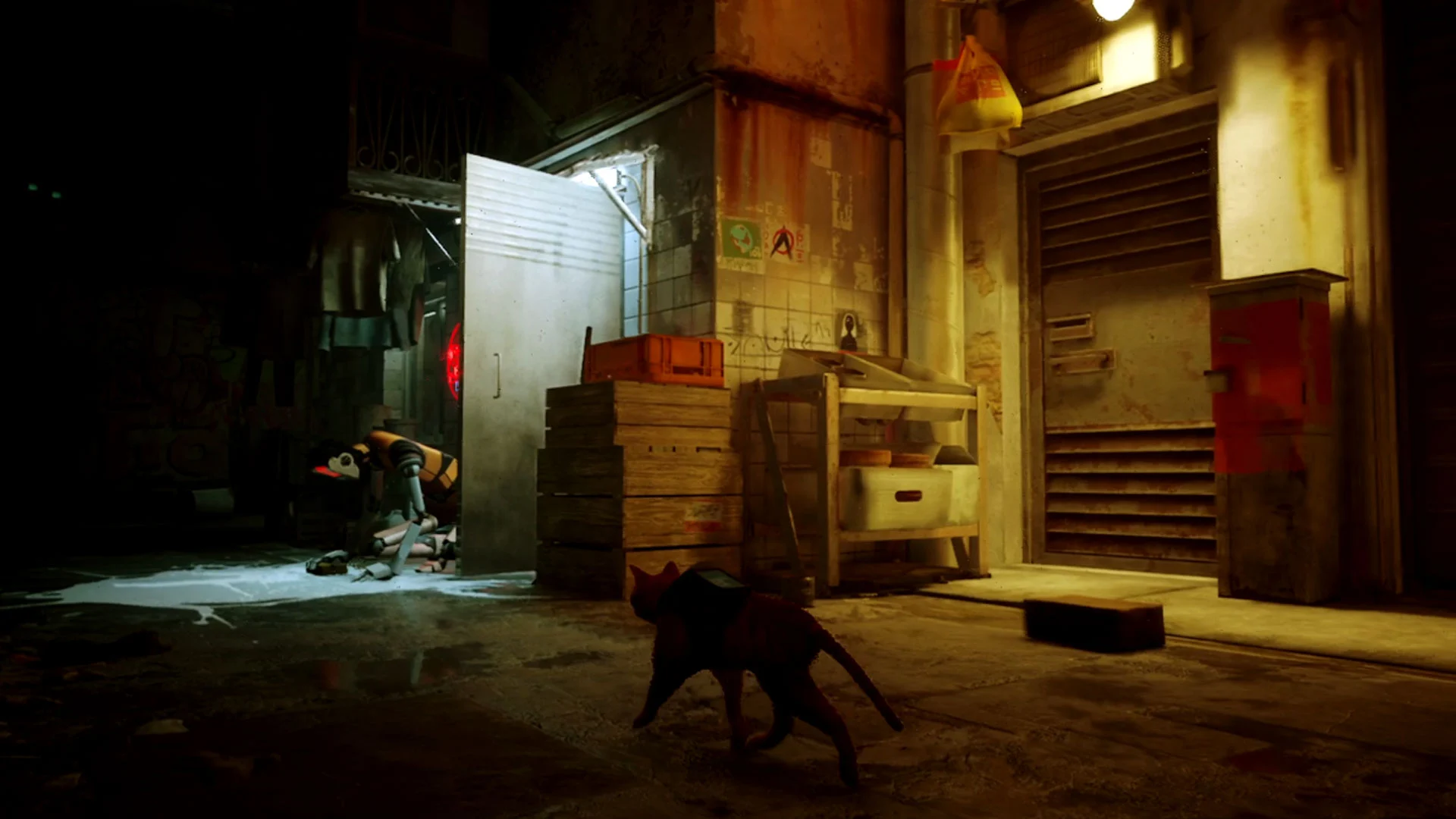 The detergent is on a table inside the door on your left. Now, it's time to exchange the Super Spirit Detergent for Electric Cables.
Where to get Electric Cables in Stray
Electric Cables can be obtained from Barterman in exchange for Super Spirit Detergent. Find Azooz's shop (Barterman) using the in-game signs, and interact with the box of Electric Cables. Show Azooz the Super Spirit Detergent, and you'll receive Electric Cables in return.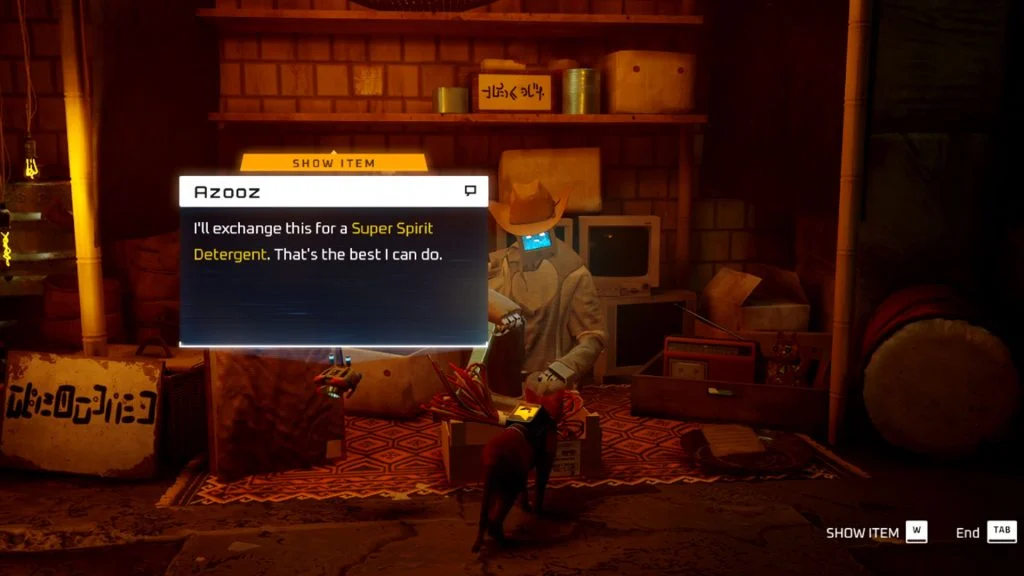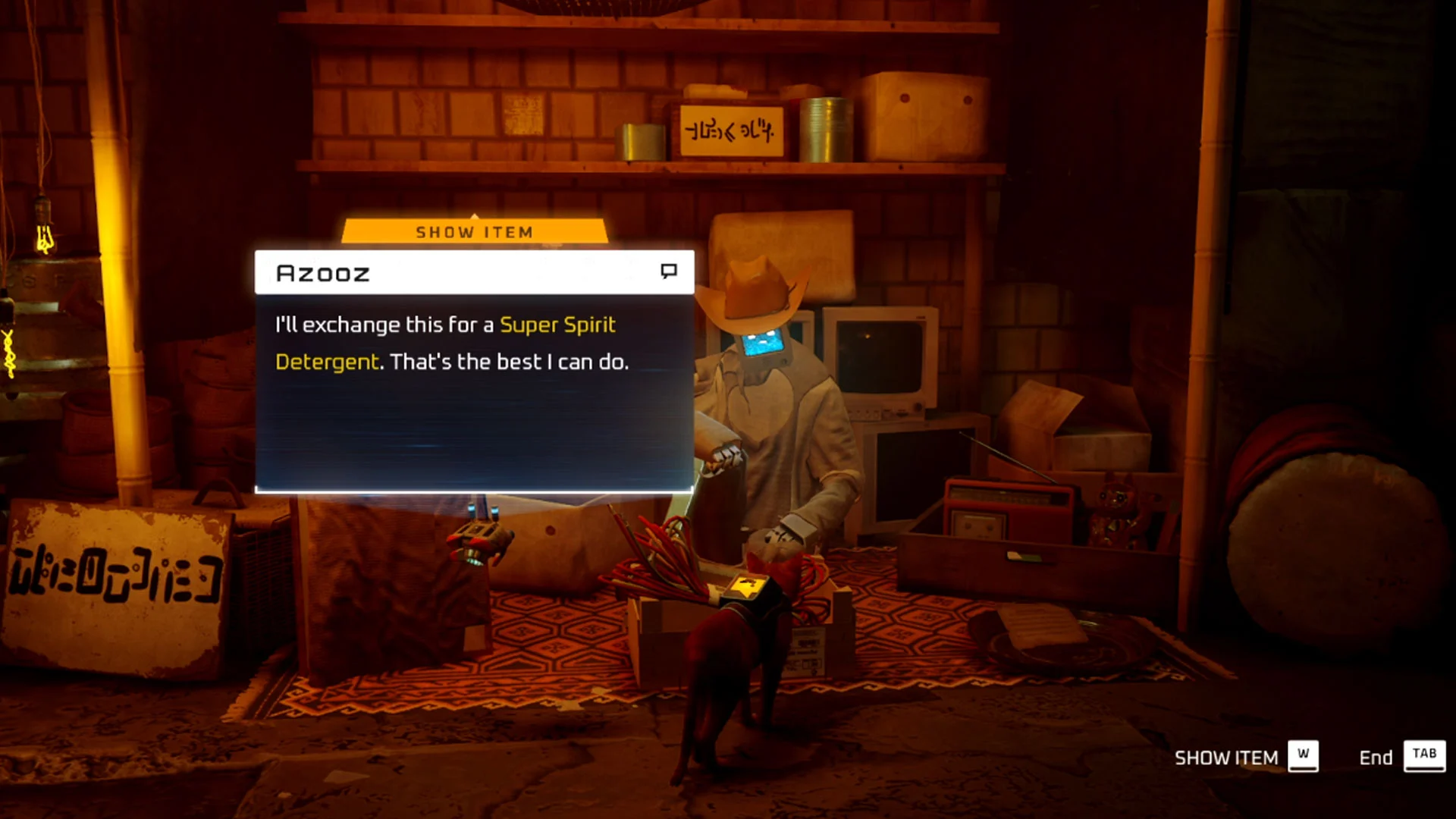 As a side note, you can also grab a sheet of music from Azooz in exchange for an Energy Drink. You can get Energy Drinks from any vending machine around the slums.
Where to get a Blanket in Stray
You can trade Electric Cables for a poncho at the Grandma Clothing shop. Grandma Clothing is located right next to Elliot Programming. Speak with Grandma, and you will learn she'll make a poncho for you in exchange for an Electric Cable. Show the Electric Cable, and you'll have your poncho after the cutscene.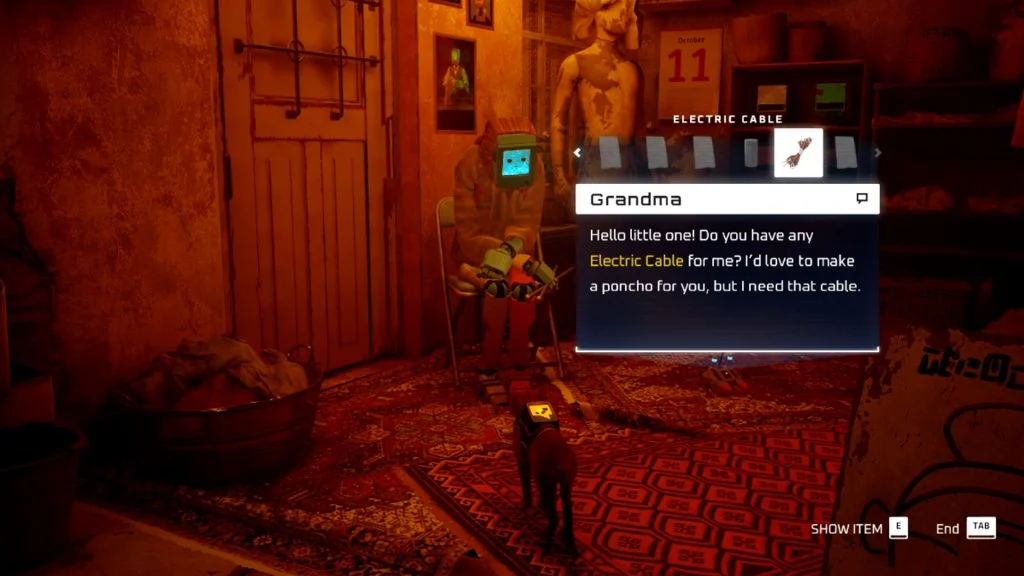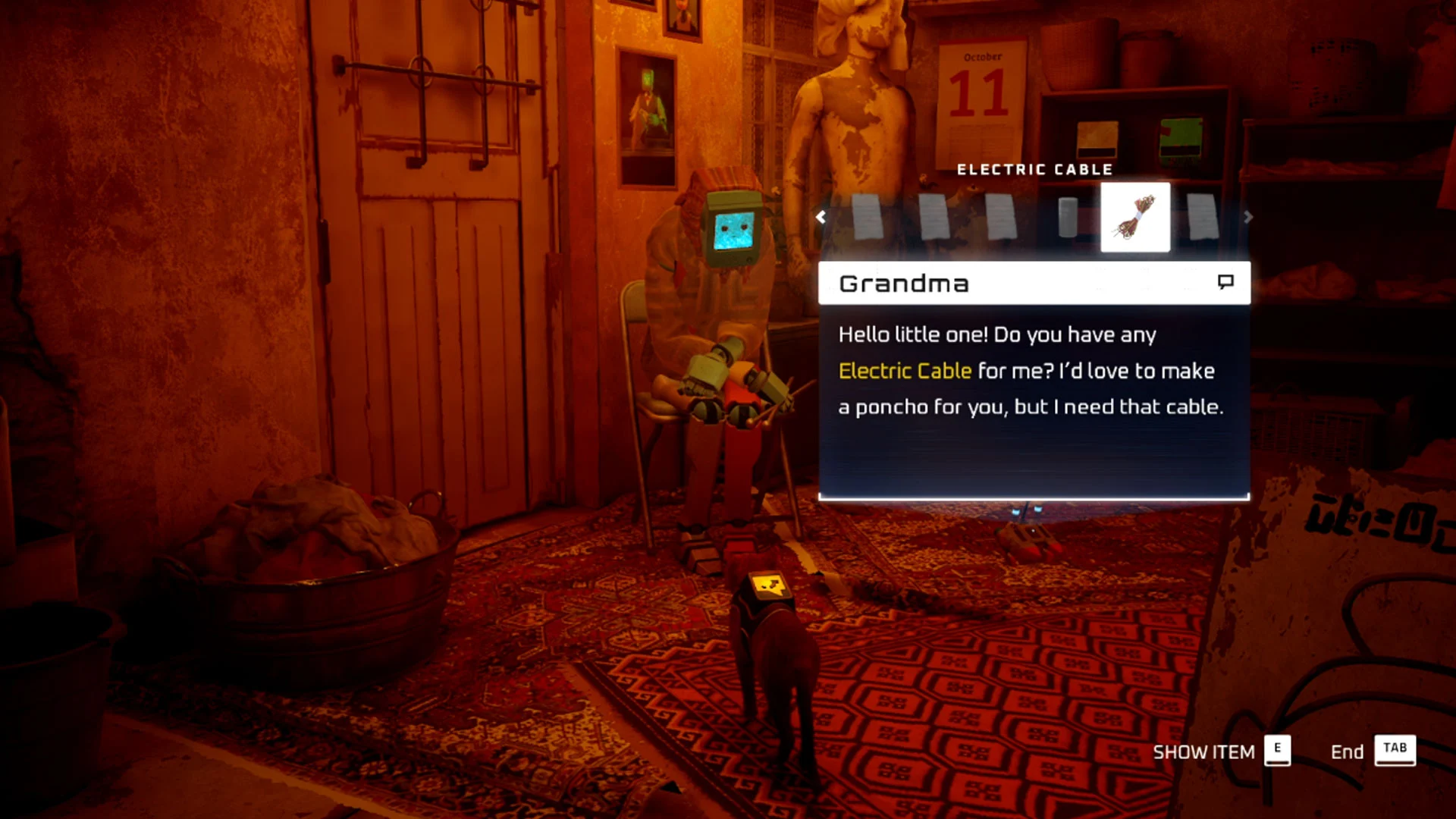 Give the poncho to Elliot
Finally, we can return to Elliot, poncho in hand, to get the tracker fixed. Elliot will have no problem fixing it up quickly for you. Once that's done, you can head back to Seamus and continue on with the story!
Hopefully, this guide helps you if you're trying to figure out how to fix the tracker in Stray.
For more Stray guides, check out our website's Stray section for additional walkthroughs and content.