Finding a good partner in team-based fighting games can be challenging. If you've landed yourself a good teammate or come across a good player, you may want to give them kudos to recognize a job well done. Luckily, there's a feature in MultiVersus designed exactly for that purpose. Here's how to Toast someone in MultiVersus, and how the Toast feature works.
What is Toast in MultiVersus?
The in-game MultiVersus Glossary defines Toast as a tip you can award other players, granting them Gold. Gold is a currency earned in-game to unlock rewards.
Each time you Toast a player at the end of a game, the player will receive 20 bonus Gold.
How to Toast Someone in MultiVersus
To Toast someone in MultiVersus:
Launch MultiVersus and go to Play.
Pick any mode and start a match.
At the player recap screen after a game, tap the "Give Toast" button above a player's head to Toast them.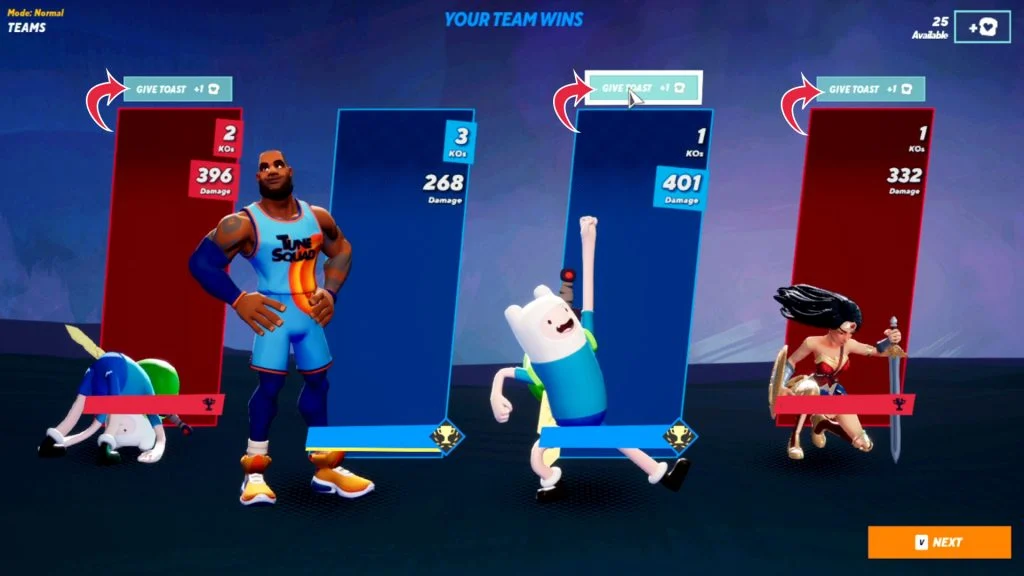 In MultiVersus, you can Toast another player at the end of a game. To do so, get to the score recap screen where it shows each player's KOs and Damage, and tap on the Give Toast button above their head. You only have so many Toasts to give, but you can acquire more by buying them with Gold. Ten Toasts cost 350 Gold.
To buy more Toast in MultiVersus, tap on the +Toast button on the top right of the screen at the score recap screen. You can spend 350 Gold to acquire ten more pieces of Toast to tip other players.
It's good etiquette to Toast other players in MultiVersus that do well in a game. The feature incentivizes players to try their best and contribute to the team. You can also Toast a player on the opposing team if you think they did well, so that's something to keep in mind.
Check out our MultiVersus section for more guides and walkthroughs.