No, you're not going mad — there's currently a bug in Pharaoh: A New Era that causes players to get stuck in certain missions, but we've got a workaround to help you out.
Ugh, it's the worst when you're working out a mission in Pharaoh: A New Era, only for the victory screen never to occur. No, you're not going nuts; there's a bug in the game that causes it to get stuck at certain missions.
For us, the first time this occurred was during the Old Kingdom period during 2650-2246 BC at the city of Saqqara for the mission "The First Pyramid." Even though we met all the Win Conditions, the victory popup never came up. Here's how you can get around it to continue your campaign.
How to Fix Stuck Missions in Pharaoh A New Era
Before you use the following method, make sure that you meet all the Win conditions for your mission by pressing the Objectives icon on the left side of the screen. If you know for sure that you should have won the mission but can't get the victory screen to pop up, set Cheatcodes from the Options menu to Yes, then hit Ctrl+Alt+C and type in Pharaohs Tomb to advance to the next level. This code will force the game to pop up the Victory screen.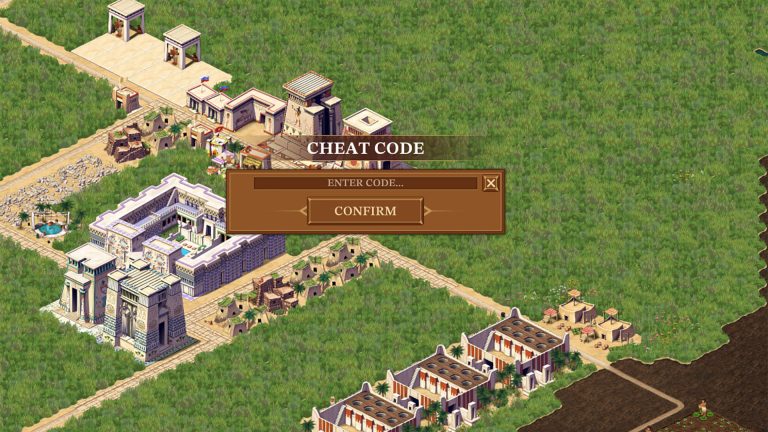 We know this isn't an ideal solution, but some quests are bugged, and we've tried all other options to no avail. At least with this method, you won't get stuck on the campaign, as reloading the save file also seems to not affect being able to move forward.
RELATED: Pharaoh A New Era: All Cheat Codes
How Do I Know If I Won?
If you aren't a fan of cheating and want to ensure that you've won before you use the cheat code, hit the Objectives icon on the left side of the screen, then look under Win Conditions. Here, you'll see the minimum Ratings you need to win, the population needed, required housing quality (if applicable), and any Monuments you need to build.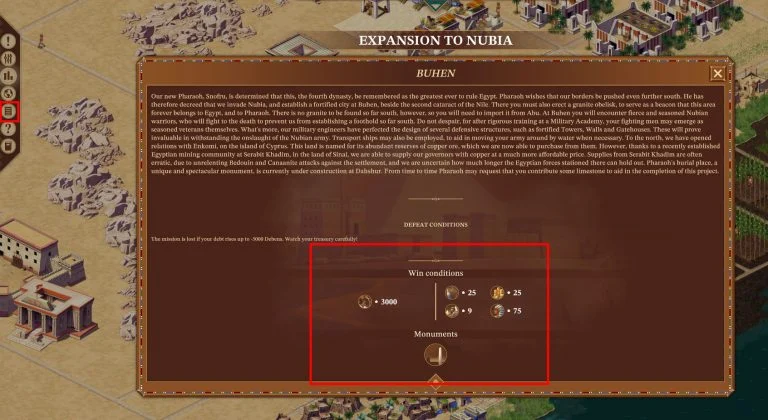 You can also quickly see where you stack up by clicking Overseers, then Ratings Overseer. If you've met the minimum Rating requirements to pass the mission, the category will be green. If you still need to raise the rating to move forward, the category will be brown or yellow. Players can also view the housing requirements from this screen.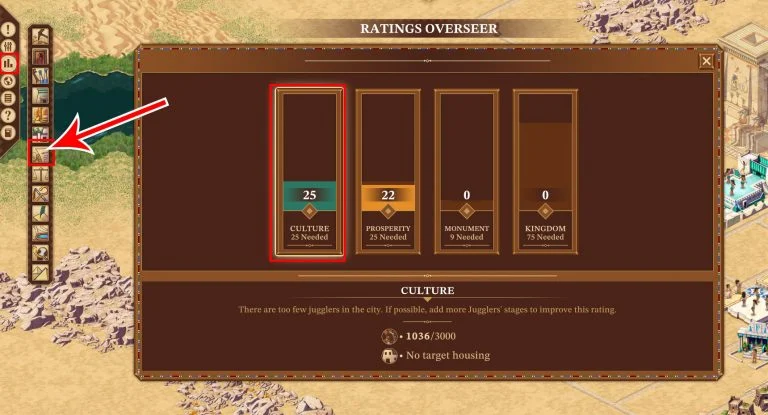 Unfortunately, this can put a damper on people's campaigns, and hopefully, the game's developers, Triskell Interactive, will release a patch soon that solves the issue.
If you need help with other parts of the game, make sure to visit our Pharaoh: The New Era Section.